Team Barclays are honoured to be able to participate in the 2018 Everest in the Alps challenge.  As friends of Rob, Toby and the Ritchie family, as well as parents ourselves, we were moved by Toby's story and inspired by Rob's initiative to make a change. We are committed to support The Brain Tumour Charity fundraising, and the charity's fight to defeat brain tumours.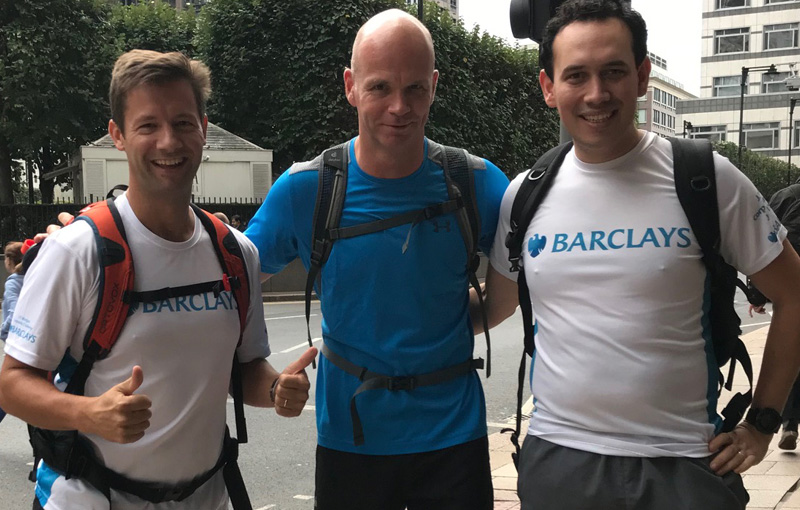 We are also honoured to take part in the challenge alongside the wounded veterans of the Adaptive Grand Slam who helping guide the teams on the trip.  Barclays is a huge supporter of the Armed Forces, and helps address the issues faced by Service personnel and veterans as they transition into civilian life through various programmes, including Barclays AFTER (Armed Forces, Transition Employment & Resettlement).  Team Barclays hopes to increase the awareness of these programmes through our participation in EIA.
Rob has said before that he thinks of Toby as his "wounded veteran" coping with the practicalities of life as he battles his tumour. He sees parallels between wounded veterans as they take their civilian lives forward and people recovering from brain tumours. We love what he is doing bringing these communities together, helping each to inspire the other.
Our team members are Alison Dolan, Thomas Flichy, Harry Koppel and Mark Lewellen. We have tackled various challenges over the years, sometimes together, including summiting Kilimanjaro, running marathons and trekking through the Colombian jungle. We have also visited Chamonix on various occasions where we managed to survive the infamous Vallee Blanche as well as the après sessions.  More recently our training has focused on flatter preparation – running together in Richmond Park and home from Canary Wharf.  Our biggest challenge is clearly in front of us when we reach the Alps and climb our Everest.
Donate to Team Barclays