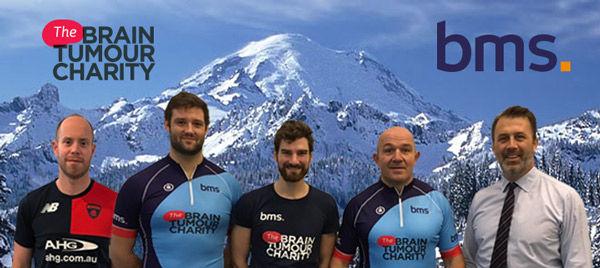 BMS is a global insurance broker headquartered in the City of London. Rob Ritchie and family are personal friends to a number of people at BMS, so Toby's story was close to our hearts.
Having asked Rob and the Brian Tumour Charity to come into our London office and make a presentation to the company (which was filmed and shown in all of our overseas offices), the response from staff all over the world was incredible. So many people felt compelled to help and have signed up for bike rides, fun runs, marathons and many other events to help raise money.
The Everest in the Alps challenge is the signature event and the pinnacle of our fundraising. We are very proud to have an international team of four from the UK and Canada in Chris Ritchie, Brian Gomes,  Nick Trowbridge and Hugo Seccombe.
We have been touched and motivated by the support from our clients and colleagues so far, not least for the opportunity to make a real difference to Toby and the many others who are affected by brain tumours.
Donate to Team BMS