Charlie Birchall: Part time alpinist, mountain lover, ultra runner, fashion follower, cow dodger, full time dreamer and Everest in the Alps 2020 team member of Team Summit. Here she gives us the low down on EiA 2020…
Read on to find out what it was really like!
Day 0 – Monday
By Monday, I'd been in resort 2 days. The weather had been great and snow conditions were fab so we'd had some good skiing. Monday brought with it some low cloud and heavy snow, but I still headed out in the morning for a quick ski-tour. I'd got some new touring bindings and this would be the first time I'd used them, and I wanted to make sure I could!
Just after lunch on Monday the EIA crew met at Mont Gele for our briefing. It was the first time I'd actually seen everyone in the same room! We were introduced to the guides and founder Rob, who talked us through the next few days ahead. We covered kit, routes, weather and everything in between….all of a sudden everything became very real!
Following our briefing we headed out to test our kit and I met my team for the first time. Including our guides Tom and Jonny, there were 7 of us altogether – Theresa and Katie, a lovely mother-daughter duo, Duncan, a true gentleman, and Rob – who is the driving force behind this wonderful challenge. It was great to finally meet everyone and see who I'd be spending the next 4 days with.
After a couple of hours out testing our gear, we headed back to Mont Gele to finish our packing and make last minute kit checks before heading down for a pre-event meal followed by a very early night, ready for our departure at 06:20 the next morning.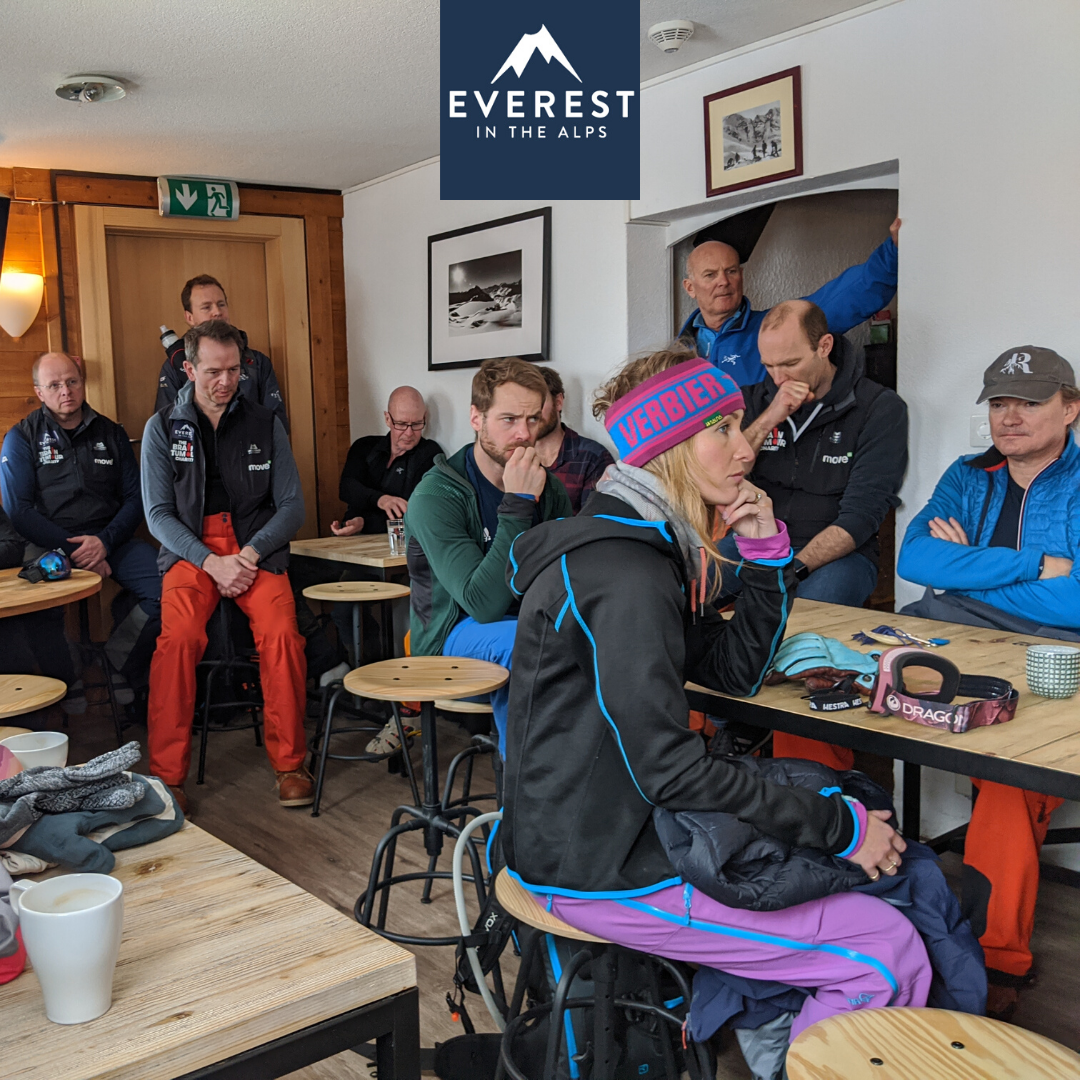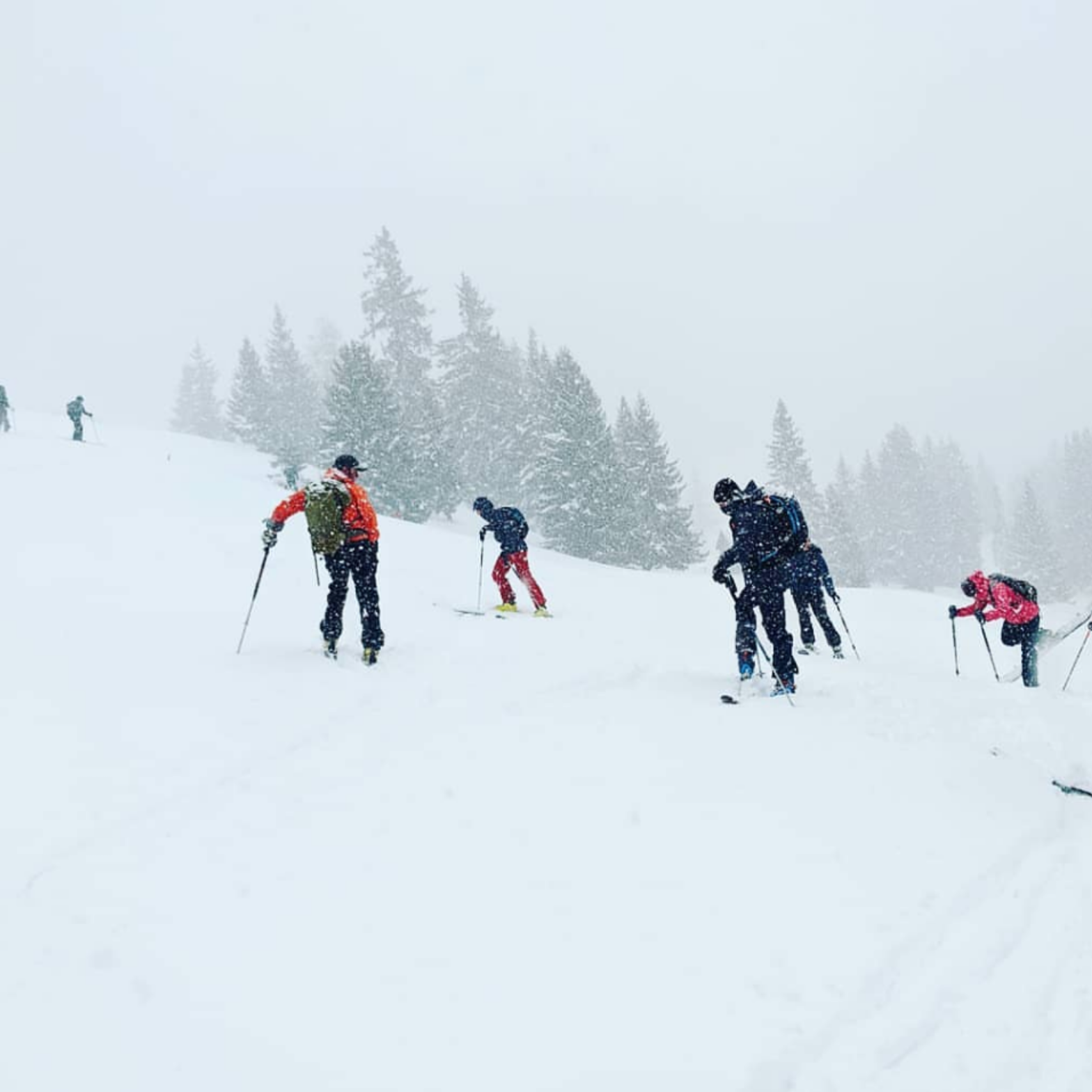 Day 1 – Tuesday
I didn't sleep much on Monday night, a combination of nerves and excitement I think. I'd trained for nearly a year for this event, I'd spent months fundraising and talking about it, and now it was finally here….would I be fit enough? What if my boots rubbed? Have I forgotten anything? There were a million questions going round in my head – turns out i actually didn't need to worry at all!
Tuesday started in the dark; we headed through town from Mont Gele to the nursery slopes where we were to begin our climb. As the sun rose the cloud soon lifted and we were greeted by bluebird skies – it was going to be a good day.
It felt strange being out before the lifts opened and the crowds of people gathered – but the stillness and silence was like nothing I'd experienced before, and before I knew it, we'd climbed a good few hundred metres – and it felt good!
Everything seemed to be flowing really well – I found that you go through phases, sometimes you chat, the group moves around and you're next to someone different, then sometimes you get your heads down, you get into the zone and move along without saying a word…..and no-one minds, there is no uncomfortable silence and it's lovely.
By lunchtime my nerves had pretty much disappeared. We'd climbed about 1300m, the sun was shining and team morale was high – it was great to sit and chat with everyone and reflect on our first morning.
The afternoon soon flew by, the team really started to gel and we arrived for our first night at the hut to a beautiful sunset, smiles on our faces and with 2400m in the bag.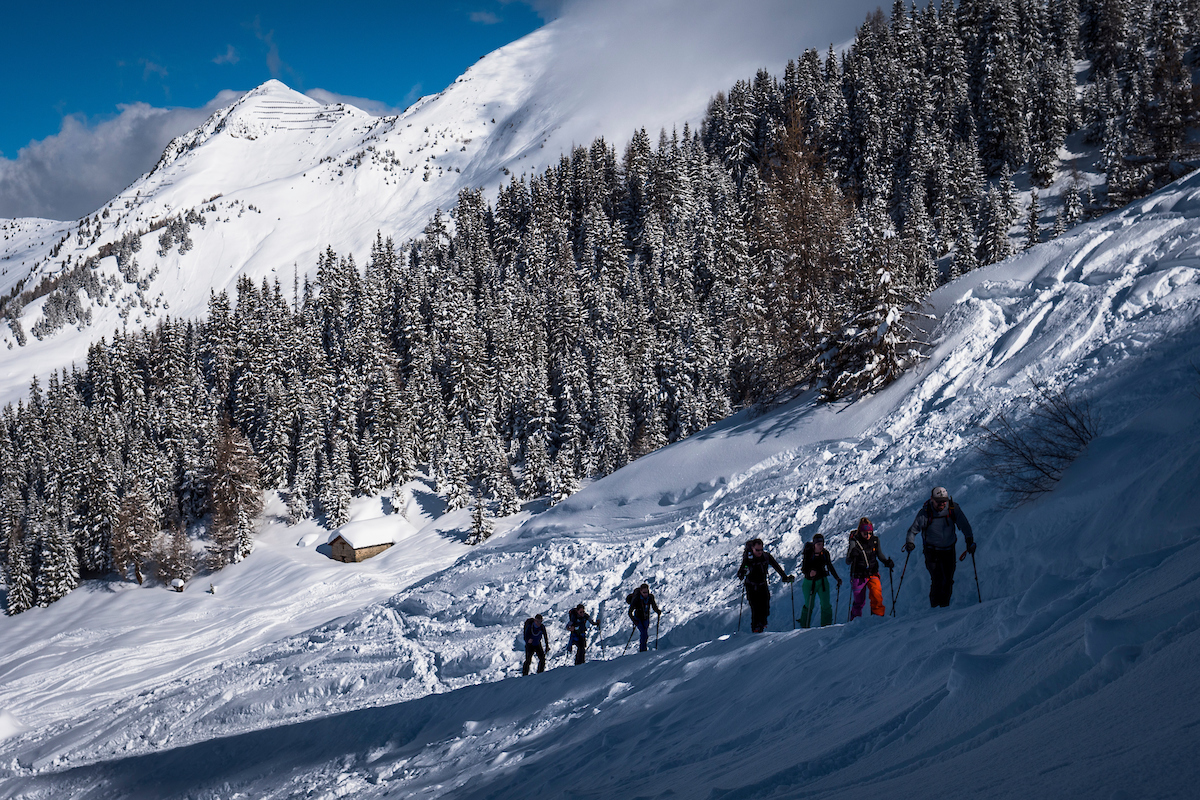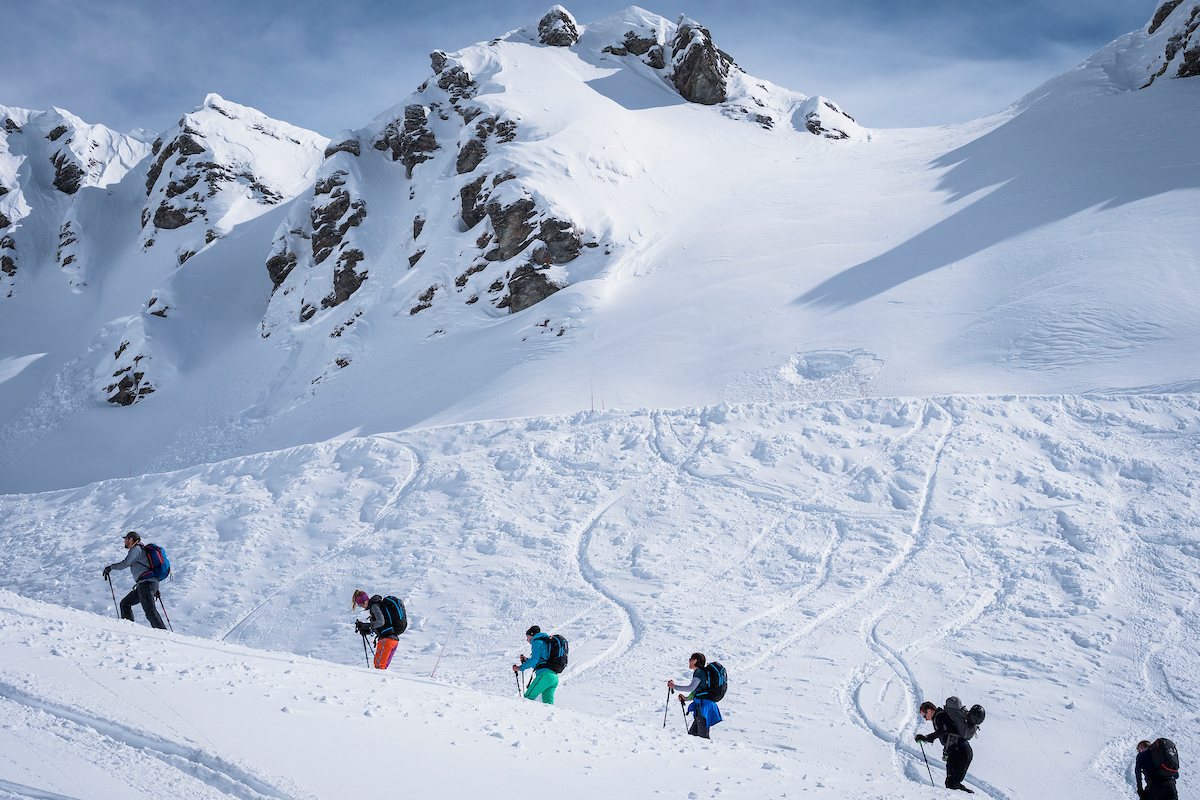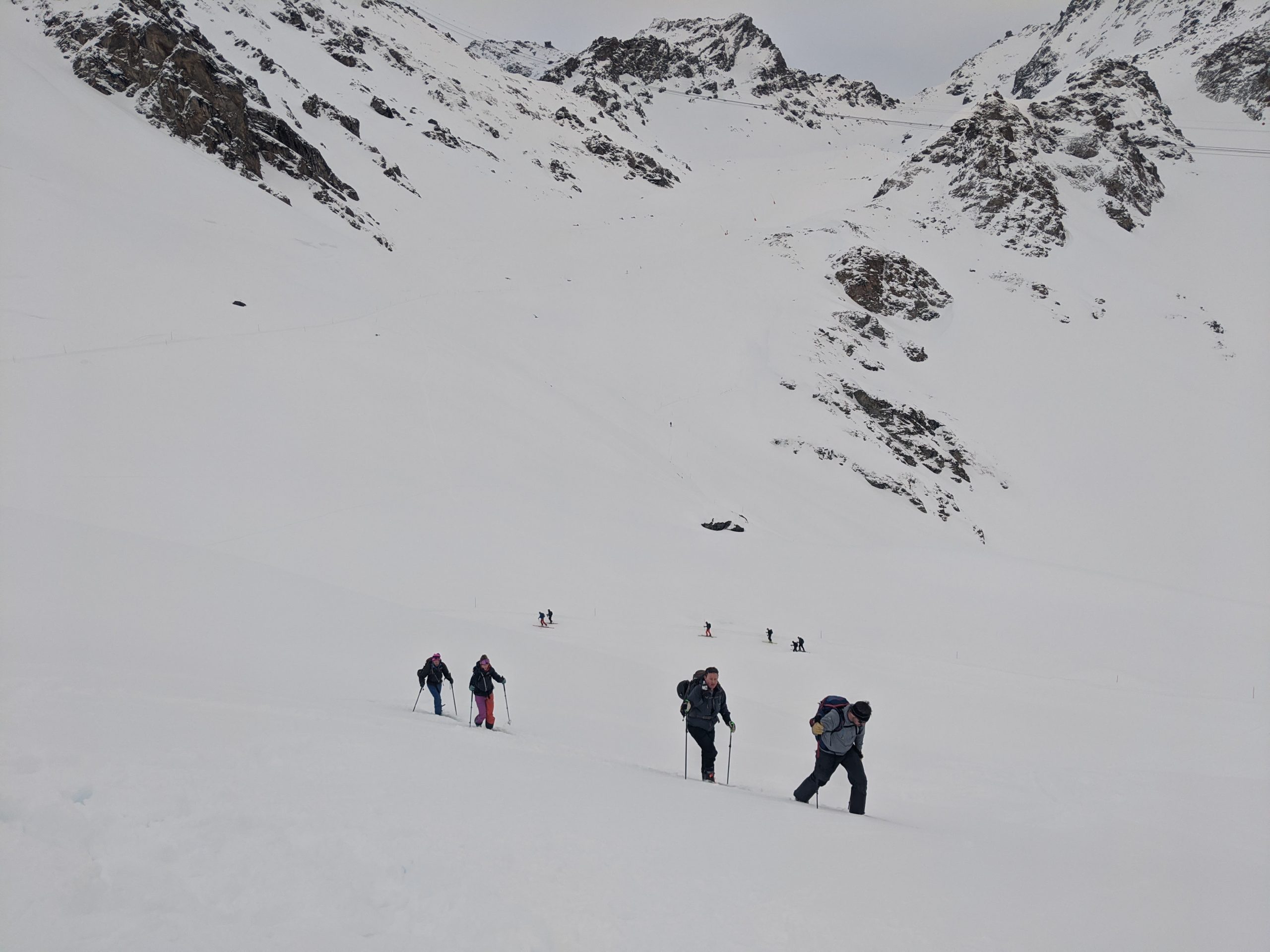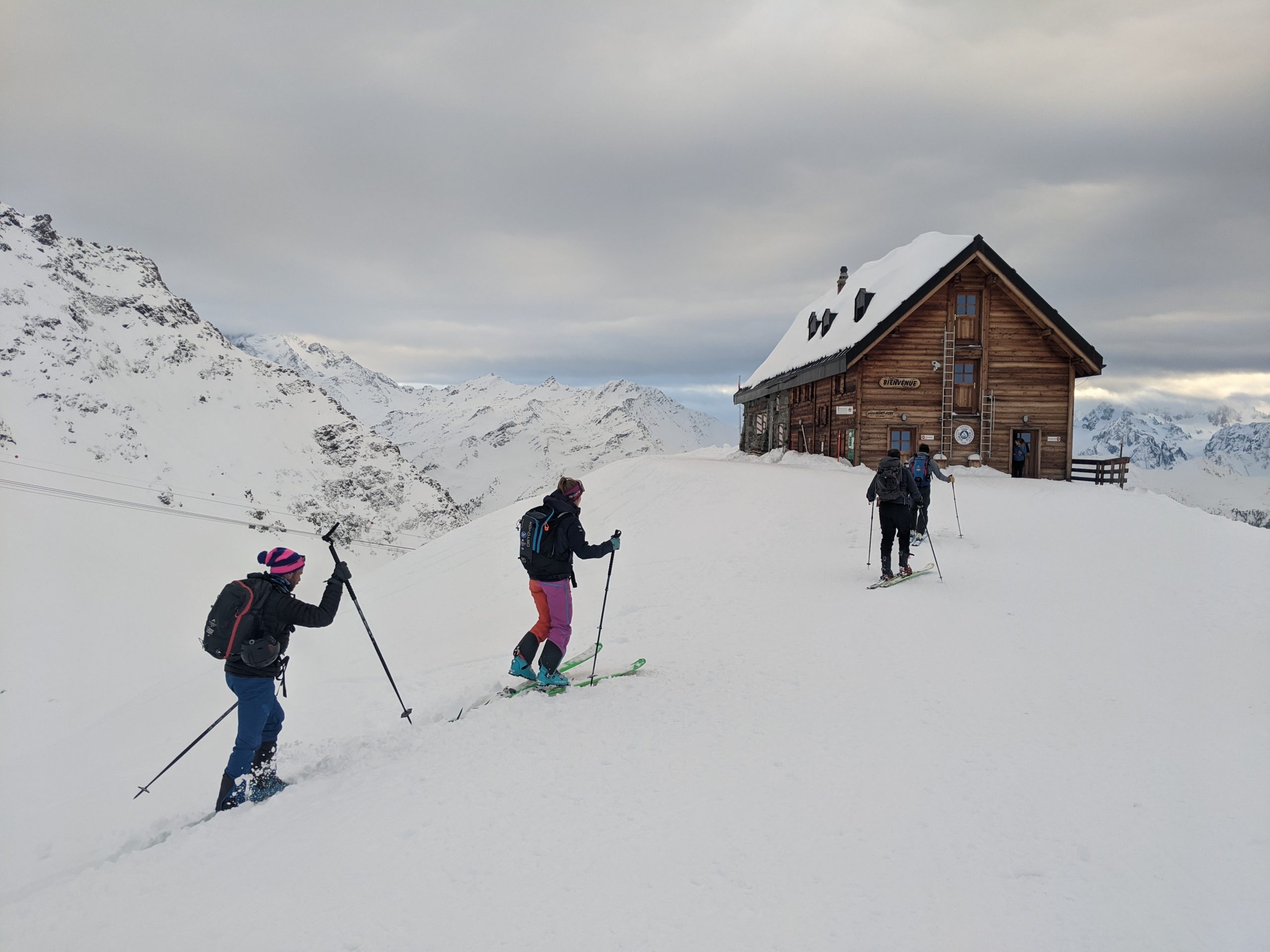 Day 2 – Wednesday
Wednesday was another good day weather-wise. We set off in the dark again to climb as high up the mountain as we could – to Col des Gentemine. It was cold, really cold; as soon as we stopped for food and water, it was clear how quickly you cooled down, and my hands were really starting to feel it! By now, we'd all got pretty quick at the transitions and that definitely helped. When we stopped, we didn't stop for long, and it was important to keep moving as much as possible to keep warm.
We arrived at the top of the Col before the lift down the other side had opened, so we decided to put our skis on and descend a little bit to get a few more metres in – this was the great thing about our team, everyone was on the same wave-length, always keen to sneak a few more metres in where we could. You might not think it's much at the time, but by the end of the day it all adds up. When we arrived at the top of the Col again, the sun had risen to a good height, the mountains looked beautiful and most importantly – it was starting to warm up!
After getting as high as we could, we descended as low as we could, down in to Siviez and cut some lovely tracks back up through the woods before stopping for lunch.
During the afternoon, the weather started to change – the clouds rolled in and the temperature dropped slightly, but we still kept going. We know tomorrow was going to be heavy snow for most of the day so we wanted to cover as many metres as possible in case we struggled with conditions the next day.
The snow held off for the afternoon and before I knew it we were back at the cabin, another 2400m under our belts.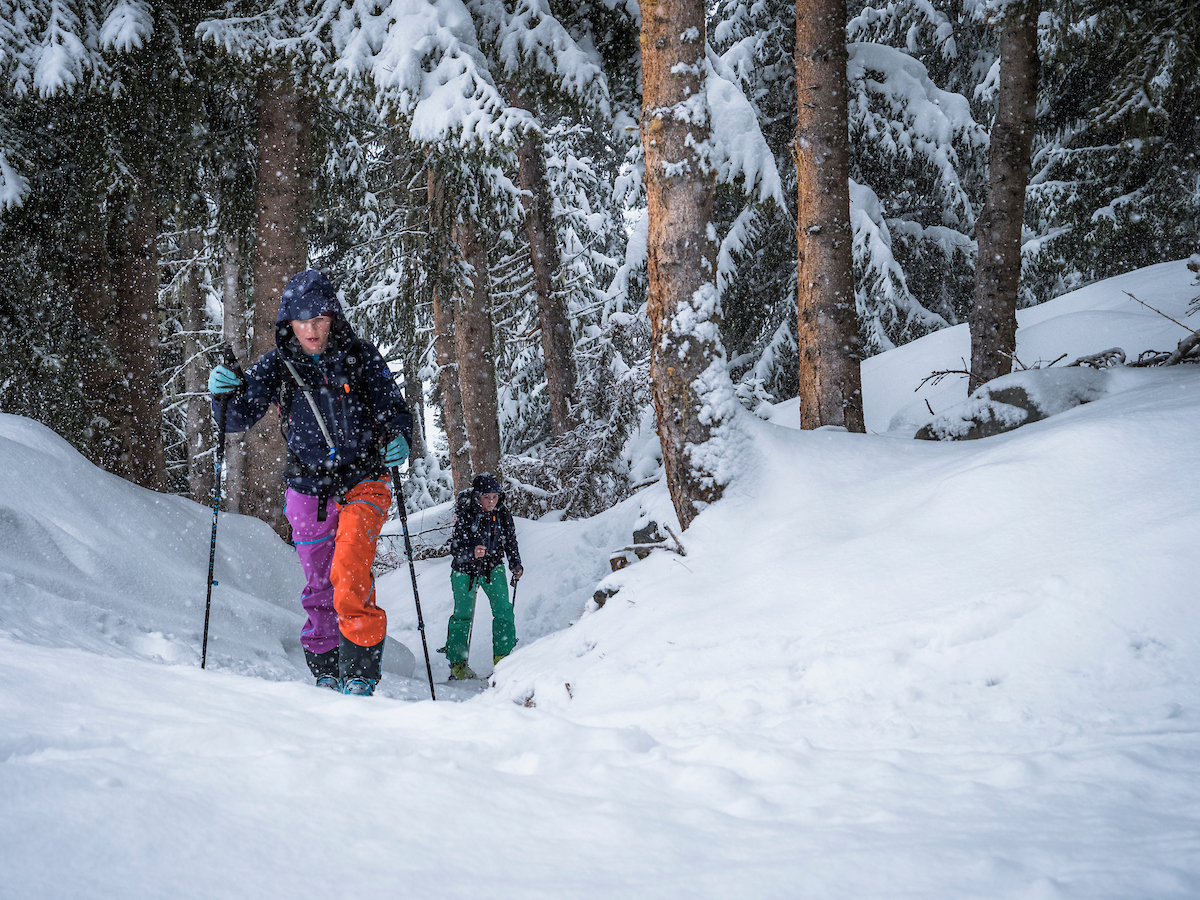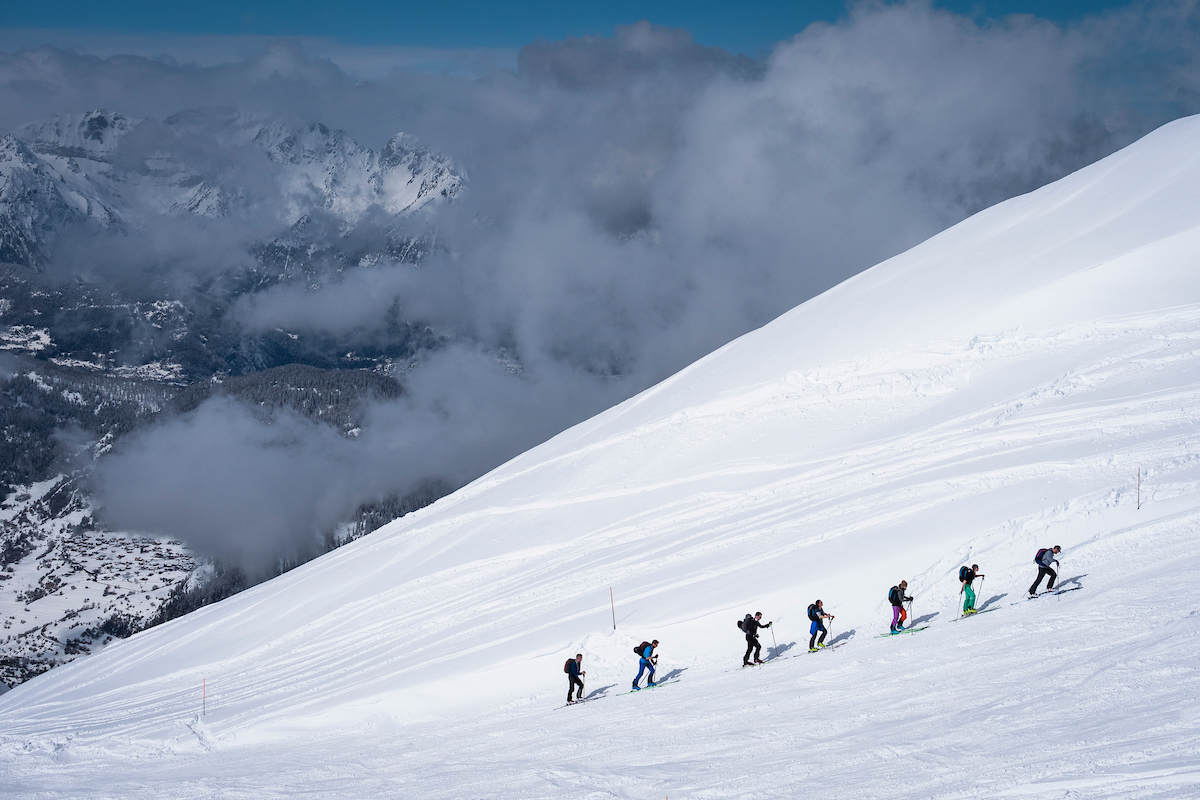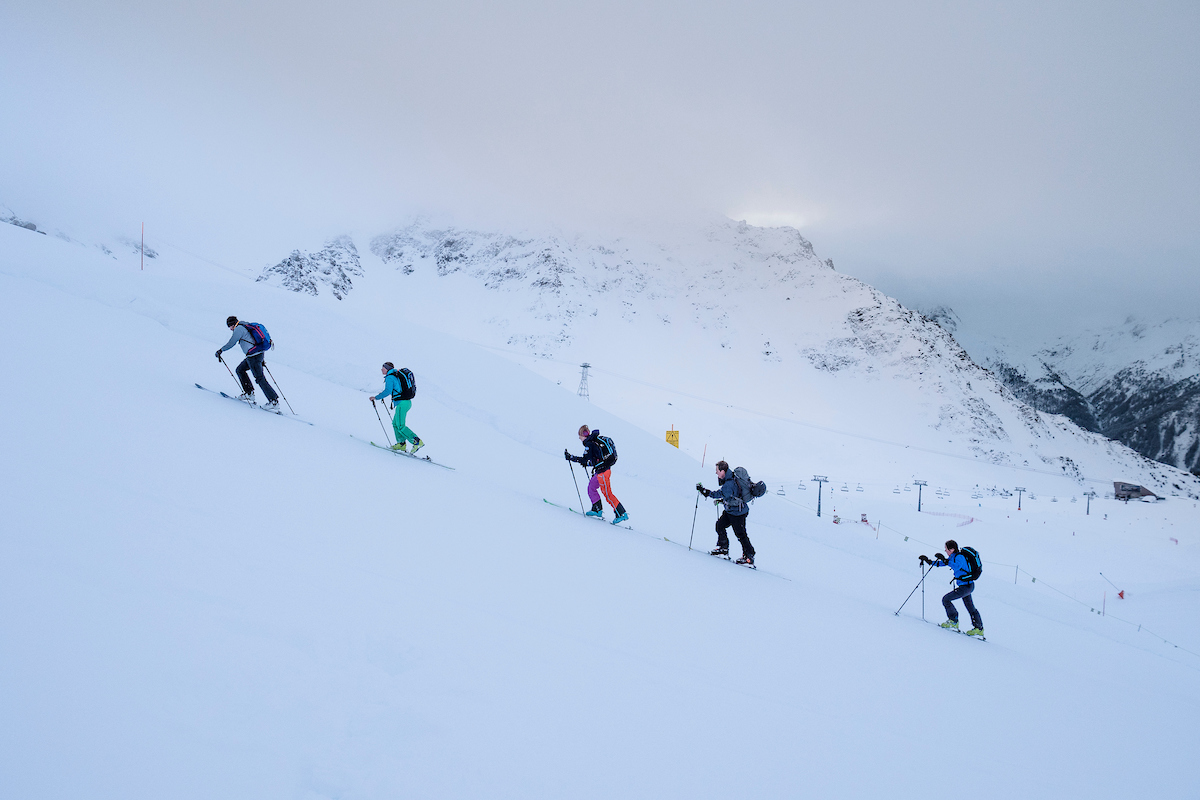 Day 3 – Thursday
The weather had remained true to the forecast – it was indeed snowing, and snowing hard. Setting off this morning was tough – visibility was poor and my legs were starting to feel two long days on skis.
From reading comments from the previous years and from speaking to Anna [EiA comms], I knew this day was supposed to be the hardest mentally – everyone is starting to get tired, it's the last full day yet the finish line still seems forever away; chuck in some bad weather and it's going to get really tricky. Surprisingly, though, it wasn't actually too bad – yes, the weather wasn't ideal, but it was snowing, which meant it was slightly warmer than the previous day, and there was little wind, so the snow was falling quietly away and we were able to carry on without too much disruption.
That morning we headed up to Attelas, which is where we would be finishing the next day (still seemed light years away at this point). When we got there we couldn't see anything, visibility was shocking and kit was damp, so we headed inside for a much needed coffee and hot chocolate. Morale was still really good, no-one seemed to be struggling, and apart from a few wet gloves, we were pretty happy. At this point I realised how lucky I was to have been put with this team….everyone was incredible, and even on this not-ideal day, we were still joking and keeping positive.
Thursday actually flew by in a bit of a snowy blur….the one day I'd been dreading actually turned out to be not that bad! By the afternoon, with the amount of snow that had come down, cutting tracks was getting pretty hard work, but fortunately our guide Tom was like a demon – ploughing through the powder and making it so much easier for us lot behind!
The final climb up to Cabin Mont Fort was probably the hardest of the day – it was still snowing! The cloud was down and it was getting to the point where we couldn't tell which way was up or down, and not being able to see the Cabin was so disorientating – I thought we'd turned the final corner to the cabin about 3 times before we actually did! Eventually it appeared out of the clouds and the snow, and we were back for our last night….with 2300m climbed, another brilliant day.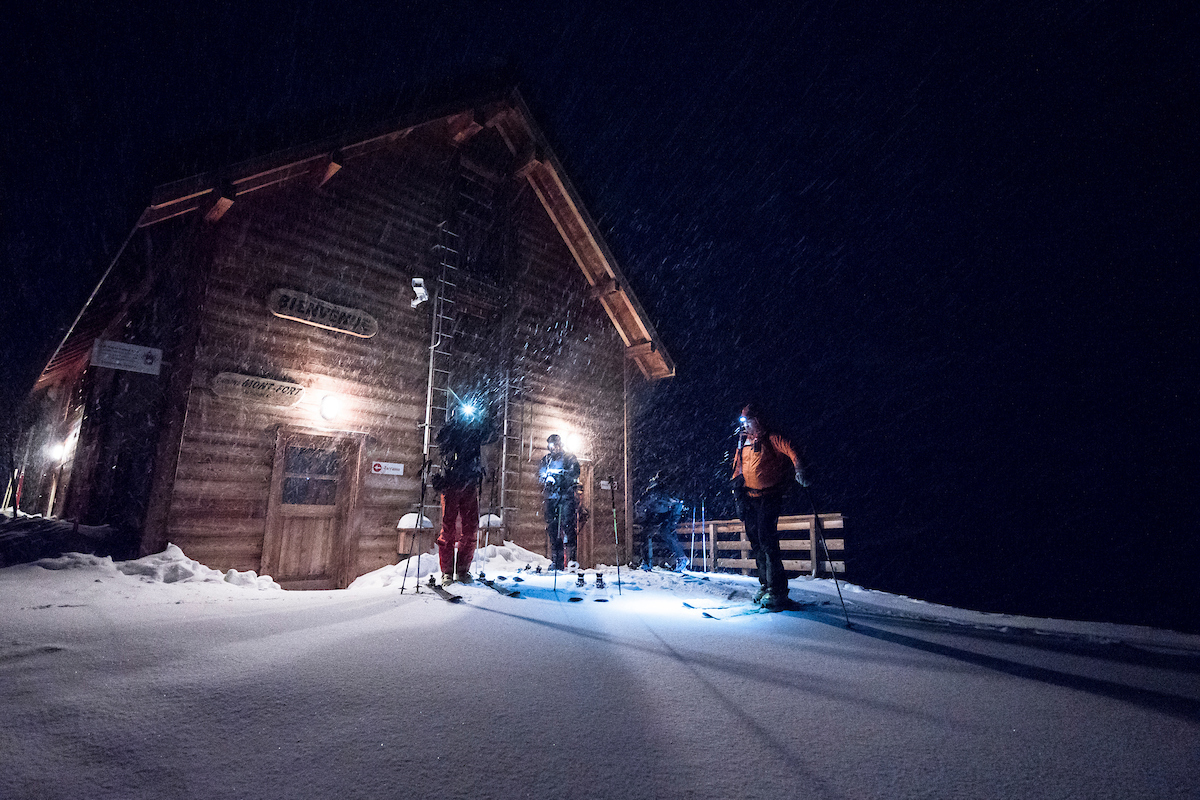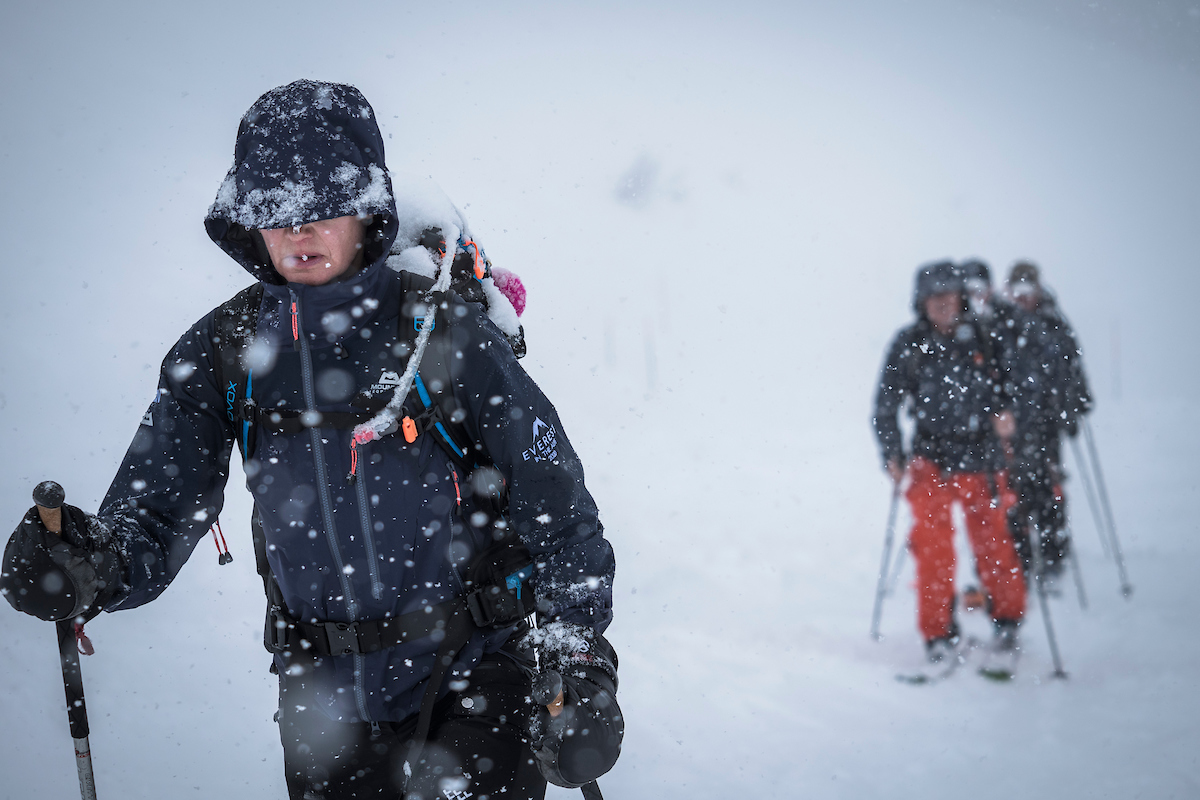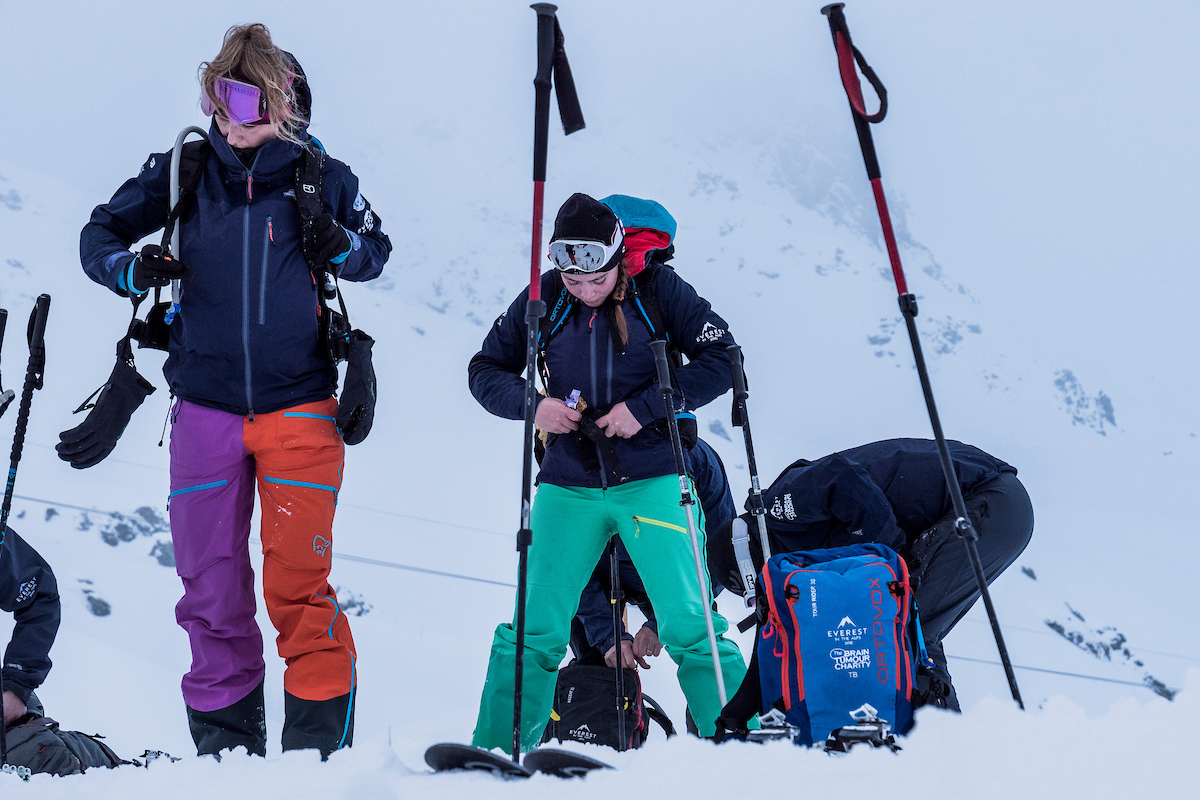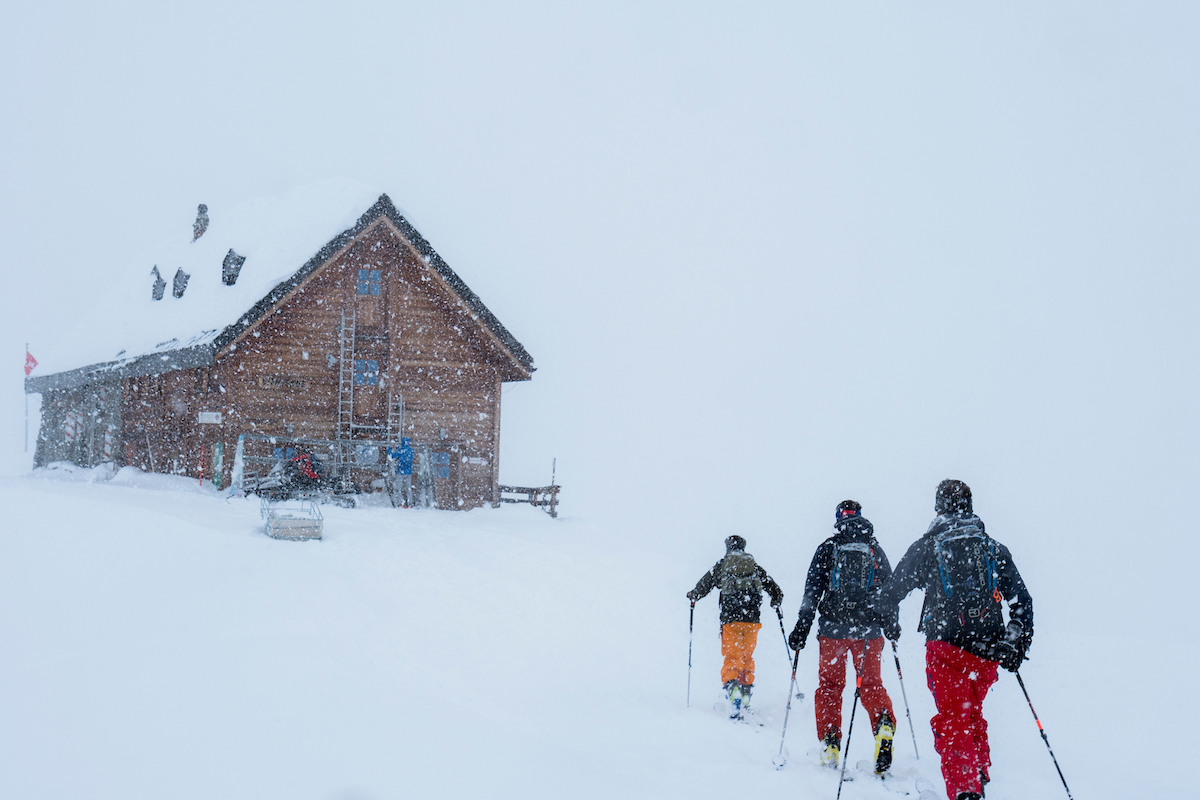 Day 4 – Friday
The final day! We'd made it! I'd imagined what this morning would feel like – and if I'd actually even make it this far – so many times, and it felt strange. I was almost a bit sad that the challenge was going to be over, and tomorrow morning I'd be waking up back at Mont Gele, and It would all be over. It also felt slightly overwhelming, knowing the reasons behind why I was here…how hard I'd fundraised over the last few months, all the training i'd done….and here I was, about to set off for the last time.
After all the snow yesterday, the pistes were in perfect condition, the sun was slowly rising, and we could see the mountains again! After a little climb, we skied back down to resort, and what a treat that was! At 7:30 in the morning, we were the first ones down, and all that fresh powder made for some perfect conditions – coming down through the trees, it was like skiing on silk, and it only added to the good feelings for the day.
As we'd had such good days throughout the week, our team only had 1700m to cover today, which was great- but it didn't mean we could relax about it! After a bit of a skin through the woods again from resort, we headed back down to the nursery slopes where we'd started on Tuesday.
From here, we headed up to Ruinettes, where we had planned to stop for lunch. As we approached….it was obvious there was a little bit of summit fever rippling through the group…the end was in sight….so in true Team Summit style, we made the decision to get our heads down and carry on. We kept climbing until we reached Chalet Carlsberg, where we stopped for a quick pain au chocolate and a drink. We could see Attelas from here, there were about 300m to go, and it wasn't even 12pm!
That final climb was incredible, you can see the finish the whole time, and before we knew it we were there….I think it was about 1pm when we arrived – the fastest final day ever! We all walked up to finish in a line, and to see everyone's smiling faces was so lovely!
Once we'd had our photos taken, we headed inside and waited for the other teams to finish. It still hadn't sunk in at this point. One by one the other two teams crossed the finish line, emotions running high and smiles on their faces. It was so nice to see.
As we headed back down in to Verbier for the final time, I still felt a little bit sad to be finishing, but proud of what we'd accomplished over the last few days, and proud that I'd been part of such a wonderful team, because I certainly couldn't have done it without them.