BY LORNA ROBERTSON TIMMIS
With sincere thanks to all those who make Everest in the Alps possible, Rob and Tania Ritchie, Anna Rae Dowling, Aysha Folland, Tom Bodkin and all at Secret Compass-as well as all the guides and masseurs who took away some of the pain.  Lastly and most importantly to my rock hard teammates and guides; for the sweat, laughs and the triumph.
Day 1 Tuesday 
After a fair amount of apprehension during the day before, Monday, which included a briefing about how to pack as light as a flea, fitness and snacks. Monday afternoon also enabled each group to have a trial skin to see how we would cope and check kit. Given the conditions this also included taking our skis off and walking down some pretty icy slope that wouldn't tolerate a ski down but had been fine for a skin up, if nothing else we will have the skills of mountain goats.
Joking aside, there were important lessons to learn here, how to keep faff to a minimum, have your water ready, have your snacks to hand, practice and re practice putting on and taking off your skins, know your pin bindings, how they clip in or release. All these small things take up a lot of time and we had a good amount of instruction on how to perform them more efficiently. These transitions, as they are known, happen a number of times a day and can really make the difference to your daily vertical metre count which in the end is what we are all gearing towards.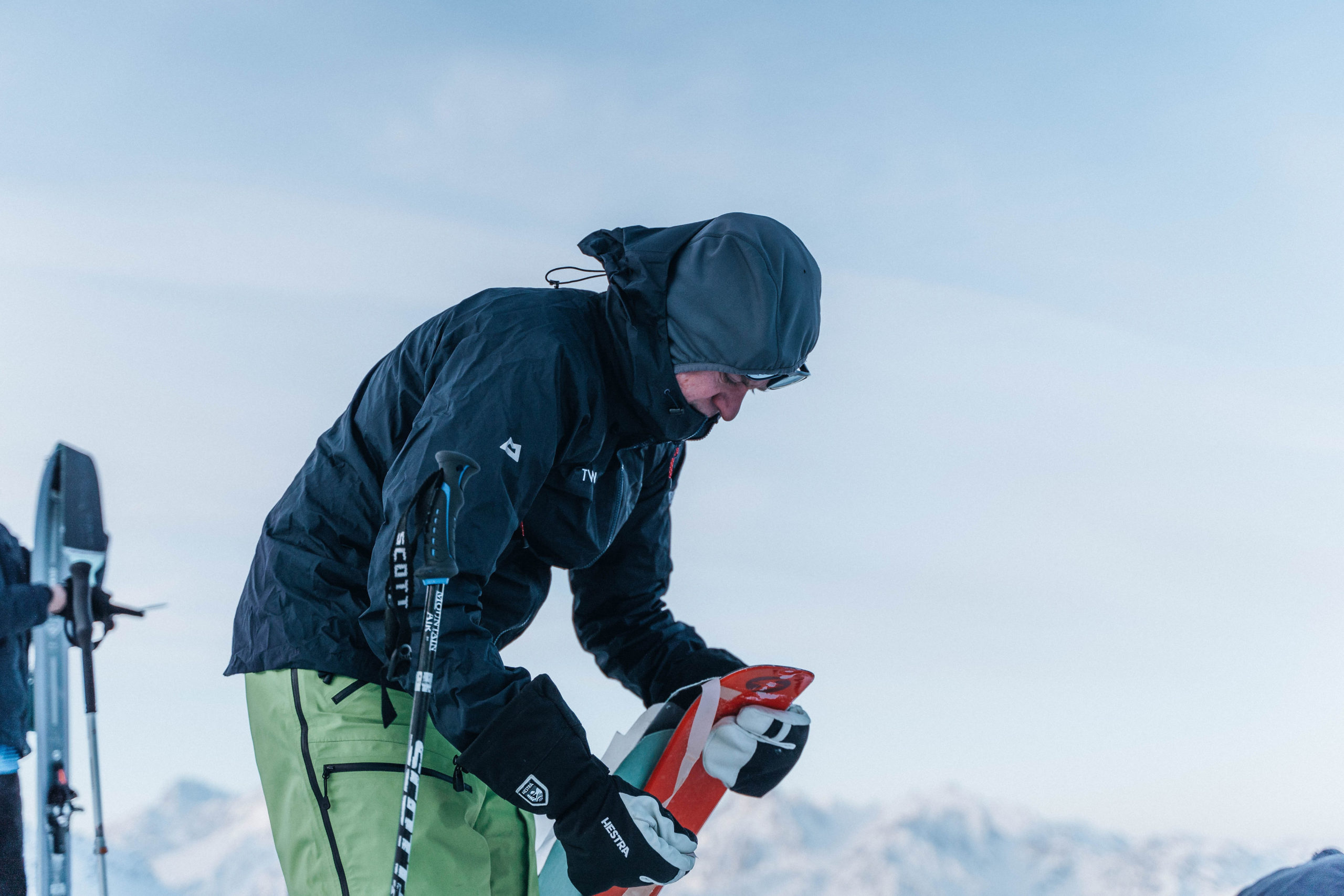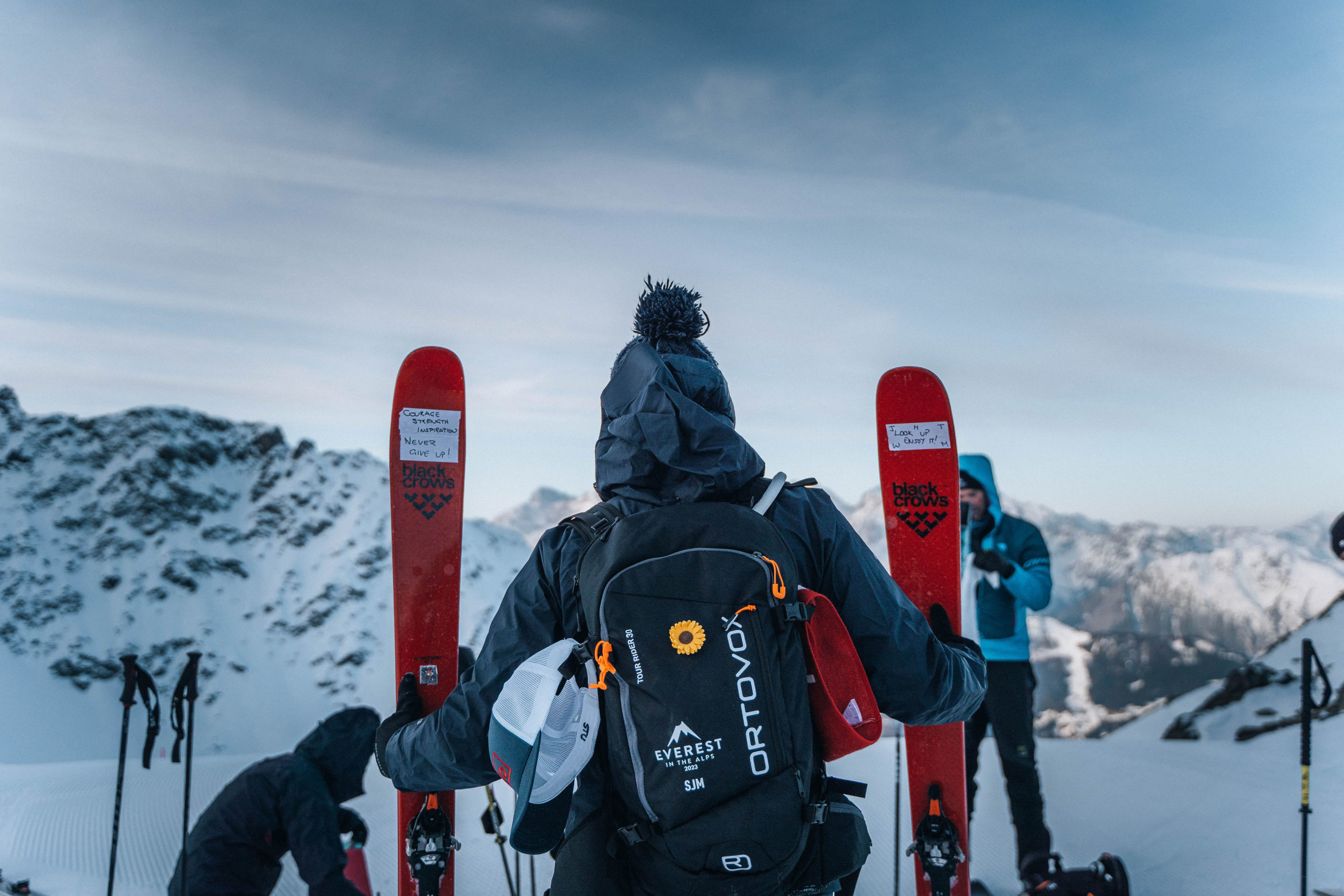 I digress- onto Tuesday; we were up at 5am ready to be on our skins at 6.30 (this year there were 40 of us so we had to leave in batches like anxious lemmings). My wonderful epic sister-in-law drove our bags and skis up the very significant hill to our starting point at La Rouge.
There we put on our skis, clipped in and put on our torches, did we have water and snacks at grabbing distance, were our gloves to hand?  Finally we were ready; after so much training, kit prep and snack experimentation we were on our way. Although nervous it felt good to get doing at last.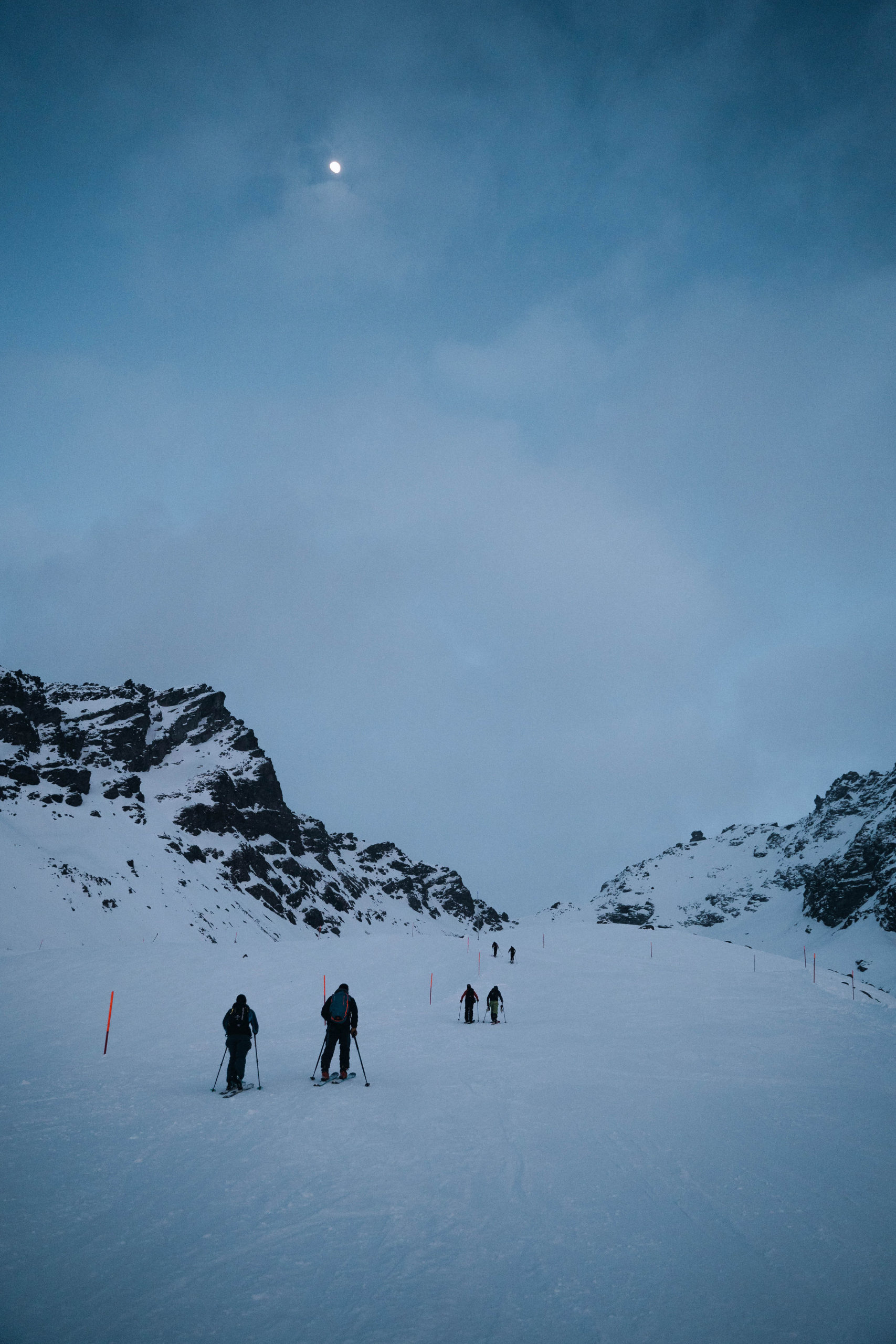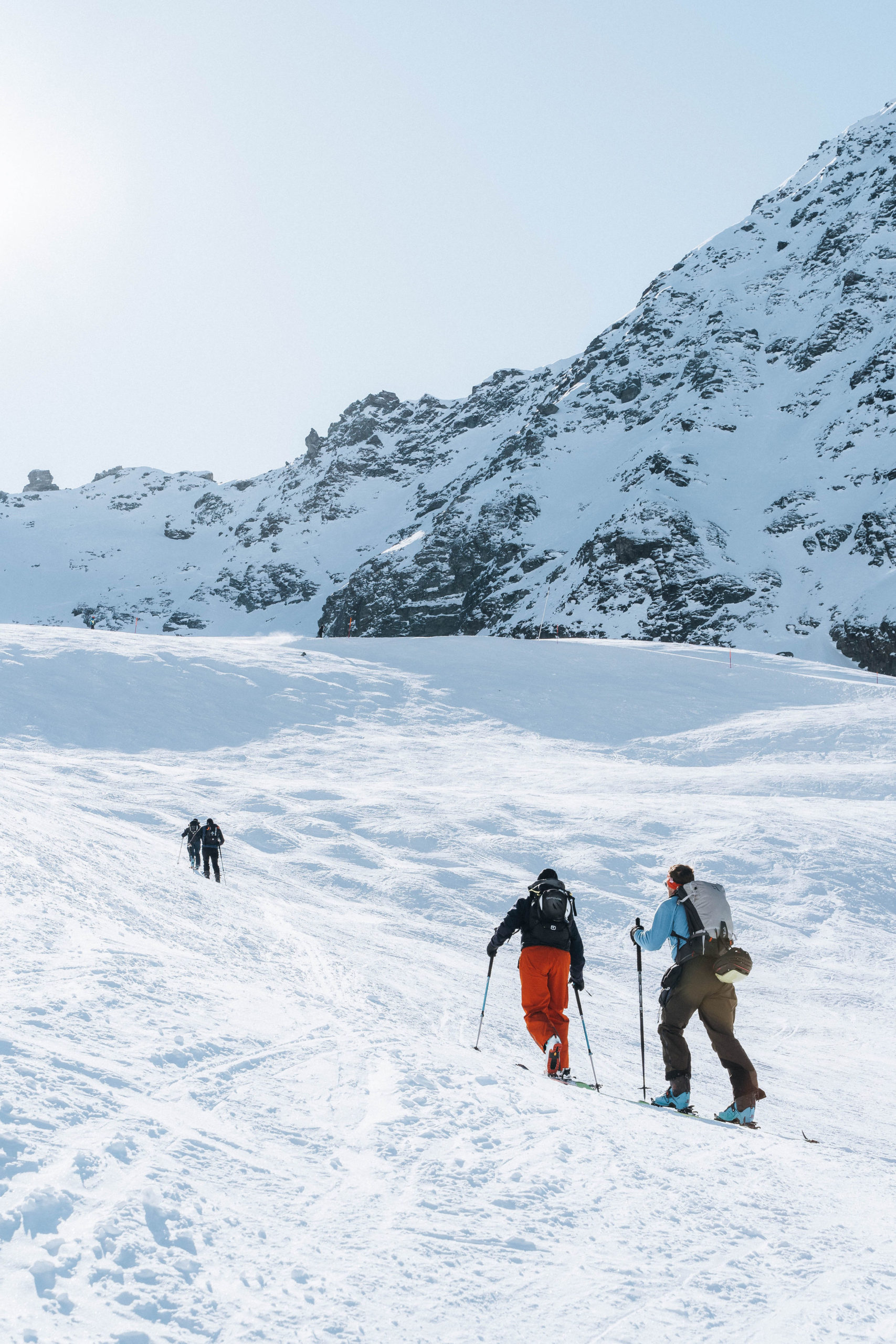 At this point I need to write a bit about our standout guides. Each group had two guides, our wonderful guides were Meg and Stu. Meg was the lead guide and was the first female guide for Everest in the Alps, what a fantastic role model she was as well as being empathetic, a talented guide, incredibly patient and committed to the team.
Our other guide was Stu who was part of the Adaptive Grandslam venture and had lost his leg below the knee in Afghanistan which involved three years of rehabilitation at Headley Court. Nothing like putting a governor on your blister whining when one of your guides is missing their lower leg. Stu was kind, professional, funny and nails- most importantly he also liked my music choices.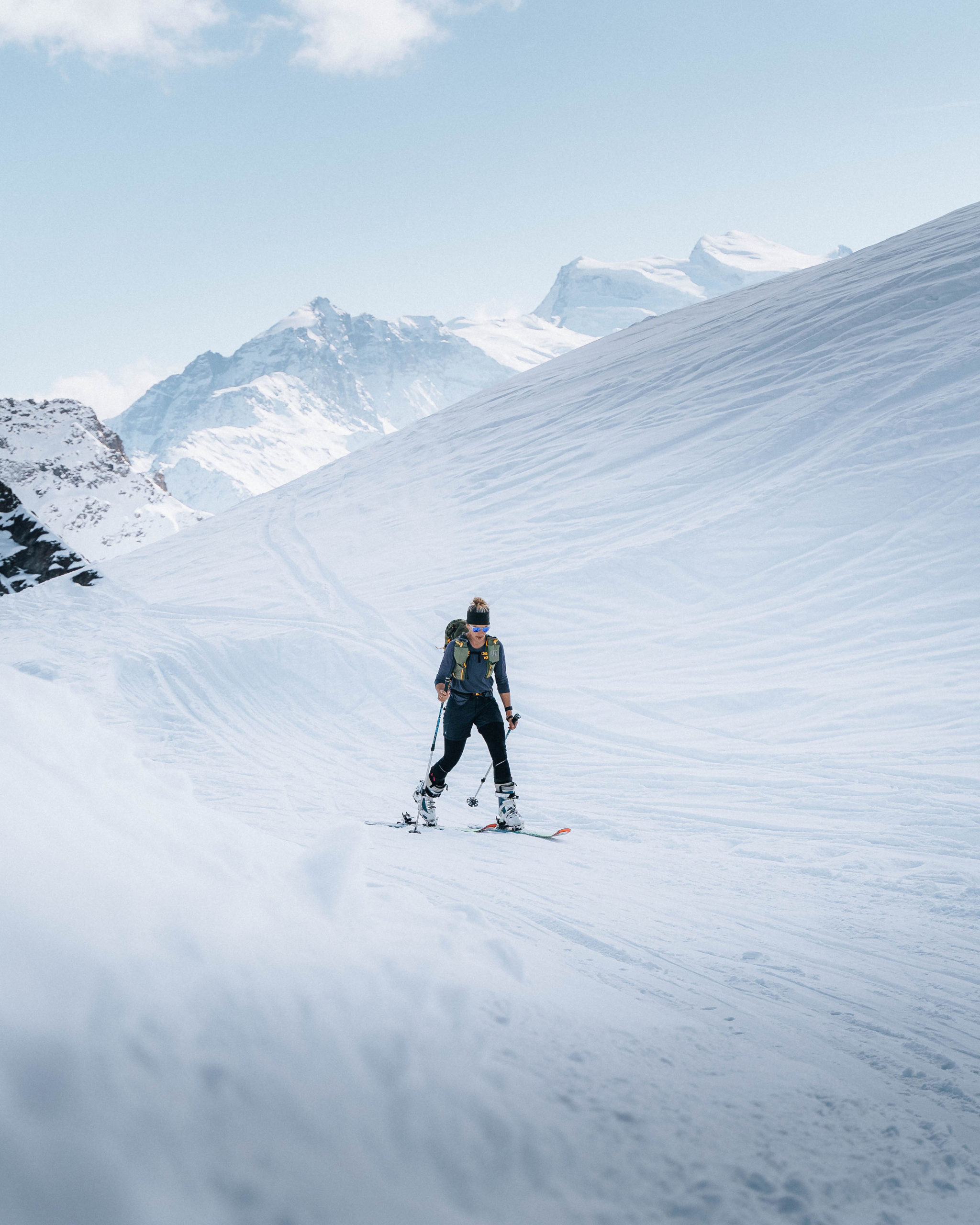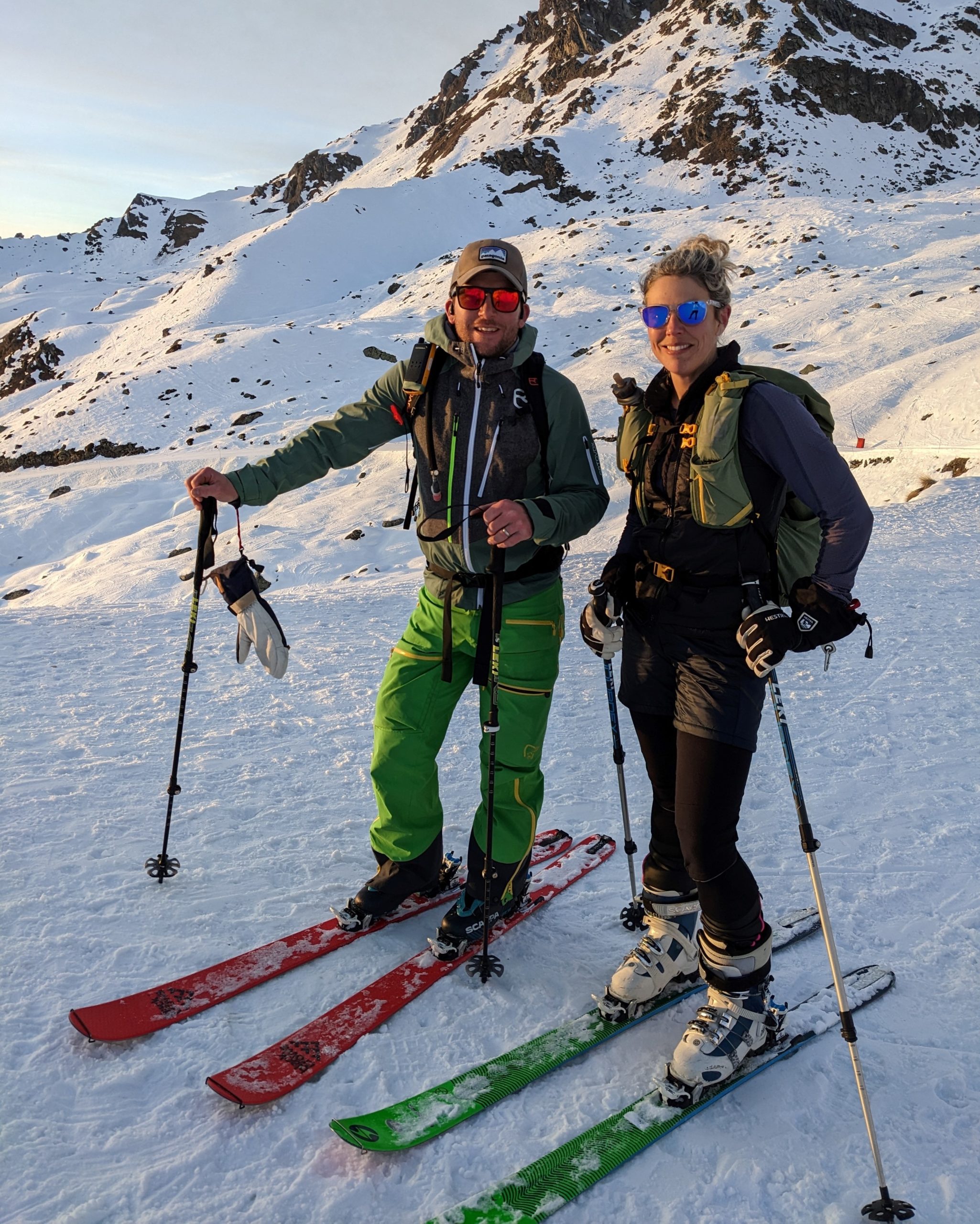 Day 1 was a good full day of skinning and included a well deserved lunch at Les Ruinettes (always a quandary of how much to eat as you don't want a carbohydrate coma afterwards) and finishing the day at 5.30pm. We arrived in our new home for the next three nights, Cabane Mont Fort which is a cosy but basic mountain hut. I was sharing with my two cousins which involved a top room with eaves, no shelves and disaster for me, the bathroom downstairs.
The evenings are spent really unpacking your day pack which is surprisingly full as you are putting in all your clothes that you shed during the day, skins when not using (not often as you may imagine), crampons, water and SNACKS! We had to dry our skins above our head and get ourselves organised. Supper was great carb loading mountain food which we ate by the trough full.
The wise organisers of Everest in the Alps have developed great relationships with masseurs from the UK who generously donate their time to put us out of muscle soreness for 15 minutes a pop and take the heat off your quads, hips, calves or wherever else you might be sore. These massages took place on the dining room tables, sweep away the chips and onto the slab you go, really by then you couldn't care less.
When we first arrived at the Cabane and the group who had arrived before us were lying all over our cafeteria tables I was slightly startled, I'm not going to lie where was the privacy in that? Yet it's amazing how fast you accustom yourself to your new surroundings and sure enough there I was on the slab grateful for any muscle intervention. One prod into my hip and I almost hit the ceiling. Bed is early, what else is there to do and you need a mega night's sleep for day 2 which is calling.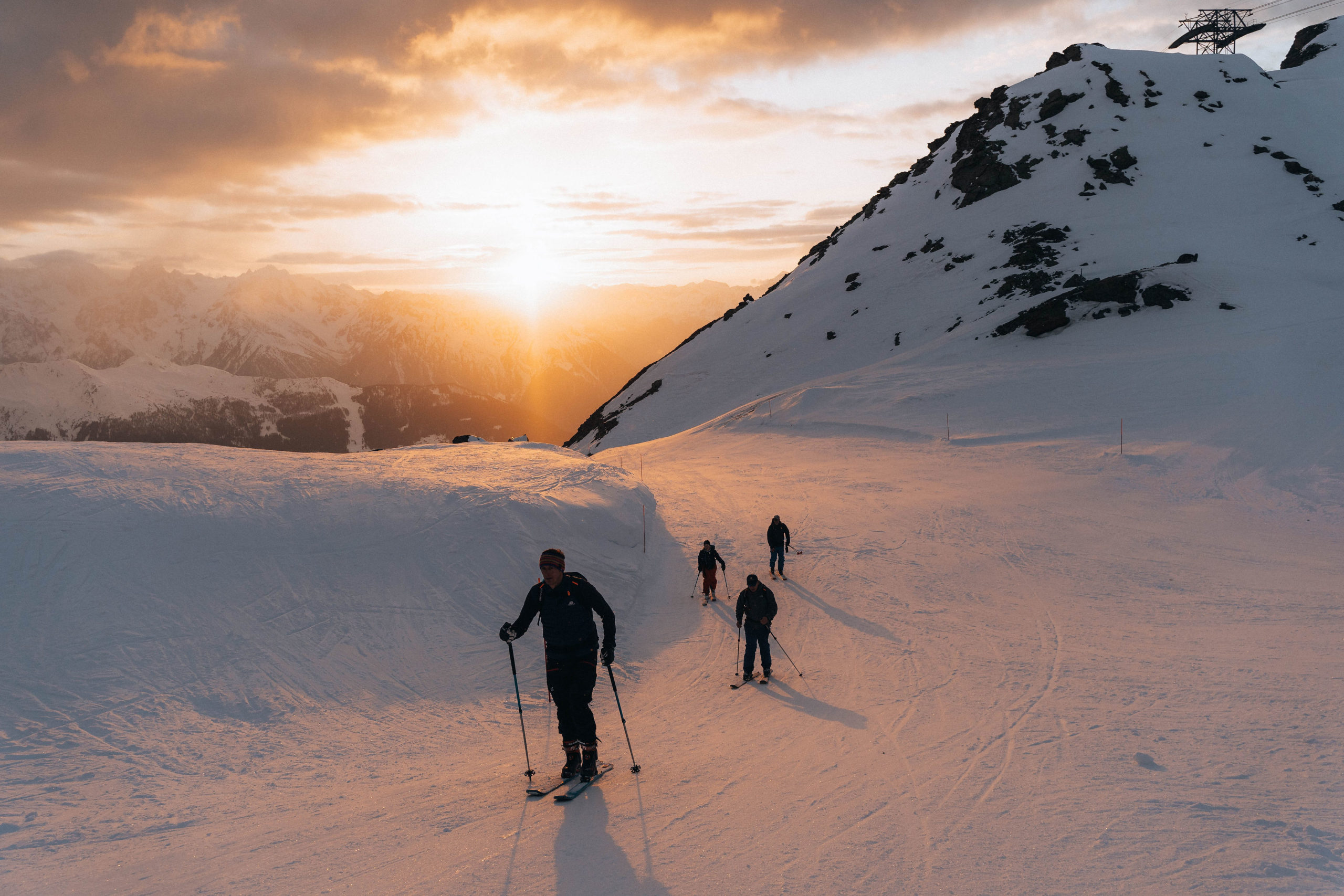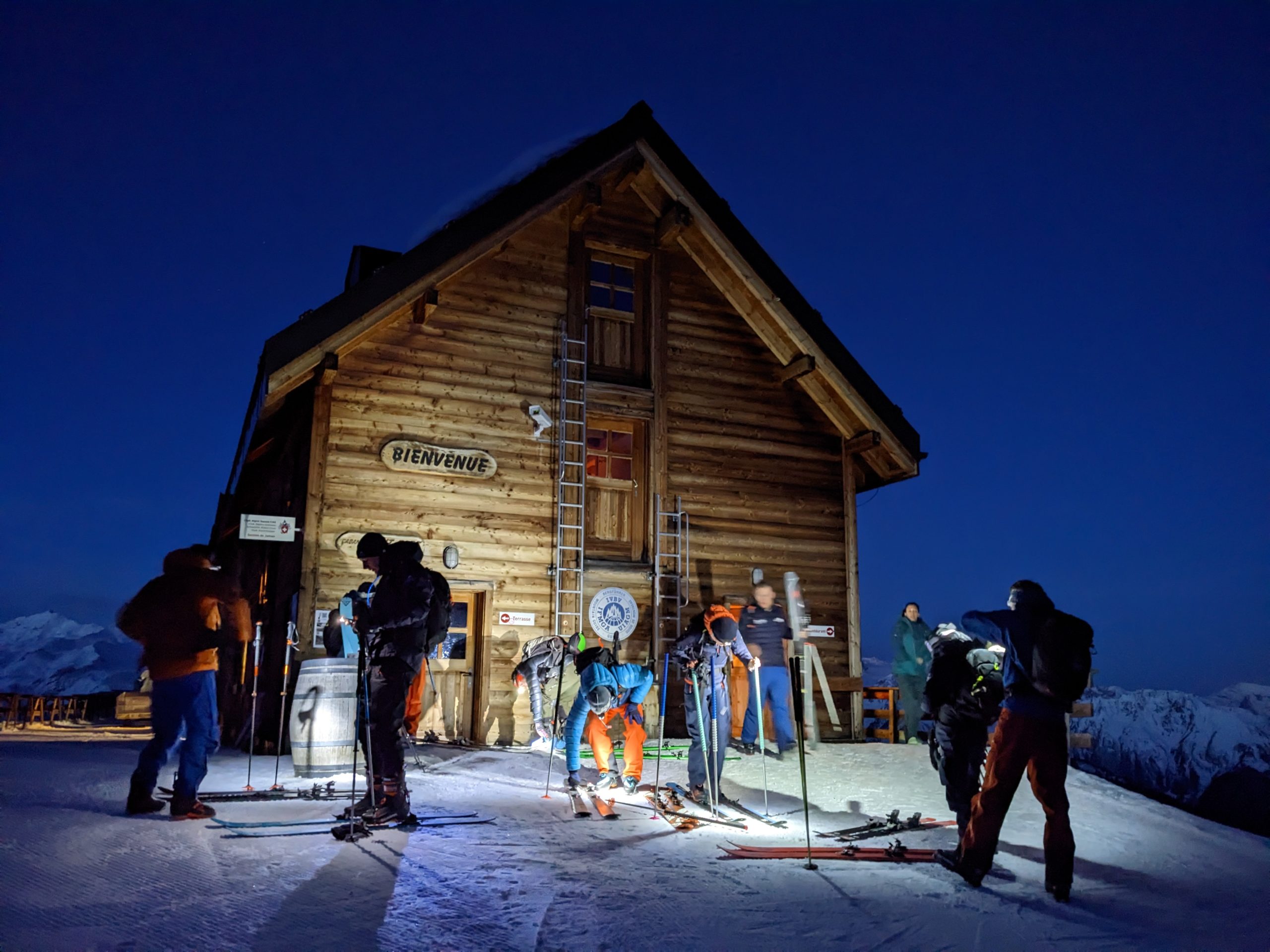 Day 2 Wednesday
Sadly sleep was not forthcoming, the cabane is high over 2000m so I probably luckily clocked in about 2 hours and went to the loo about 4 times trudging downstairs and no doubt waking up half the cabane from their unrestful slumber as well.
It was a relief when I just got up at 5am and got ready for the day. Our team, Team Helios, was the first to leave at 6.15am. It was pitch dark so we had head torches on and set out to ski to the bottom of the nearby lift La Chaux where we started our first climb of the day. Three hours later we reached our first coffee stop and I couldn't get it in quick enough.
The day had started cold and bright, there are those golden hours when it's just the EIA crew who are on the piste silently skinning up like black beetles with matching jackets, rucksacks and hats. Then you see the folks that man the lifts and are up early, then sadly you see the first skiers and you know that until 5pm, when they all return to their villages, you are dodging skiers and there is increasing noise of ski or snowboard on snow and you feel somewhat like a sitting duck waiting to be taken out by an out of control skier.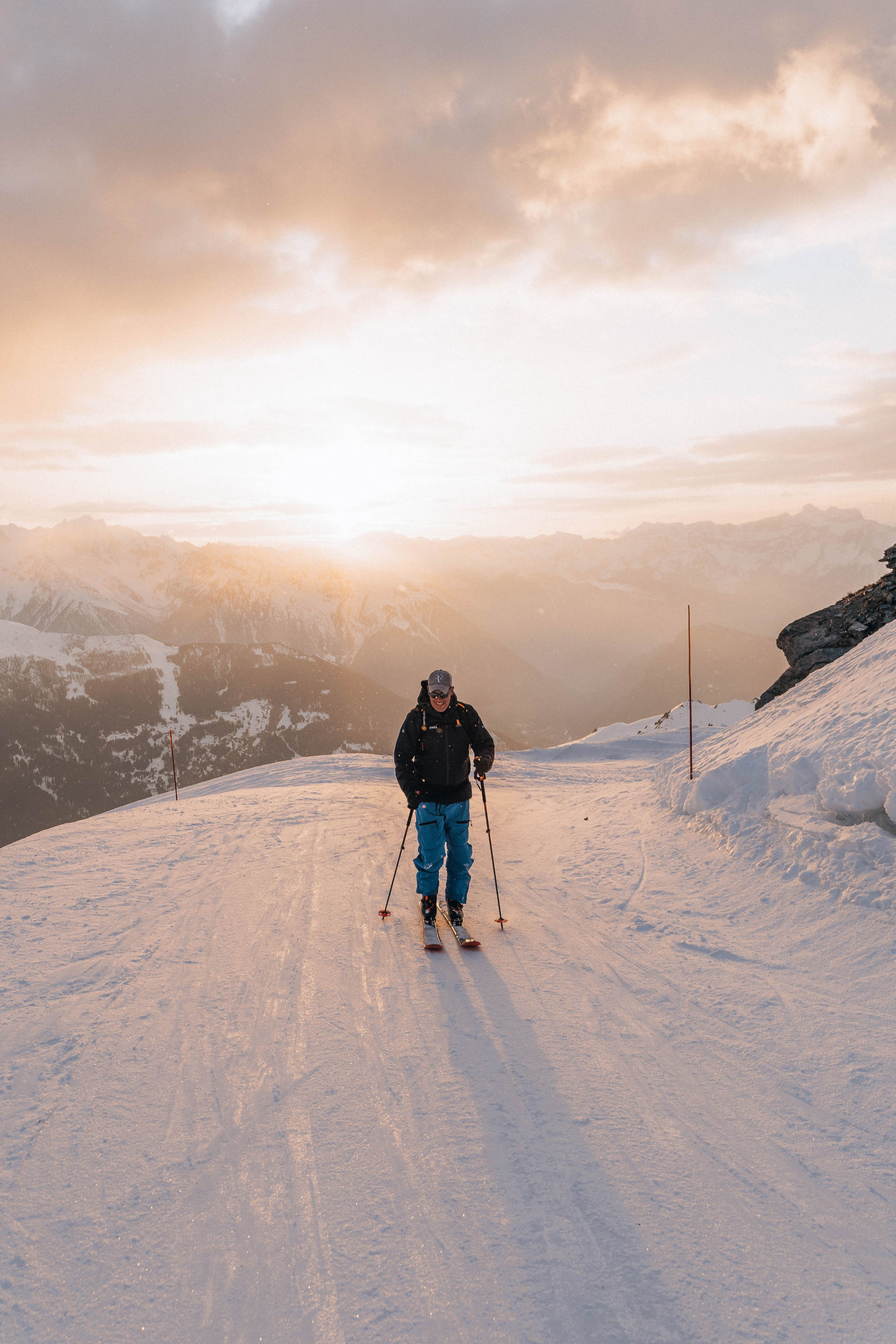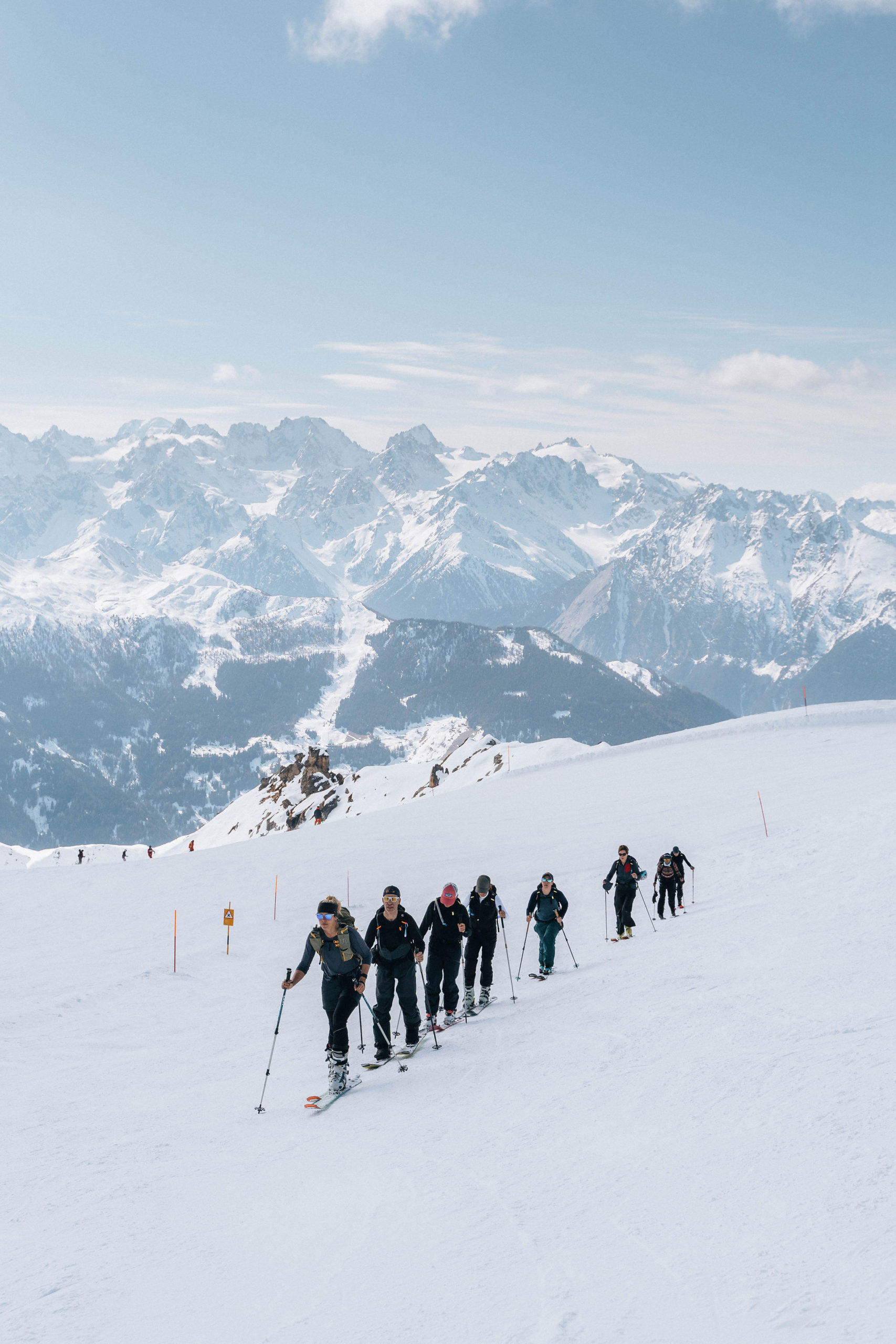 At this point it might be interesting to point out that our brave and fearless guide Meg was sporting a very cool outfit of some sort of polar leggings and a thermal/down pair of shorts. Honestly I would rather shave my tongue than be able to pull that off but she looked rocking and the real interest came when I asked her about her down shorts and she told me it's because in very cold conditions she gets 'Arctic thigh'. A moment of silence passed round the group, Arctic thigh, what on earth was that? It turns out it's when your fat cells in your thigh freeze as you are at such extreme temperatures; another pause from the group followed by gaping mouths. 
Thank goodness Meg was prepared and I hastily starting moving my legs forward and back knowing that I have significantly more thigh fat stores than her, luckily none of us were affected whilst in Verbier, that is clearly one for Meg's more extreme adventures.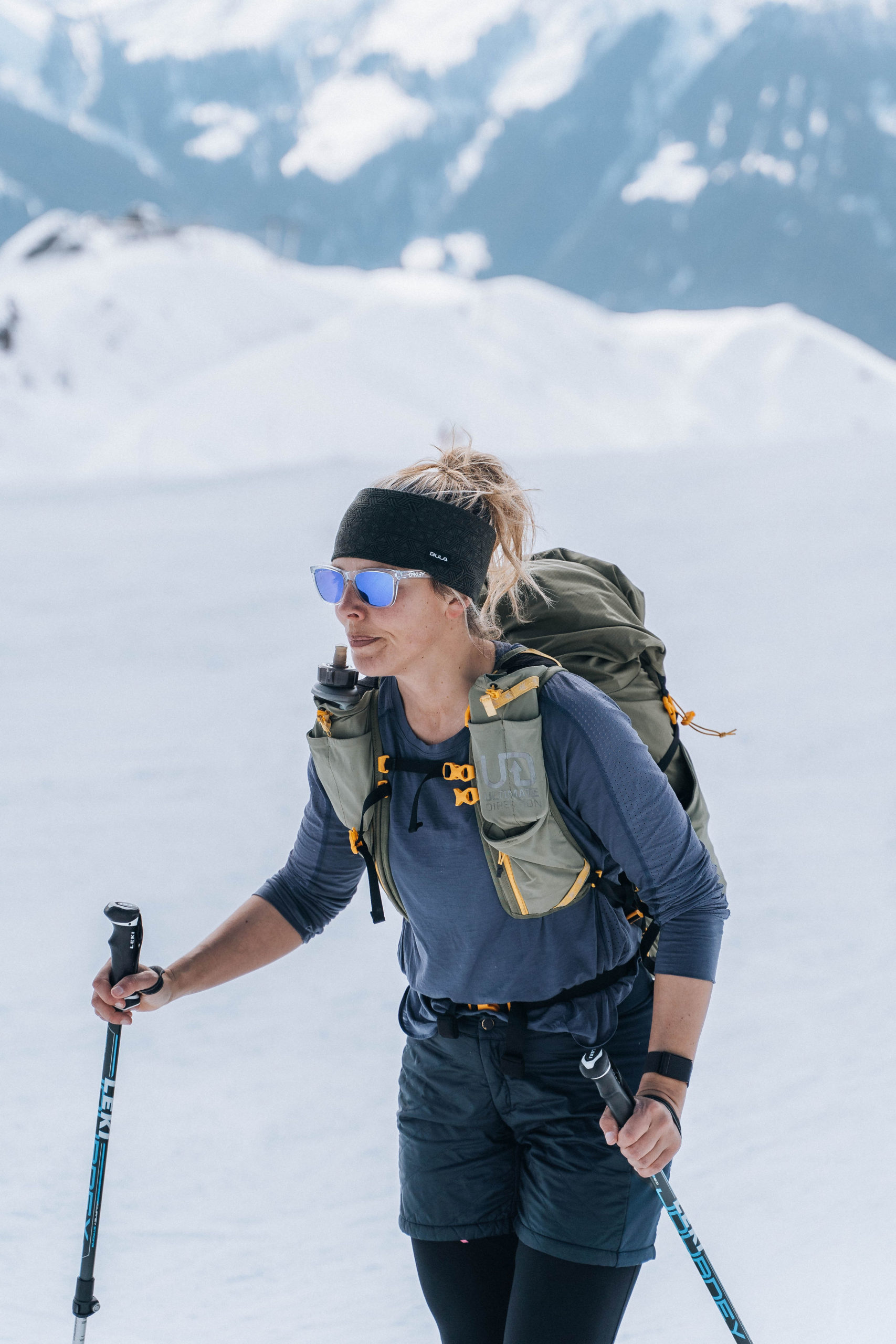 One of our team members had a pretty rough turn at lunch and I honestly thought they might have to go home, whether it was not eating enough, heat stroke (that is a thing in the mountains) or dehydration we weren't sure but the signs were there, not removing clothes, no appetite and not drinking enough. However, it is a true measure of her grit that she turned it around, ate just enough to keep her going AND she continued not missing a beat despite the sketchy half hour during lunch. 
During the afternoon the day was heating up considerably and Wednesday afternoon turned out to be peak heat. We were pouring sweat despite having stripped off as much as possible, however carrying heavy packs which were now swinging with numerous items attached to every strap, this only increased the heat. It was slow going and felt totally energy zapping.
In some ways it's frustrating as you make so much progress first thing, often clocking in 1000 vertical metres before your first morning coffee and that progress slows down as the day and the heat take hold. We made it though and slightly trudged back to the cabane. We had made great vertical strides of 2200m but were slightly frustrated we hadn't done more; yet we had two more days to go and lots of opportunity to make up the requisite metres. 
We were the first group in so there was a mad rush for the hot shower (2 for women and 2 for men that required a token, CHF 7 for 2 minutes!) and to secure a massage before the masses arrived. A blissful/agonising massage on the slab aka the supper table, supper and straight to bed. We were becoming a dab hand at the reorganisation of our kit and made a seamless transition to get ready for the next morning.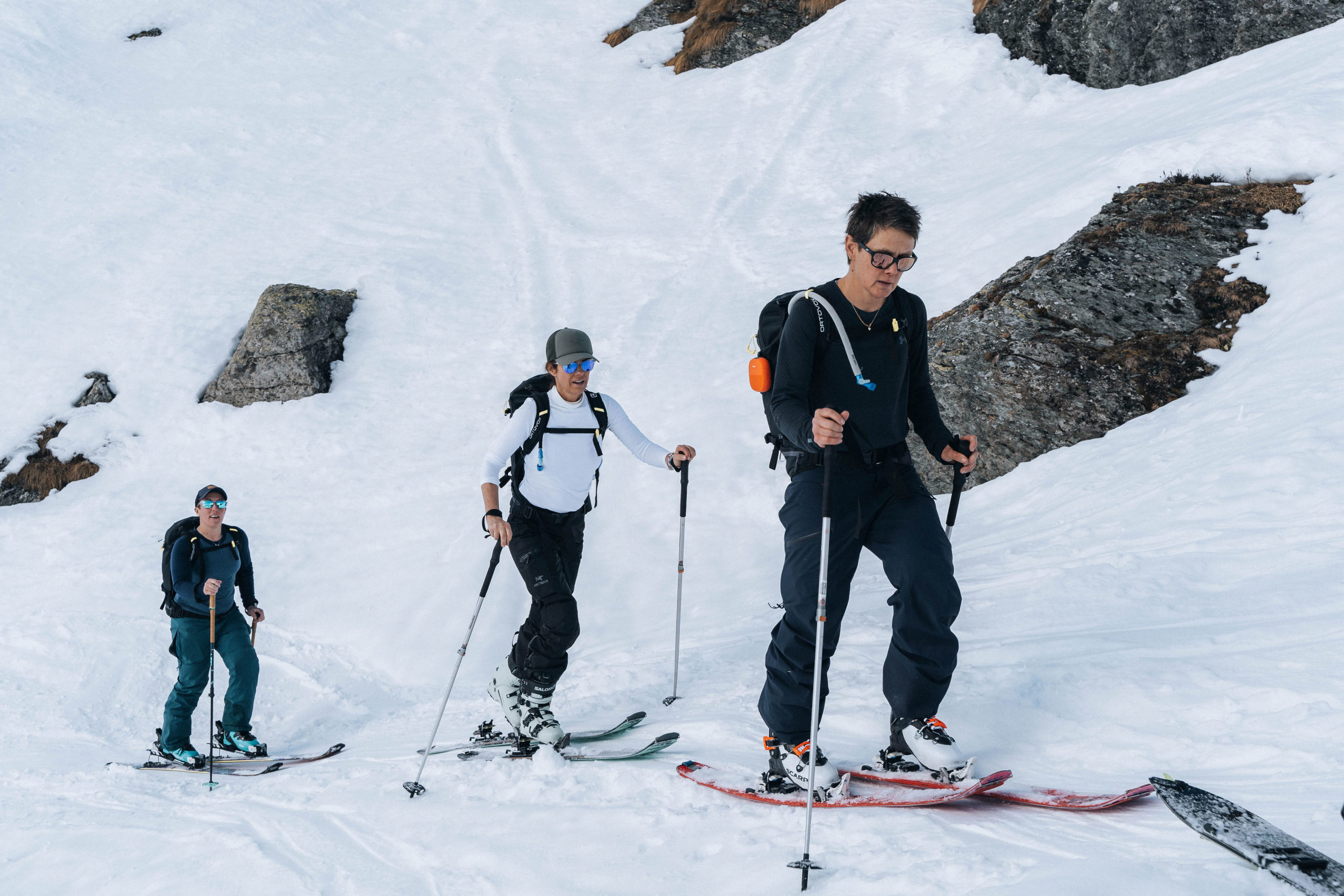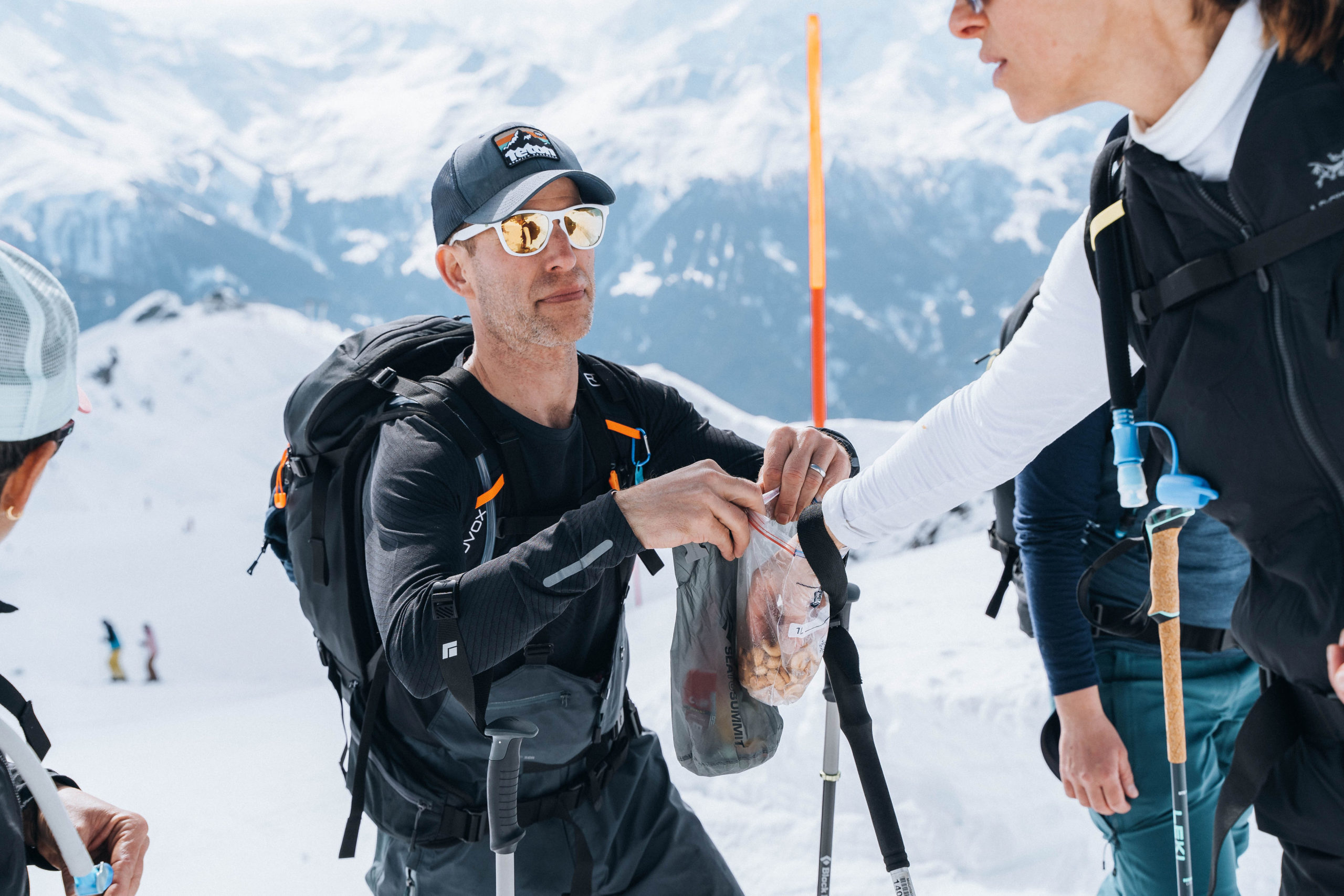 Day 3 Thursday 
This is a notoriously hard day, you are tired, the novelty has firmly worn off and you have two full days left. On the other hand, you have already done two days and have only two days left so you can bear anything for that amount of time, that is the nub of the mental game, do you see it as only two days left or two days more and only half way? We started well going up the back behind the cabane up to the top where it was a nippy -20 with windchill.
Needless to say there wasn't much chat or faff at that stop and we skied back down to our next skinning piste. My poor poor cousin however developed something I had never heard of (in the same vein as Arctic thigh) on the way down from our breezy ascend she developed hot aches which is when your hands come back into feeling after going completely numb. This is not your regular pins and needles however, she was doubled over silent in pain moving her hands forward and back (in fact at one point we were all doing this in some random mountain prayer movement to get warm).
This took a long time to come back into feeling during such time she put on as many gloves as she could but due to the sheer amount of ruck sack and layer action she couldn't put her hands in her pockets. This took at least 30 minutes to resolve during which time she carried on moving her hands and remaining quiet, we promised her we wouldn't do more than one of those ascents any morning as it was too painful for her.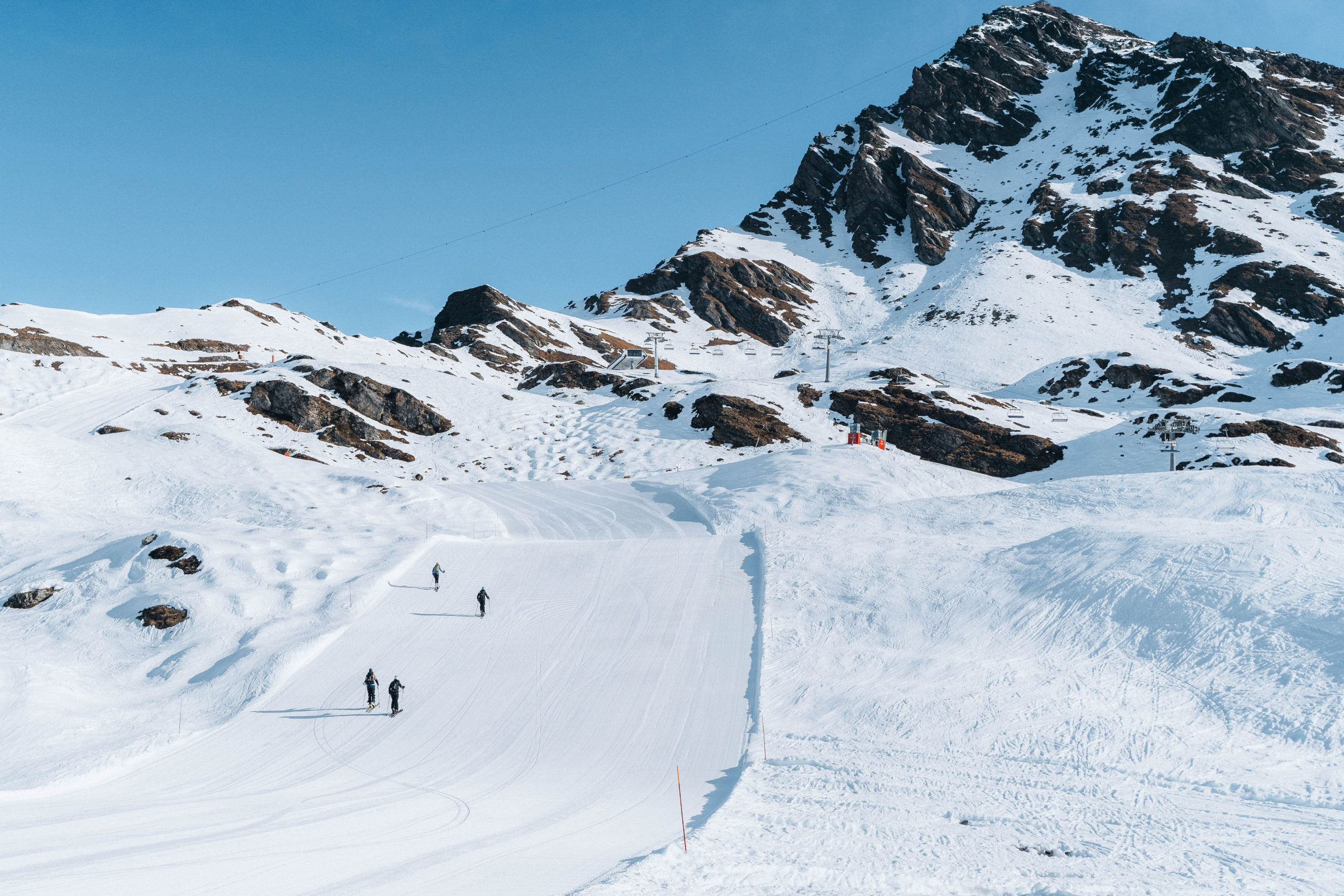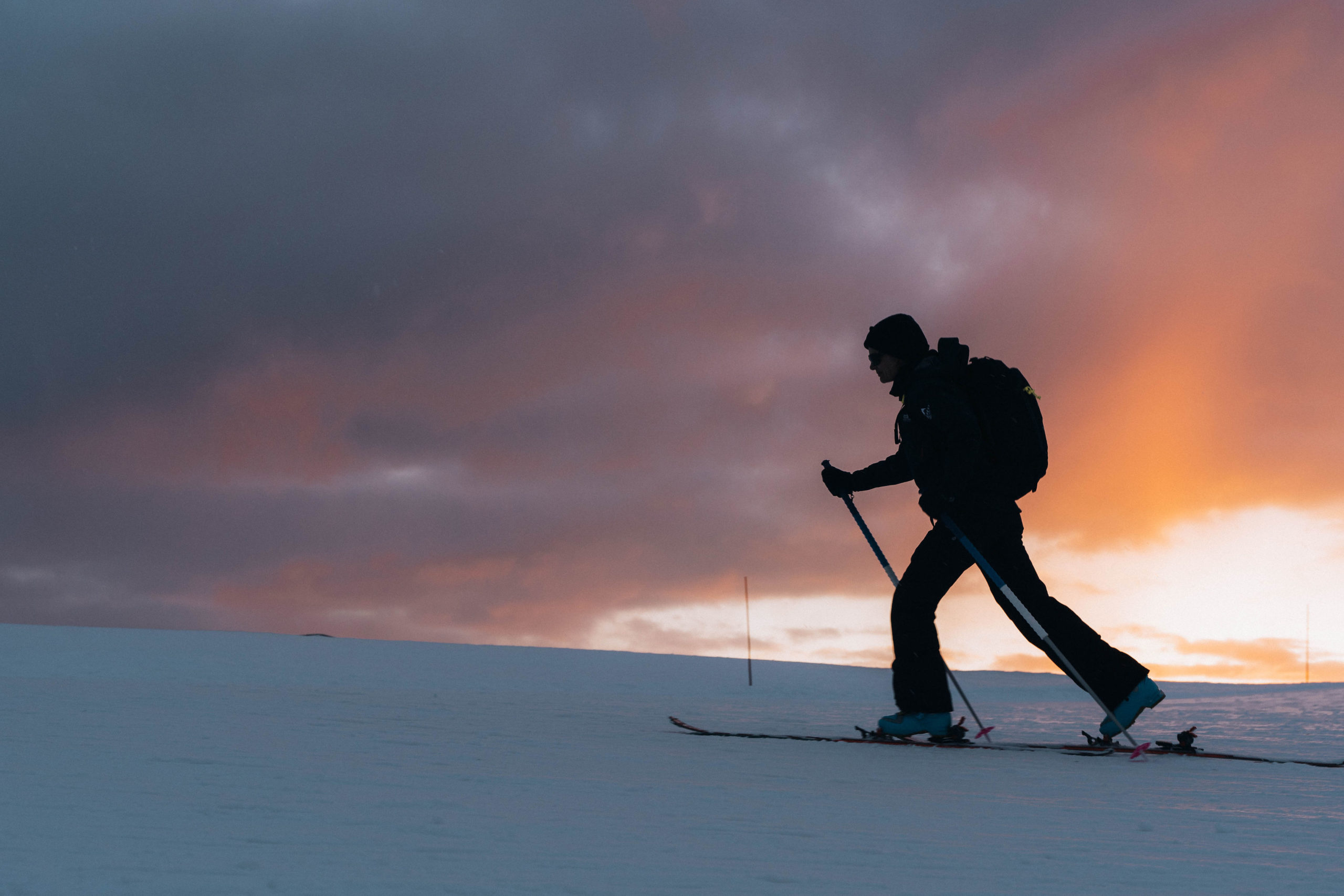 Overall this year due to the snow conditions, the area wasn't as diverse as I skinned last time in 2019, although we weren't repeating the same piste over and over again (a very real concern for me and my mental ability to withstand that) it did limit and forced our brave and fearless guides to have to repeat a few routes, particularly that going up to Attelas, one of the highest points.
The other slight complication was the number of skiers, there were a lot including hordes of kids in groups. It transpires it was a holiday of some sort in Switzerland and a lot of lower resorts had no snow so there were a lot more coming up to Verbier.
This made skinning up in some areas tricky particularly when it included having to cross the piste. Not only were we contending with crossing pistes with touring skis and skins (which effectively feels like crossing ice in flippers with your heal dangling) but we had to be super cautious and either go in a horizontal line or just two by two keeping your head up, watching out for kamikaze skiers and trying to keep momentum and in tandem with your crossing partner. 
It felt somewhat like a wildebeest must feel like successfully crossing the Mara: well a bit! Crossing numerous pistes was stressful for the guides and us and took a lot of time up which was also frustrating but luckily no mishaps so it proved beneficial to be cautious.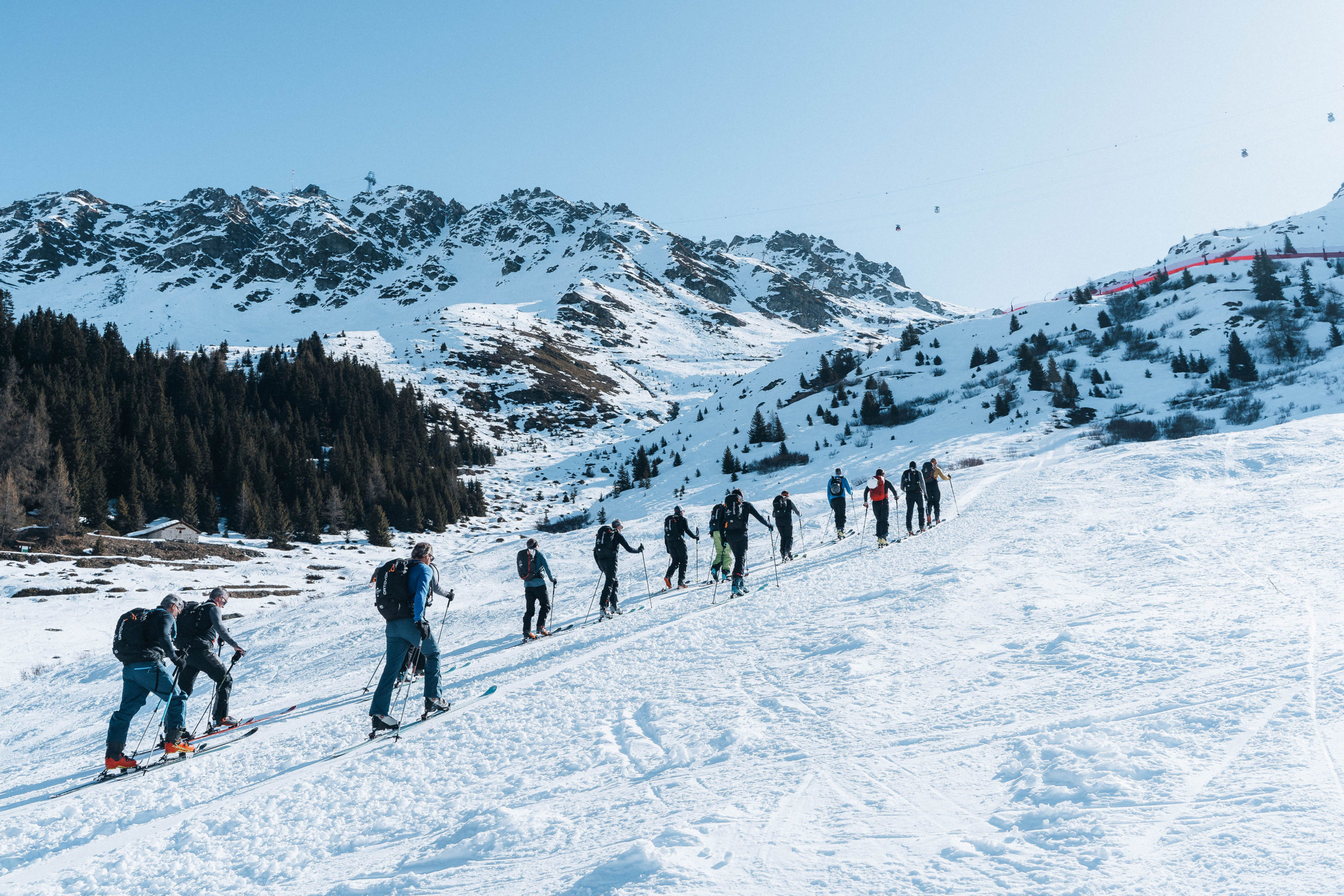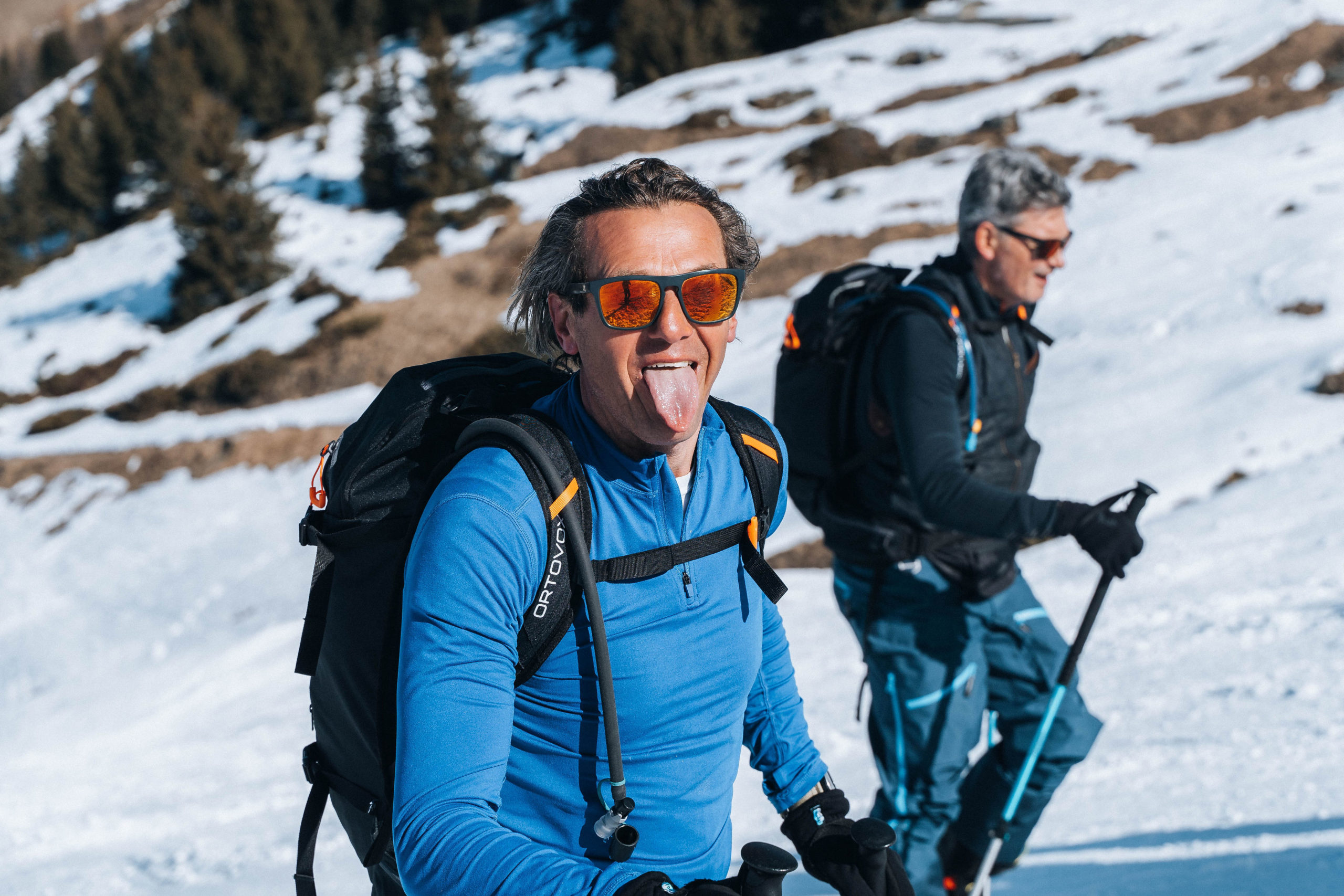 After lunch the guides in our team decided that it would be beneficial for the team to split as some of us wanted to go faster and others preferred a slightly slower steadier pace. This was done after our fabulous guide Meg gave us space to spend a minute on the mountain thinking about the person or the reason that had pulled us to do EIA and to reflect on that decision and our reason for being here. It was very emotional as all of us had had to climb our own mountain at some point and we strongly believed in our ability to finish this challenge. 
We bade our other team members off and followed our other guide Stu who set off at a blistering pace. We carried on skinning back towards the cabane and then carried on past it back up to the steep slope behind it. We had music blaring, apologies for breaking the evening calm on that front, but we managed to burn up a good ton of metres which would set us in good stead for Day 4. 
Having got on our skis at 6am we were now getting off them at 6.50pm so a long day in case you were wondering. 
However that was peanuts compared to our team mates from whom we had split that afternoon, they came in at a reputable 8.15pm in order to make up the requisite metres so that they could complete the height the next day, wow wow wow those women are made of steel, they got a round of applause on entry, it's that kind of graft which Everest in the Alps is all about.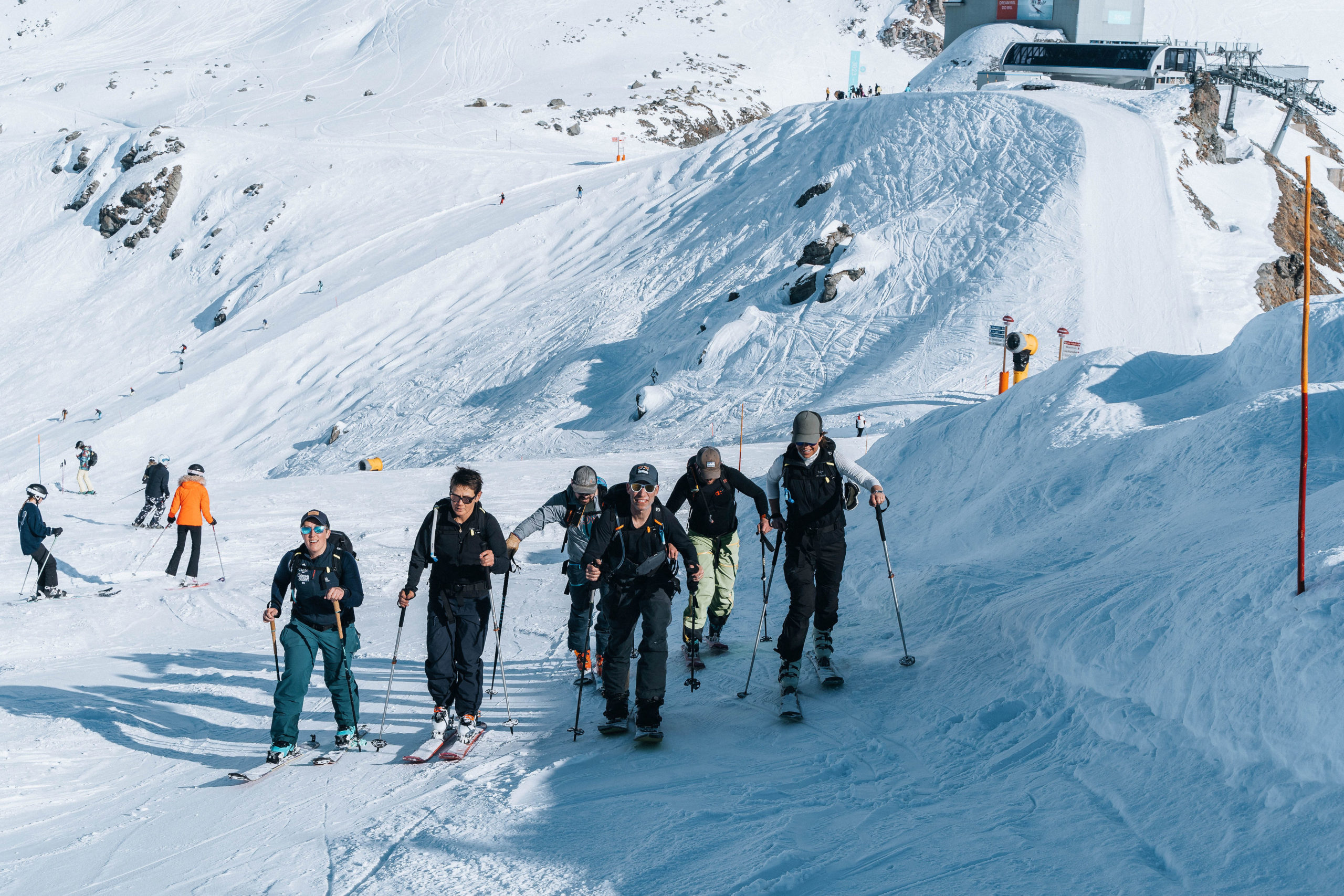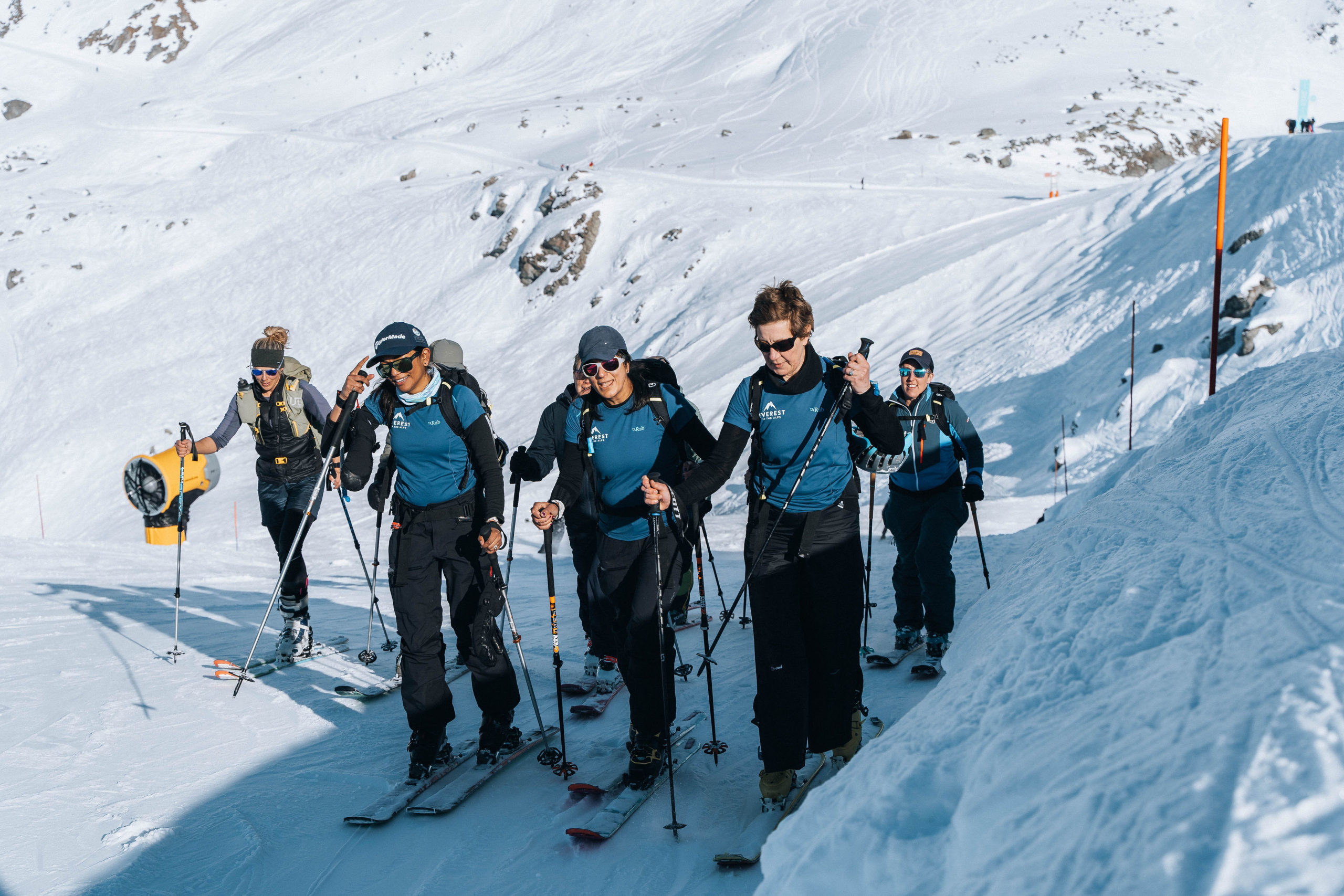 Day 4 Friday
Finally the last day, we packed up all our kit in the cabane, how can it feel like we had more than when we started? We also had a ton of snacks that we hadn't touched, note to self for next time. Off we went in two groups again. For some reason Friday morning felt like a bit of a slog, we had been out pretty late the night before so we were feeling more tired. I was having to eat more and more, we were in touching distance but not quite there yet.
We also had a few logistical problems as the pistes were becoming fenced off at the top of the mountain due to a ski race which was taking place the following week, that was making it tricky to cross the pistes where we had wanted to. Therefore we opted to go low and skin up half way up the mountain, we did this twice via different routes and actually that was fantastic as it was a change of route from the last few days. Last lunch and then the final push. We made it across the line just after 3.30 and our stellar teammates joined us an hour later.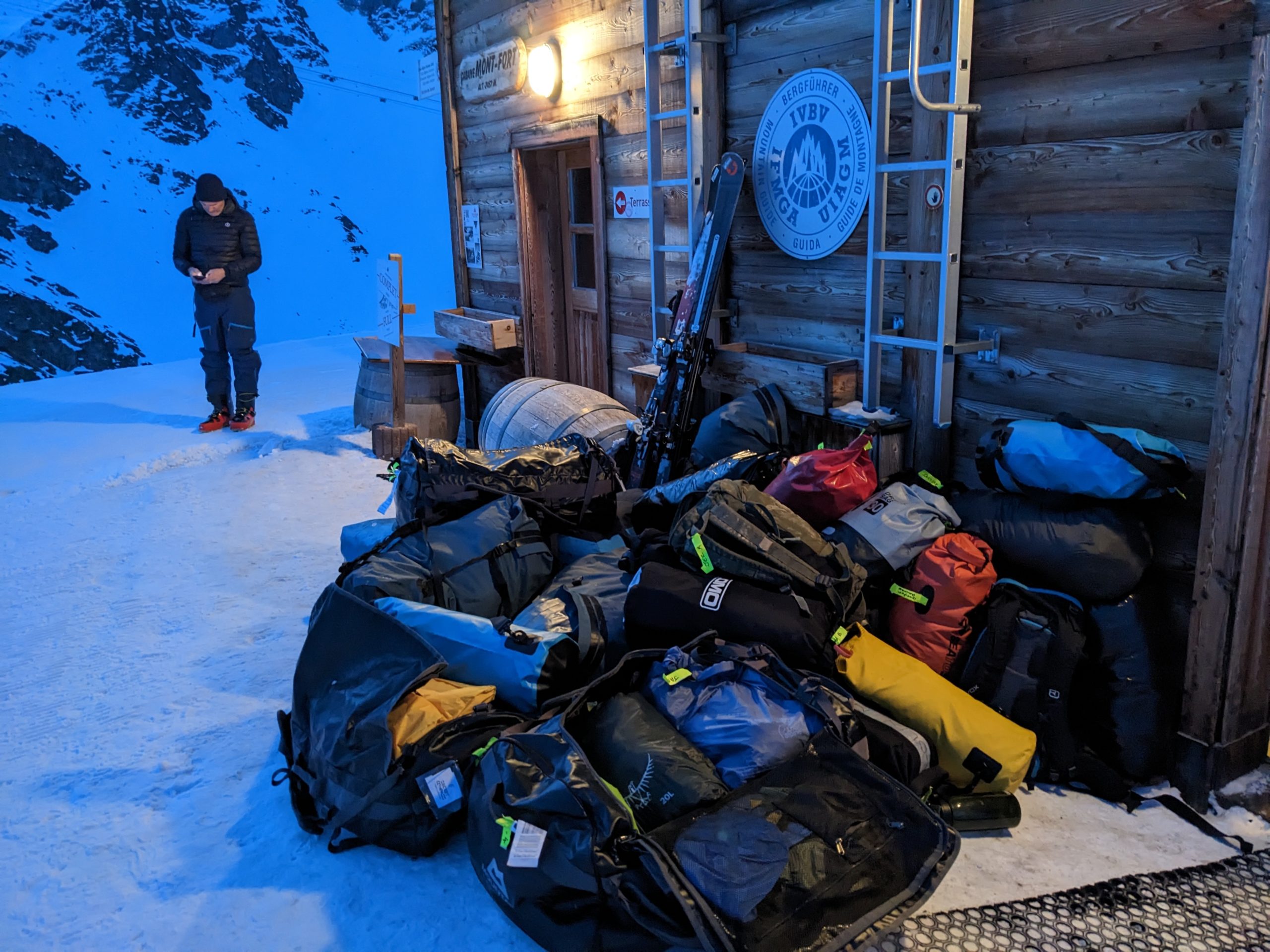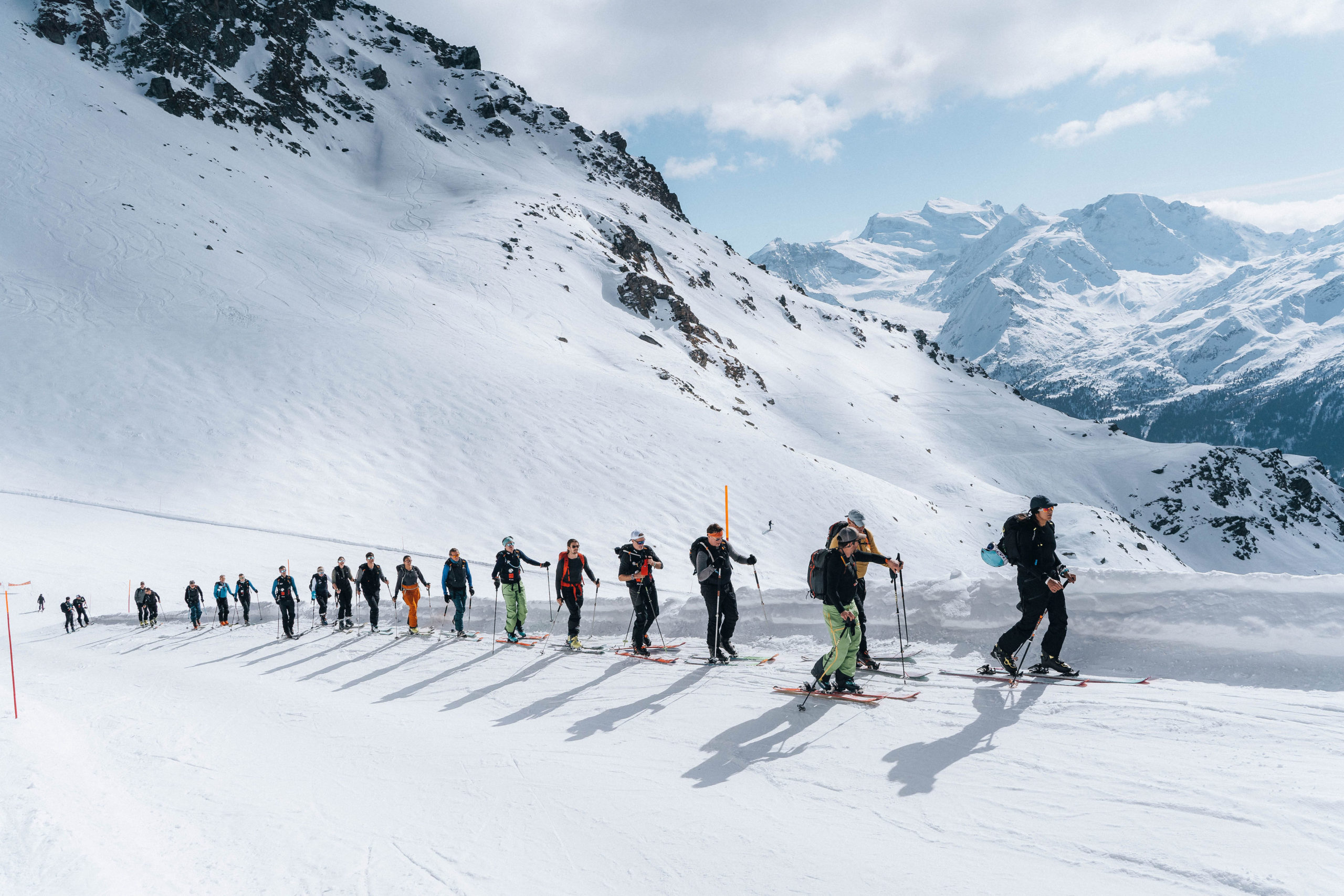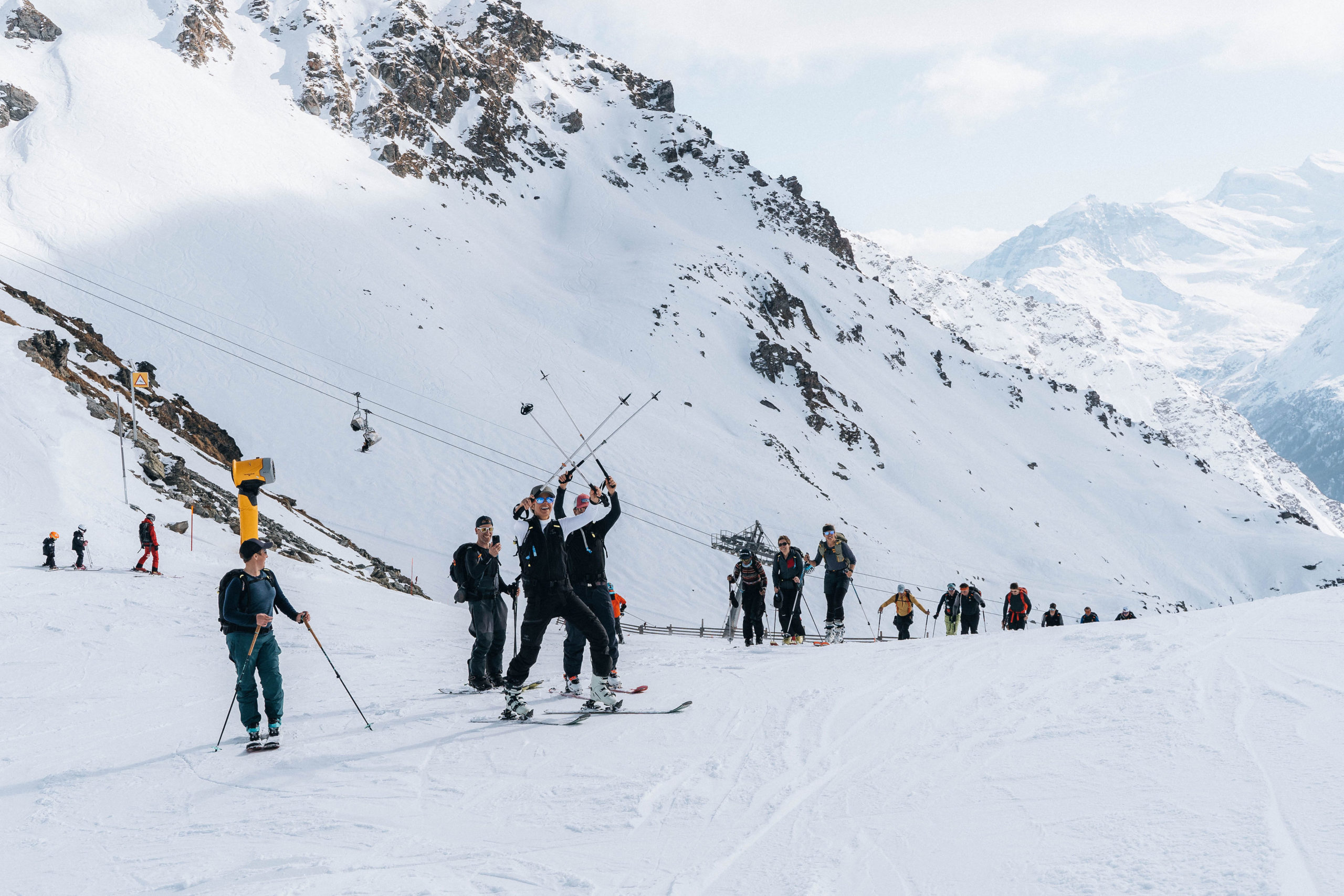 Everyone had completed, were triumphant, very teary but ecstatic, the emotion was running very high. 8848 vertical metres, 141, 542 steps over four days and a lot of nuts eaten. After champagne, pictures and phone calls Nish, Monica, G and I were left on the mountain on our own. We skied down with blue blue sky and clear empty pistes, it will be, without question one of my most memorable last runs of the day – no rush, no skinning, relief and sheer happiness.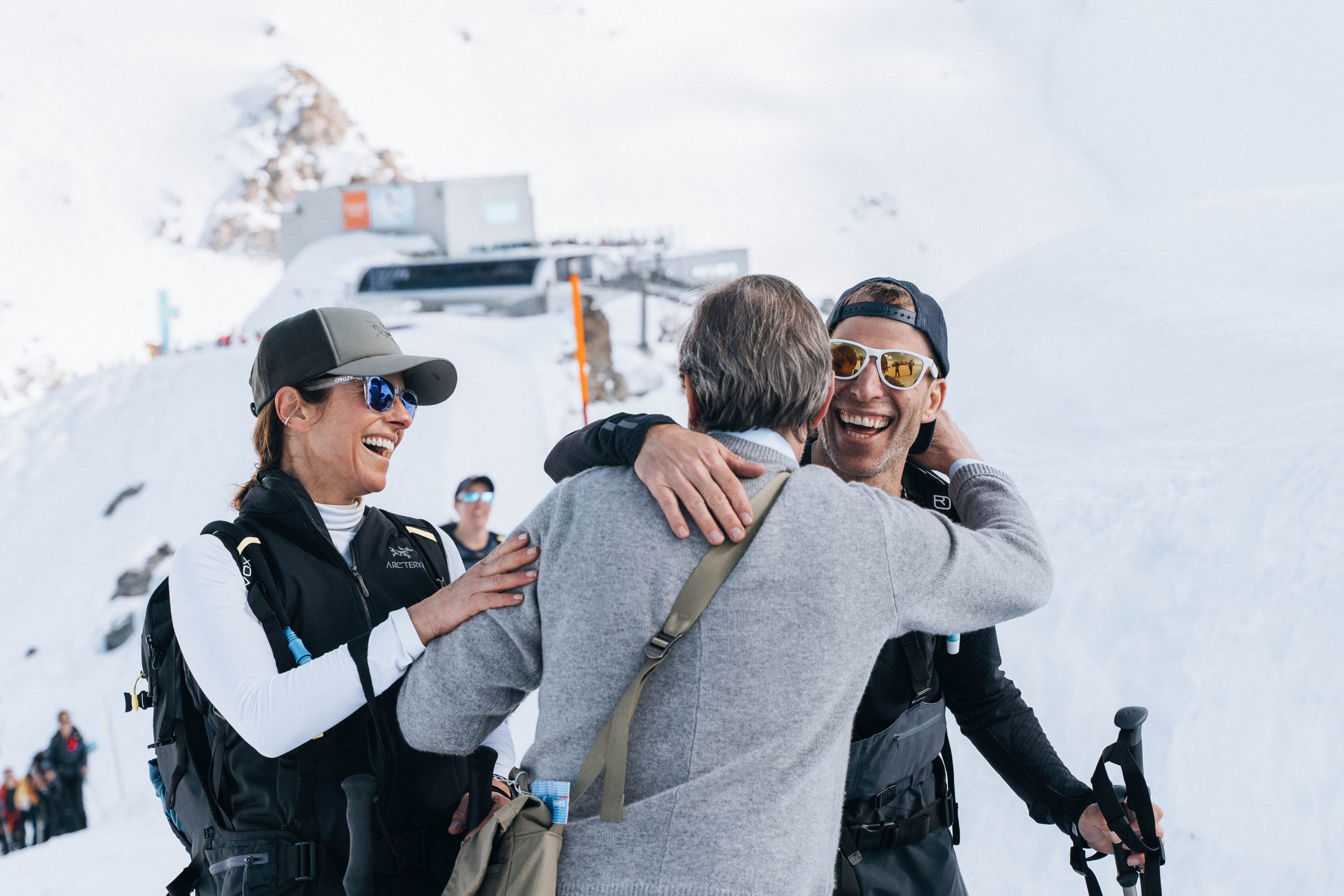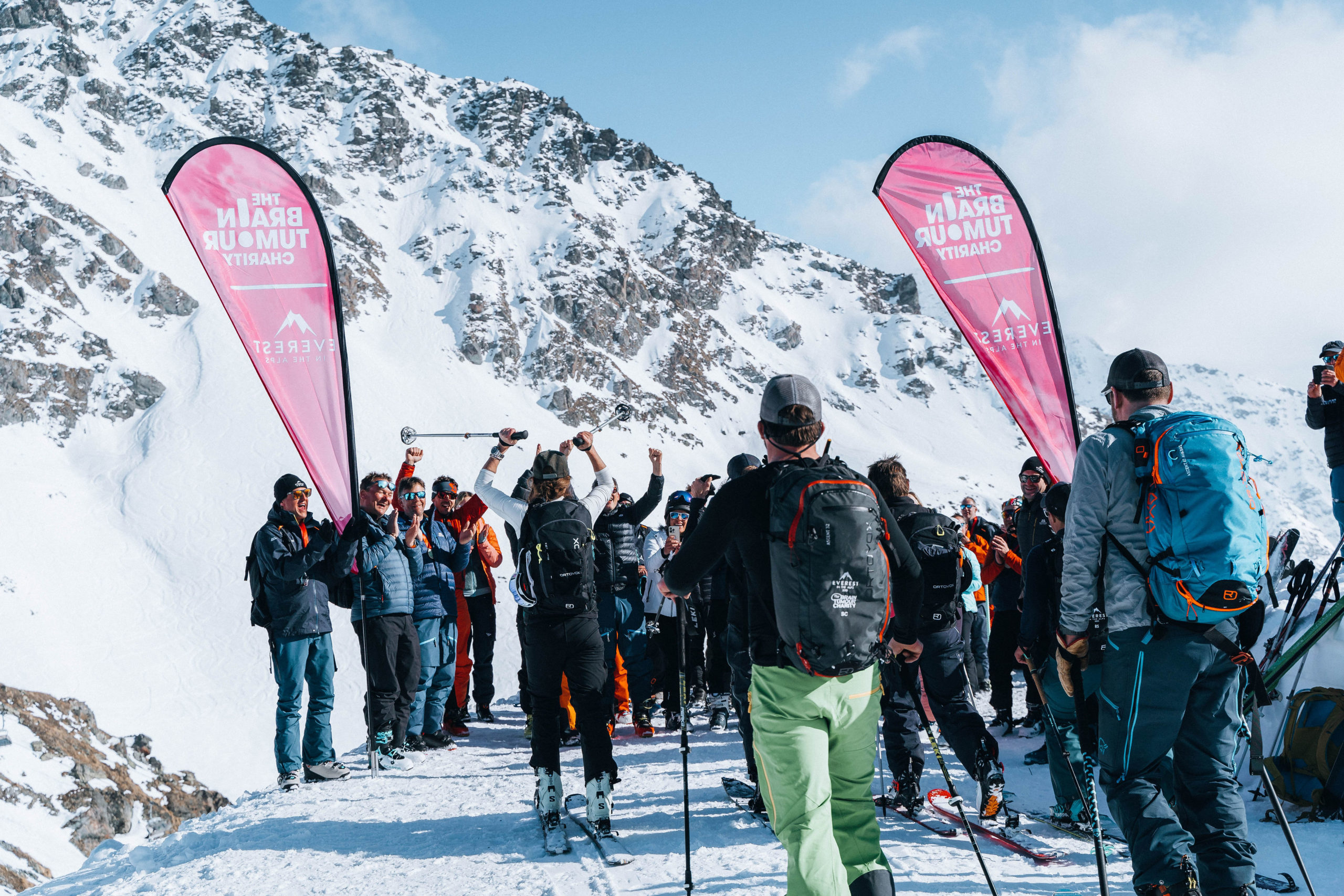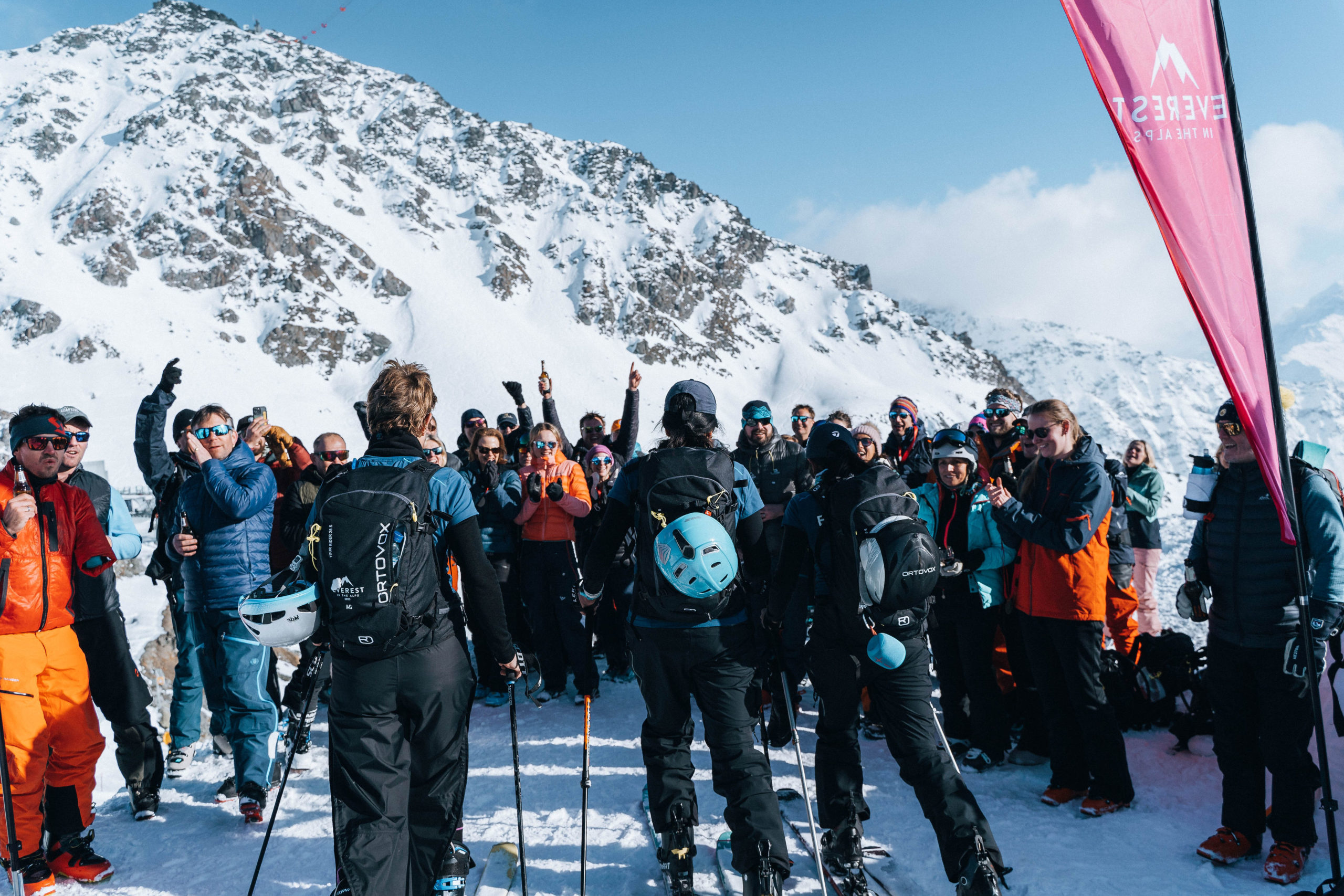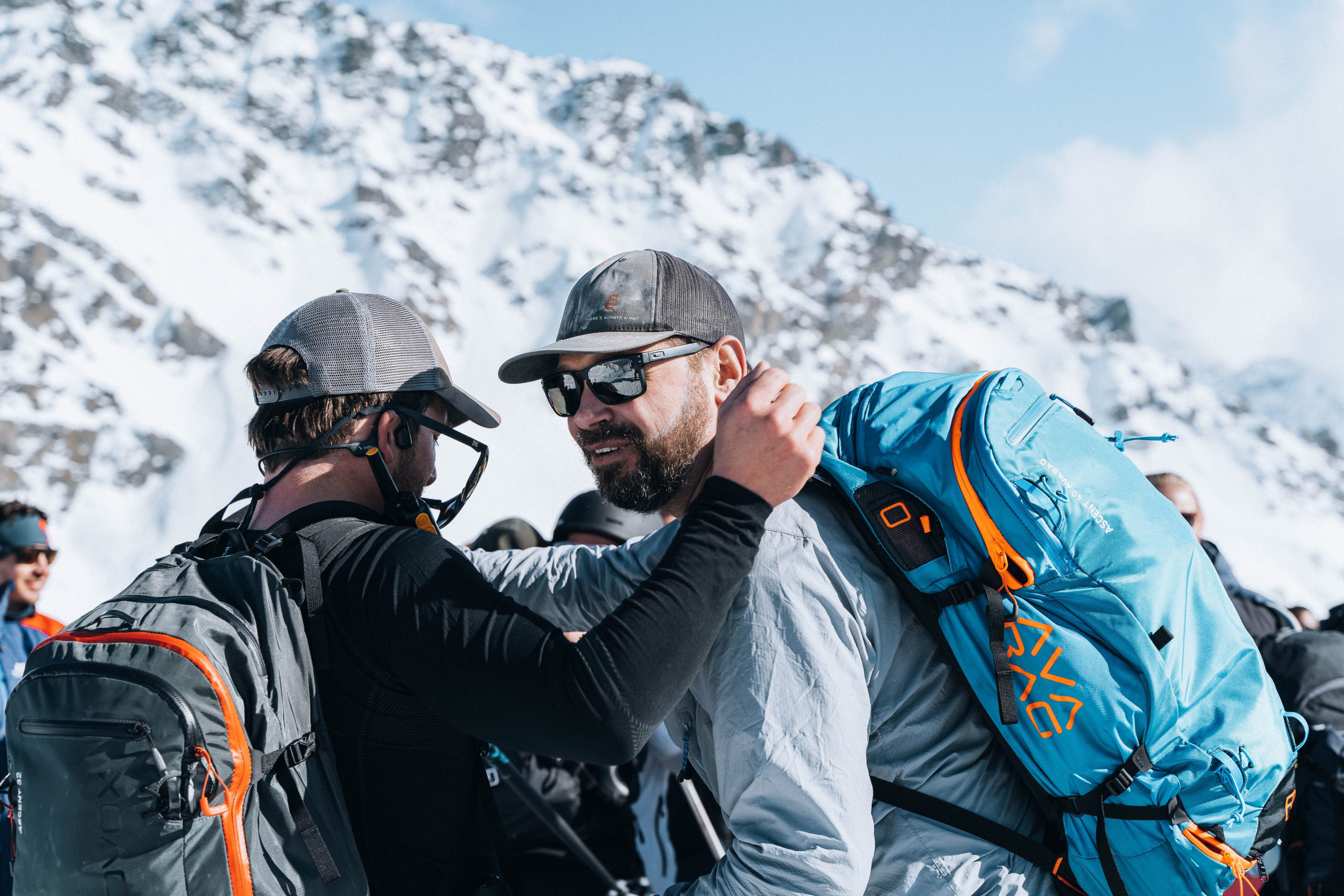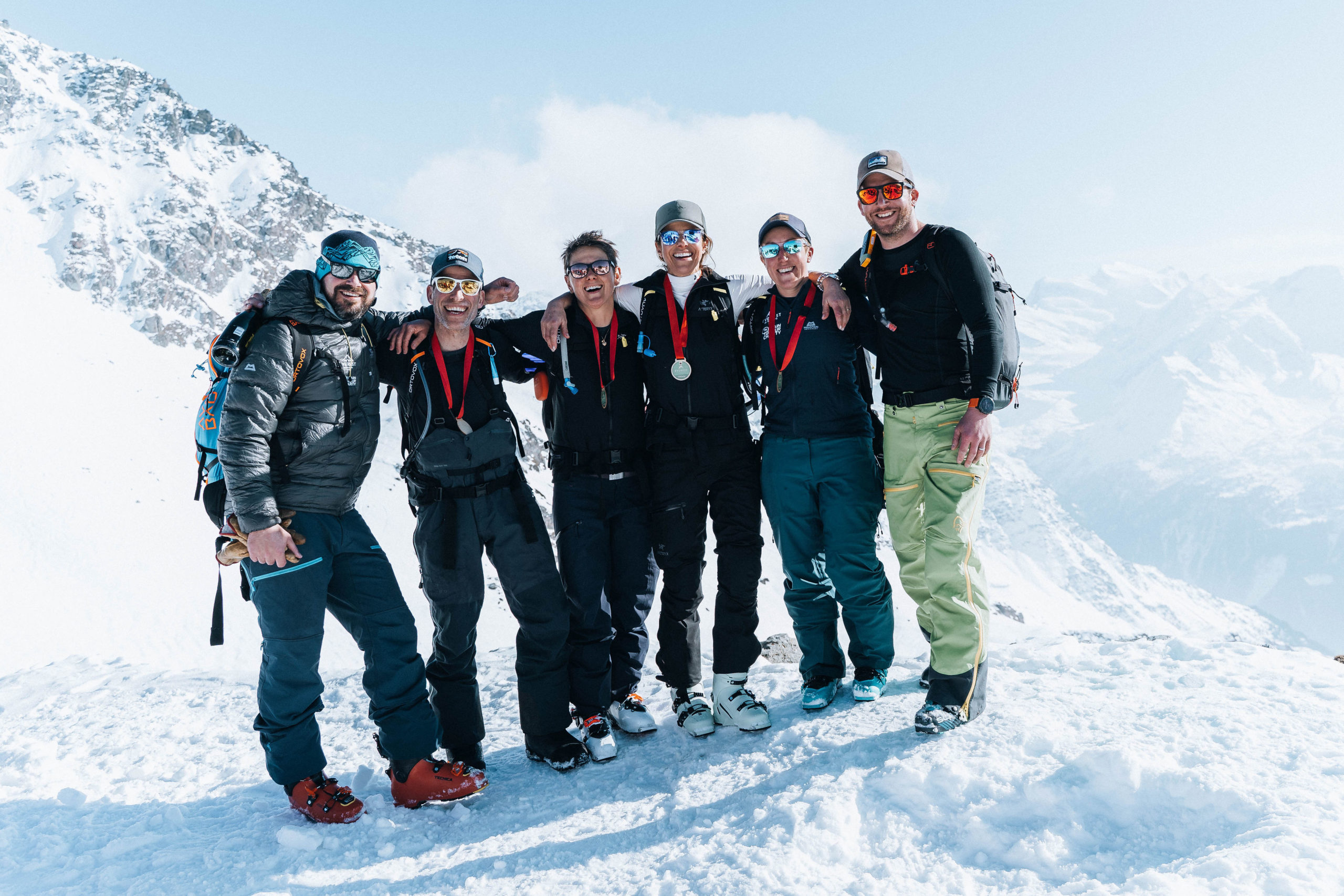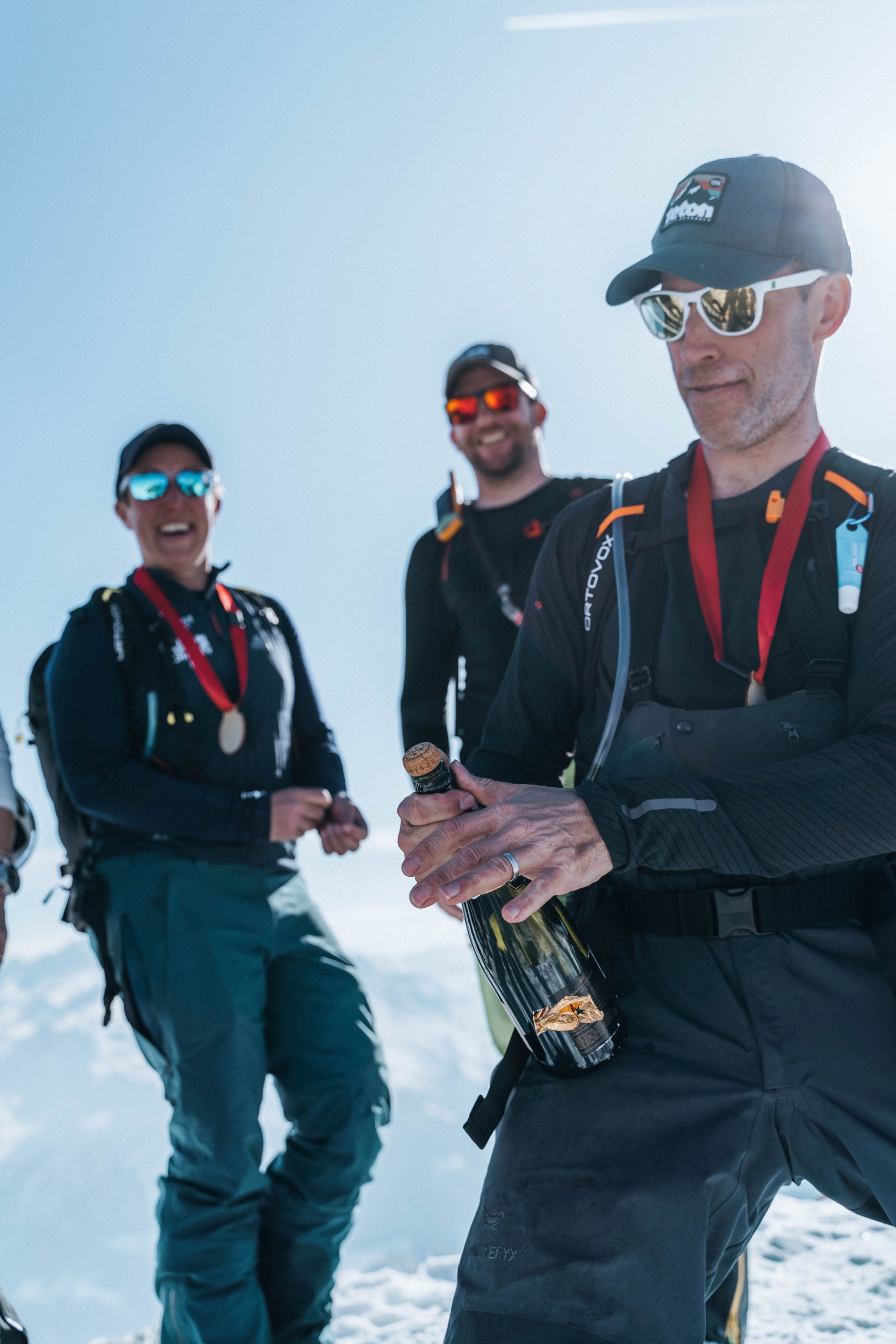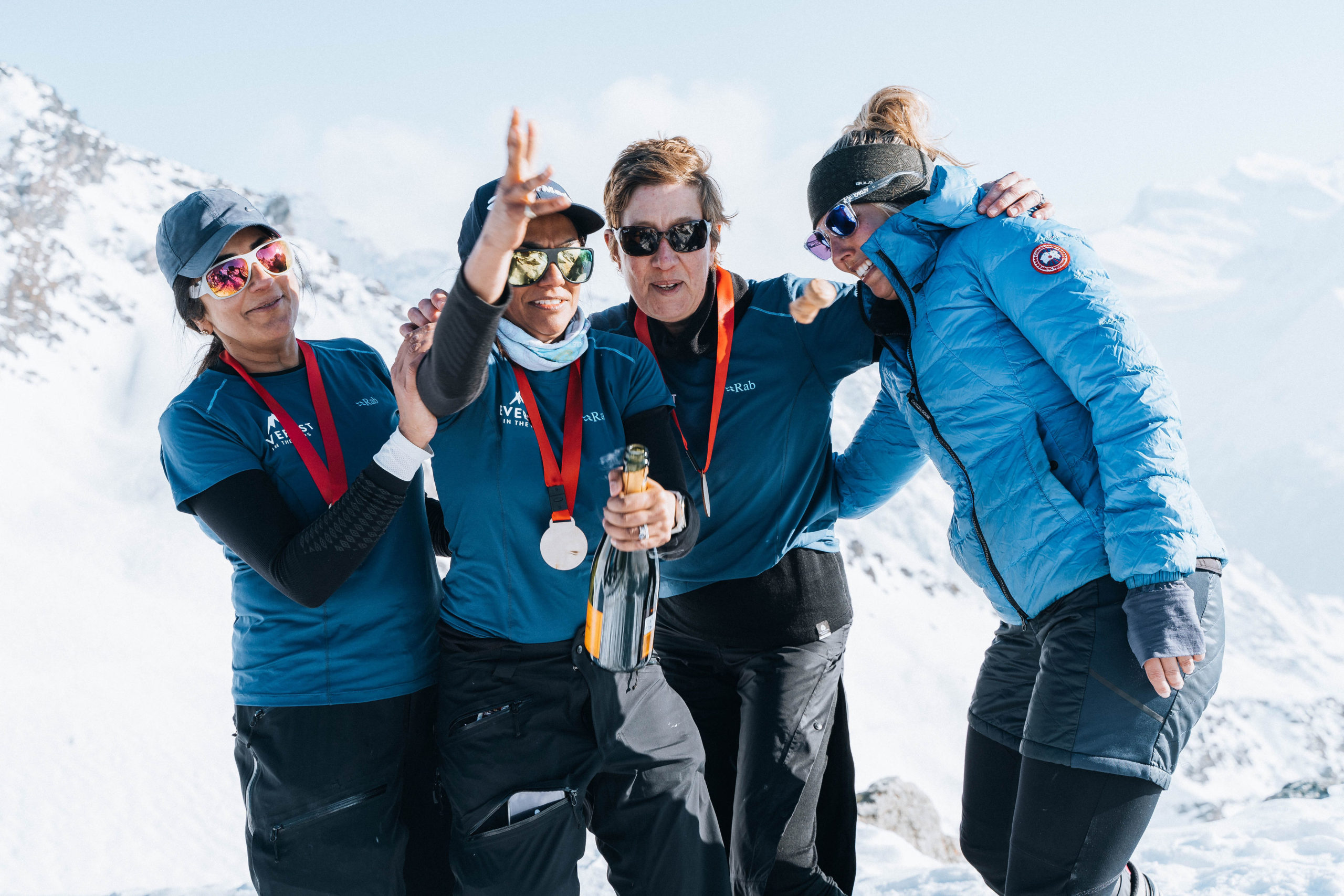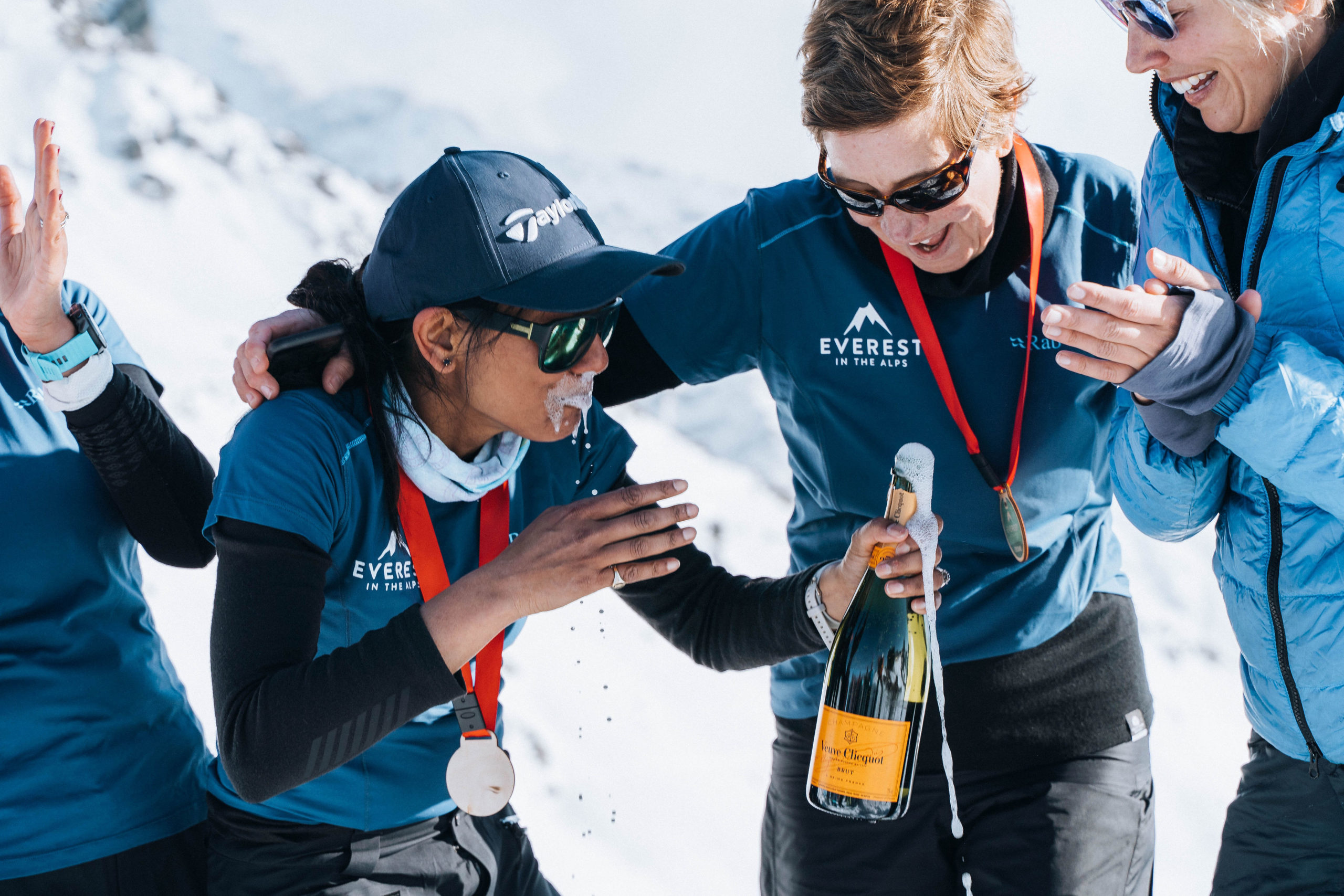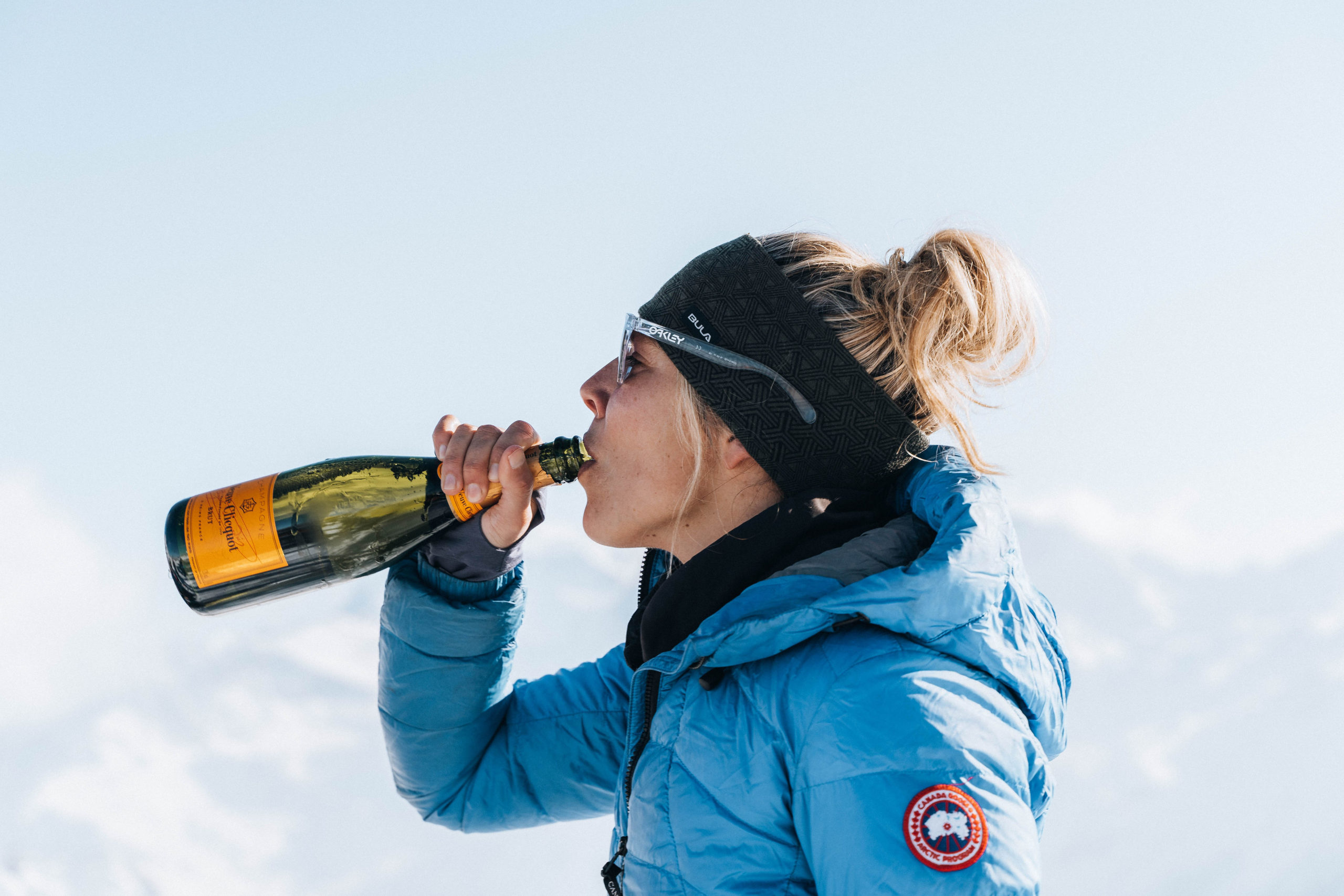 Without a doubt it's a huge honour to spend such exceptional time with each other, to get to know and support each other in such intense circumstances, to put ourselves through an extreme challenge and to feel a sense of achievement it's difficult to articulate. The huge effort of training, preparation and fundraising all comes together as you cross the finish line sinking into the arms of your teammates.
No question Everest in the Alps is an exceptional experience, it's tough, arduous and life changing; EIA 2024 is calling and I would encourage anyone remotely tempted to take up that baton and put one ski in front of the other. 
Lorna Robertson Timmis
March 2023