For those that choose to fundraise for them, the Brain Tumour Charity has been on hand to support our team members for every step of their journey. Here they give us the lowdown on EiA 2019…
How it all began…
It's not every day you take a call from Location Location Location's Phil Spencer in your living room. 
The journey we took as we worked alongside the phenomenal Everest teams throughout their fundraising journey was full of surreal and inspiring moments like that. 
Tasked with supporting the team to raise as much money and awareness as possible for The Brain Tumour Charity, we knew we had our work cut out. Little did we know, the team would not only smash their target, but make a life-changing difference to children diagnosed with low-grade brain tumours. 
Everest in the Alps was set up by one of The Charity's trustees, Rob Ritchie. Rob was motivated to take action when he discovered the devastating news that his five-year-old son Toby had a low-grade tumour and has vowed to help speed up the search for a cure. The challenge, now in its fourth year, is the ultimate winter endurance challenge and combines fundraising for brilliant causes with taking on your own Everest, just as those diagnosed with a brain tumour do. 
To date, the Everest in the Alps participants across the challenges, have raised a staggering £4.5 million pounds. This vital funding goes towards The Everest Centre and through its research has helped to propel our understanding and improve treatment for low grade brain tumours.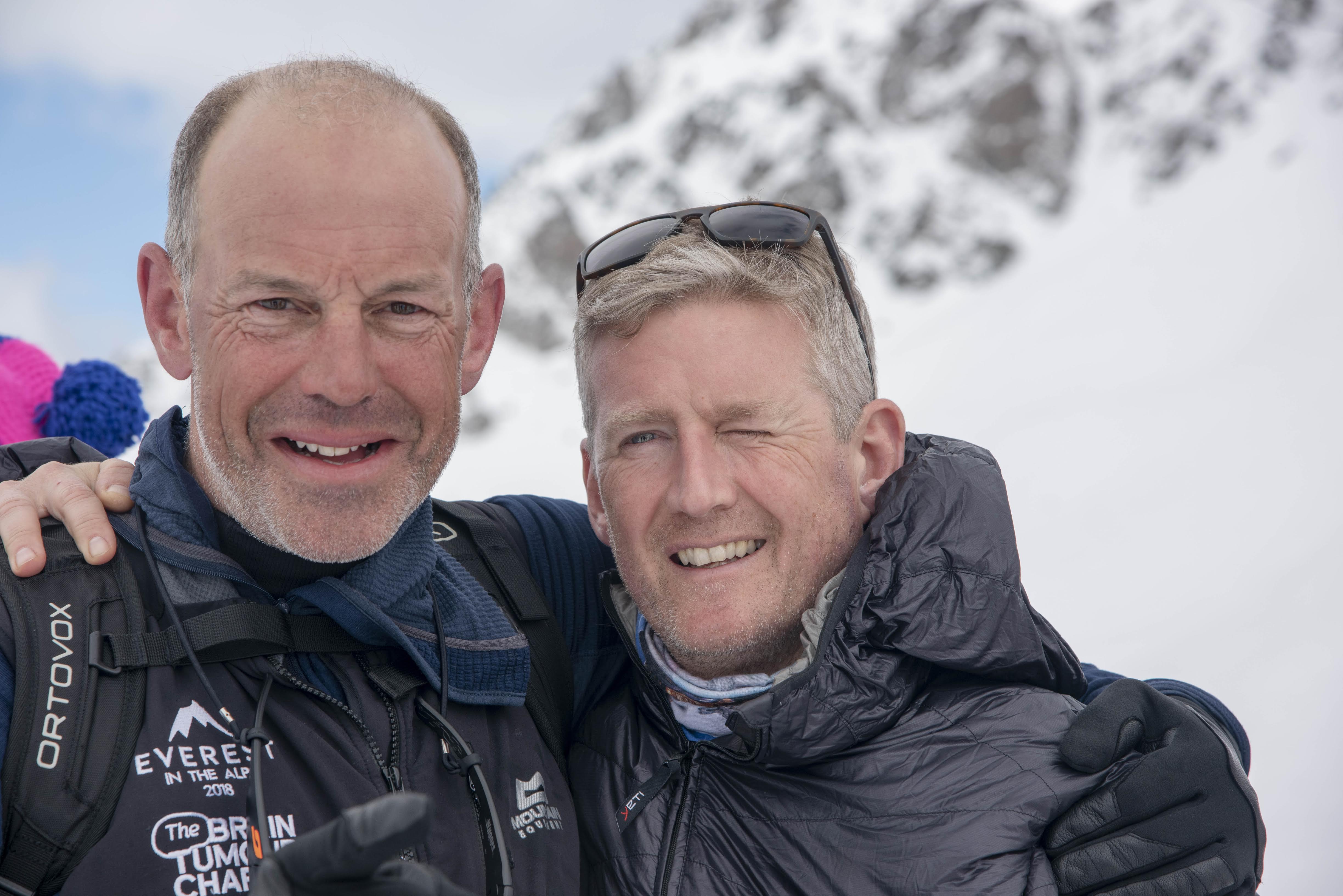 In the run up…
As soon as we met the teams and began working together, it was clear they were going above and beyond to raise funds and awareness. Not only did we hear tales of their gruelling training programmes but their fundraising was taking off too. 
We were asked to provide documentation to secure funding from all over, including countless Trusts and Foundations that our brilliant team had won over to our cause. We would get calls to say 'look out for a cheque in the post over the next few days'. Diligently we would keep an eye out and a few days later open a letter containing a game changing sum of money. The donations began to come in so thick and fast it was all we could do to keep up!
Our PR team produced an incredibly moving video to galvanise support for the challenge that included Phil talking candidly about his motivations for taking part and the inspiration he draws from Toby and his story. We also ensured local press releases went out and the momentum continued in the run up to the challenge. We invited team members to key events, including parliamentary receptions, to bring them closer to our cause, and see first-hand the impact of their support.
One participant went as far as securing sponsorship and then a partnership with Childs Farm, a leading baby and children's toiletries company that printed our HeadSmart early diagnosis messaging on one million units of their packing; a long term, life-changing partnership. We filmed an appeal video alongside Childs Farm, featuring Team Sagamartha and Katie, Corporate Partnerships Manager at The Brain Tumour Charity. The video showed the team explaining their motivations for taking part and why it was so important to raise the profile of this devastating disease, and was shared across Childs Farm's social media channels, reaching over 100,000 people in The Charity's key target demographic.
In the week before the challenge, we saw a huge spike in social media support. I got a text from a colleague one evening, 'Bear Grylls?! How did you guys manage that?' I nearly choked on my tea! Opening up twitter I saw the team had been sent a video by Bear Grylls wishing them luck. How they had managed that was beyond me but this was exactly the kind of tenacity we had come to expect. Then followed a string of celebrity tweets including the likes of Ben Fogle, Will Greenwood, Mark Regan, Phil Tufnell, Ben Cohen and Robert Pires! As well as this, our own brilliant supporters Lewis Moody and Tom Daley filmed videos for our team wishing them the best of luck, adding to the mounting excitement. Adding to this, one of our awesome Young Ambassadors who is living with a brain tumour also filmed a good luck message to keep our team inspired. 
Ahead of the team flying out to Verbier, we sent them all a good luck package containing essentials and home comforts to keep them going; everything from cosy socks to energy gels. They were all in varying states of nerves but there was a real sense of excitement as they headed to the airport.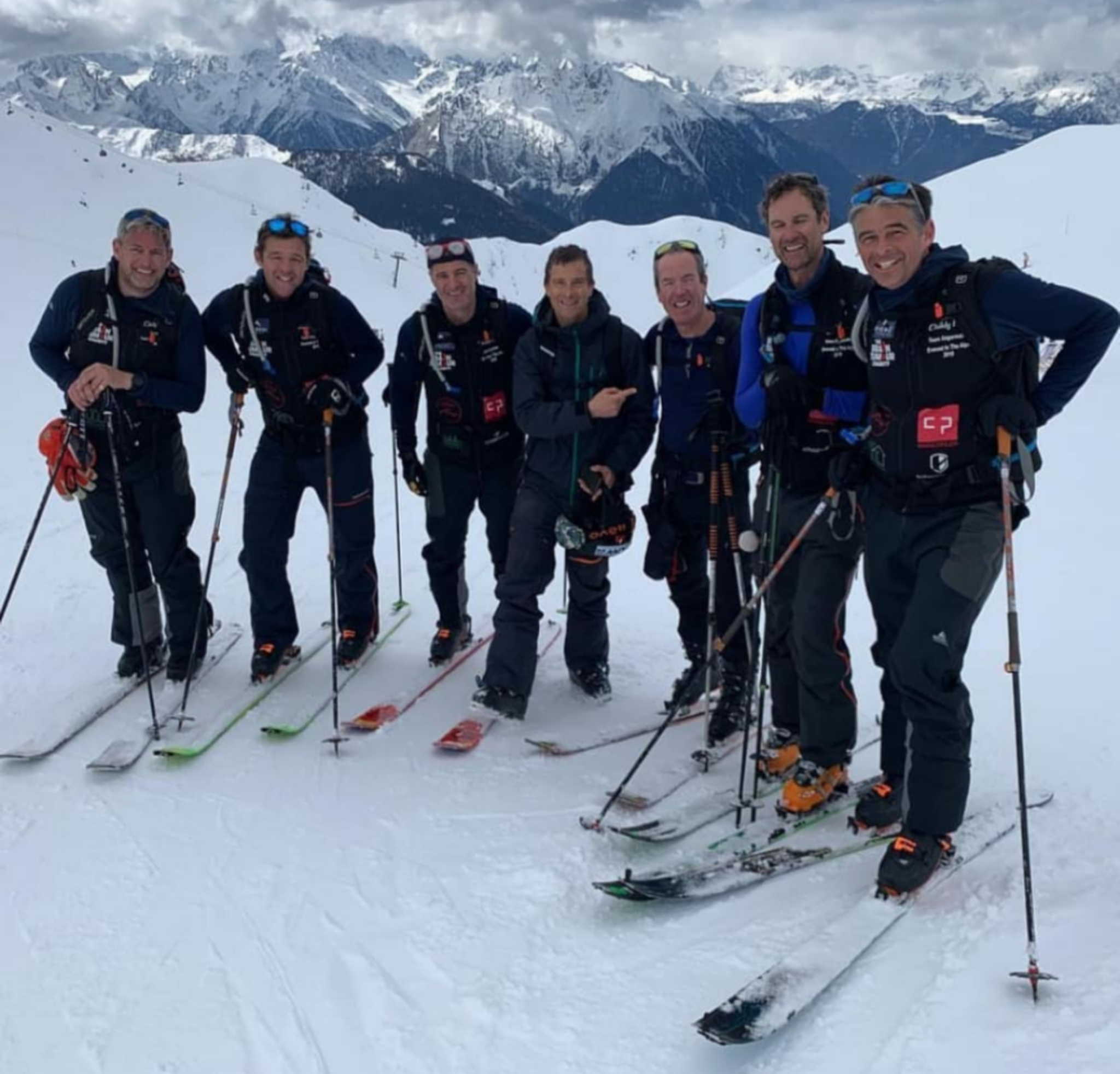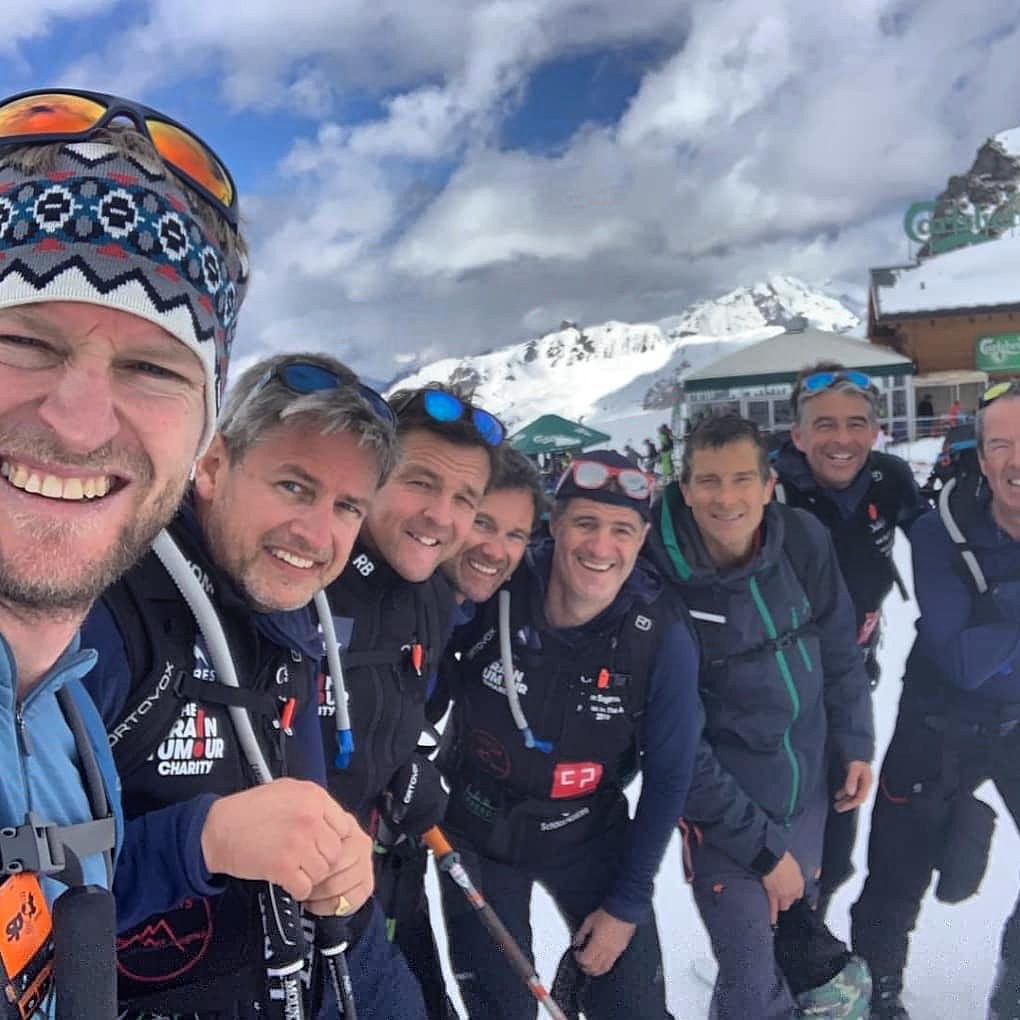 The Challenge itself…
As the challenge arrived, we took to social media where we had been promised updates and pictures of their climb. Sarah, our CEO, was keen to thank the team for all they had done to date so filmed a personal message to spur them on as they began the event. We also got the entire staff team together, around 100 of us, for a huge cheer and good luck adding to the growing excitement. All we could do now was watch and keep our fingers cross for good weather. 
Day by day we tracked the team's progress with more and more charity staff asking how they were doing as the week wore on. Even the researchers at The Everest Centre itself were asking for updates and sent us a brilliant good luck video dressed in ski gear and complete with fake snow, to pass on to the team. 
There was an audible gasp in the office when we found out one team member had injured his knee so had to pull out and we frantically scrambled to get a 'care package' sent out filled with things to cheer him up including beard oil as he had grown an epic beard over the course of his training!
Perhaps one of the most rewarding moments came mid-way through the challenge itself. My colleague Katie's phone pinged and it was one of the team with a video message. We all gathered round to watch and swelled with pride as the team, against a backdrop of snow, thanked her for all her support and said she ought to be right there with them! It was so moving that even half exhausted up a mountain, they had taken the time to thank her.
As the final day arrived, we were refreshing our feeds like crazy, praying to see tweets telling us they had summited safely. We were beside ourselves when the page loaded for the umpteenth time and we saw that the first team had made it. Our jubilance increased to learn the ladies team had finished first and on International Women's Day no less! There was a real sense of pride, celebration (and relief) when we heard that all the teams had safely completed this once in a lifetime challenge. 
The aftermath…
We struggled to think of the best way to say thank you to our 2019 challengers. How do you thank someone who has raised ten times their personal target!? We decided to invite the team out to The Everest Centre in Germany, to see first-hand the research their phenomenal efforts were helping to fund. Some of the team, kitted out in sponsored jerseys, flew out to Heidelberg and toured the lab with Katie and were thrilled to be able to see the tangible difference they were making.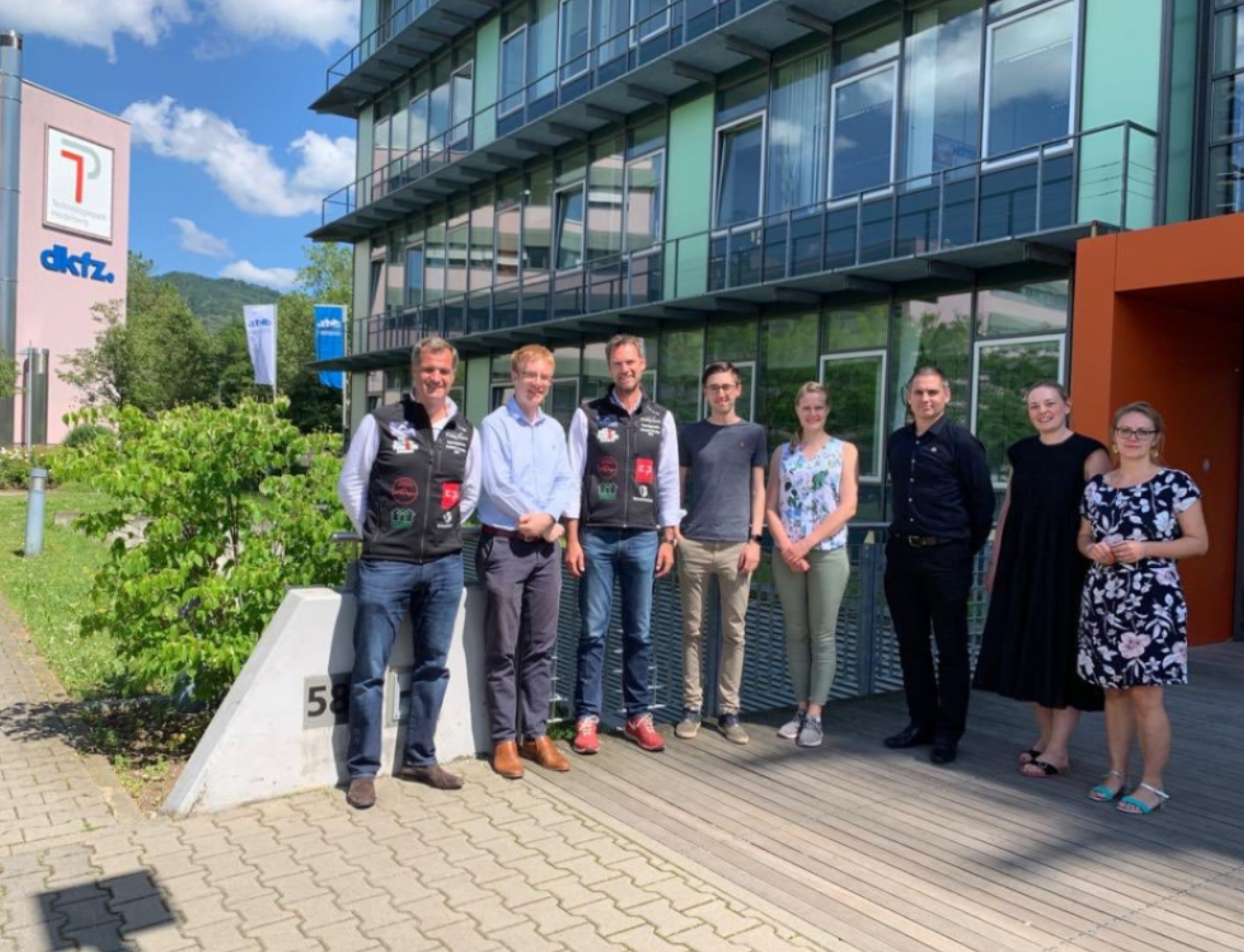 A month or so after the team had summited, we held a celebration event which had the real sense of a family reunion. It was incredible to see how close the team had become which was unsurprising given what they had undertaken together. We invited along Dr David Jones, lead scientist at The Everest Centre, who gave a poignant talk about the work the teams' incredible fundraising had helped support. It was truly moving listening to the progress being made and everyone in the room found themselves emotional, knowing they had made a significant and lasting contribution to the research. Each team member was presented with a framed certificate outlining the key milestones, such as 8848 metres in 4 extraordinary days emphasising just how much they had undertaken.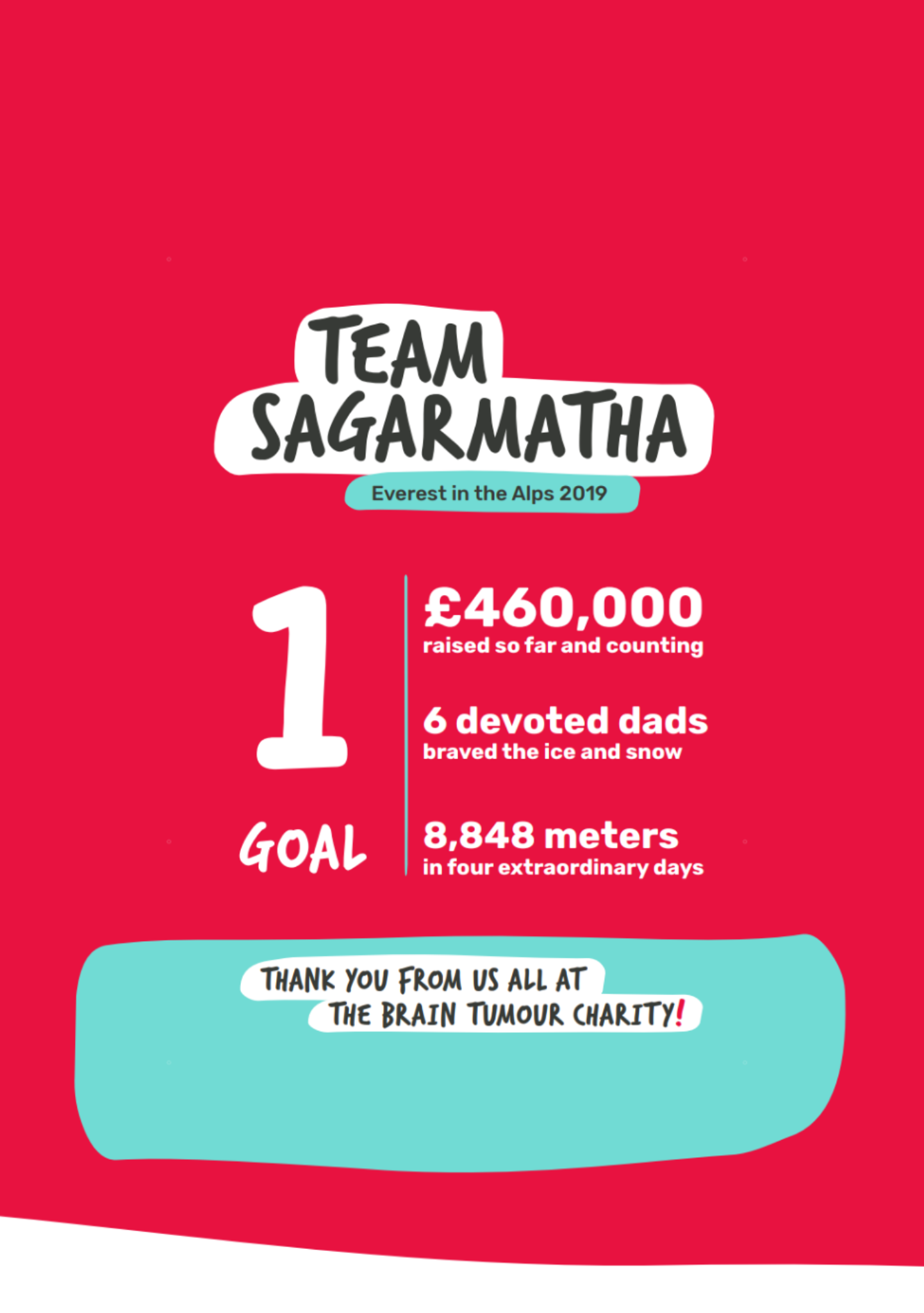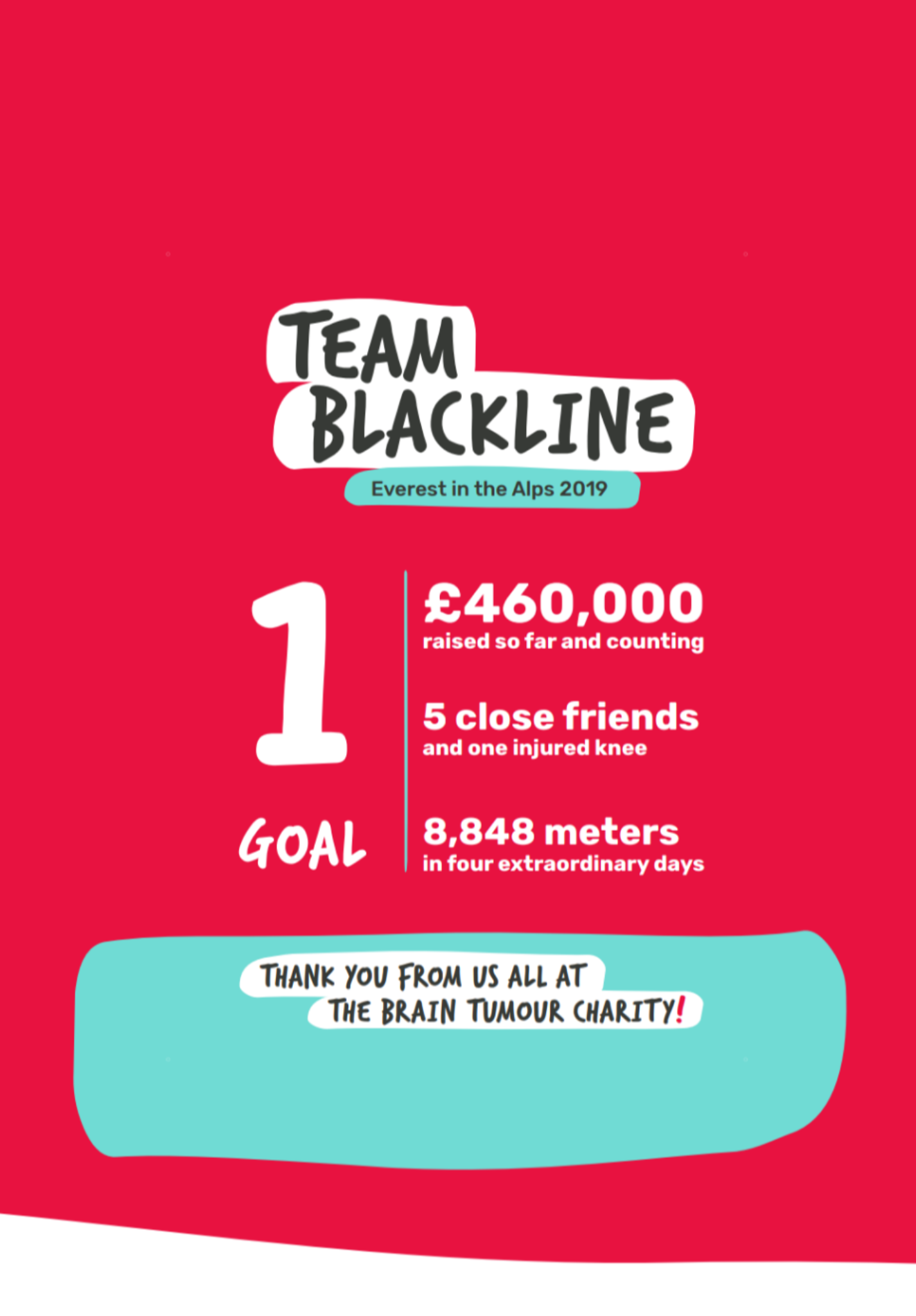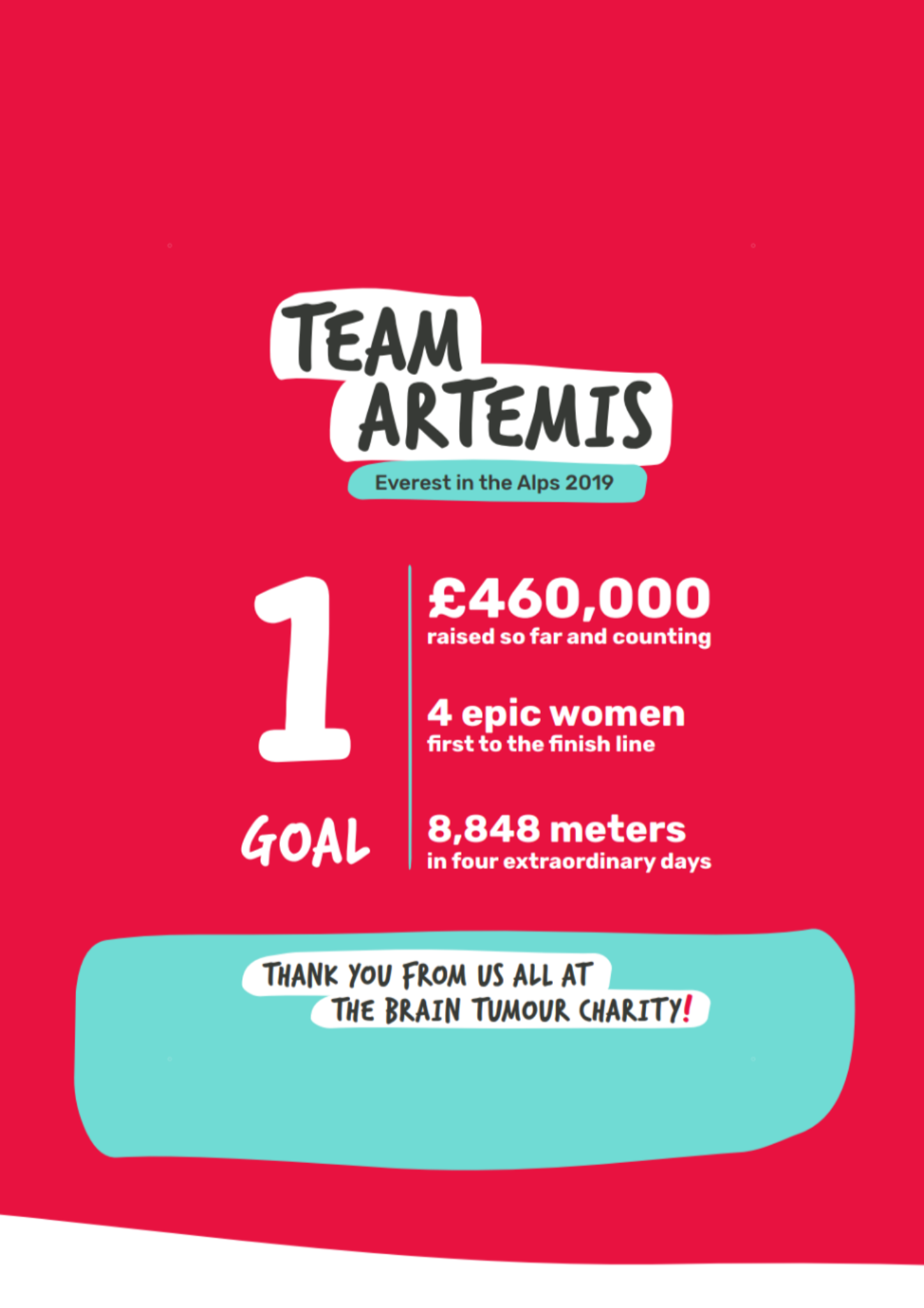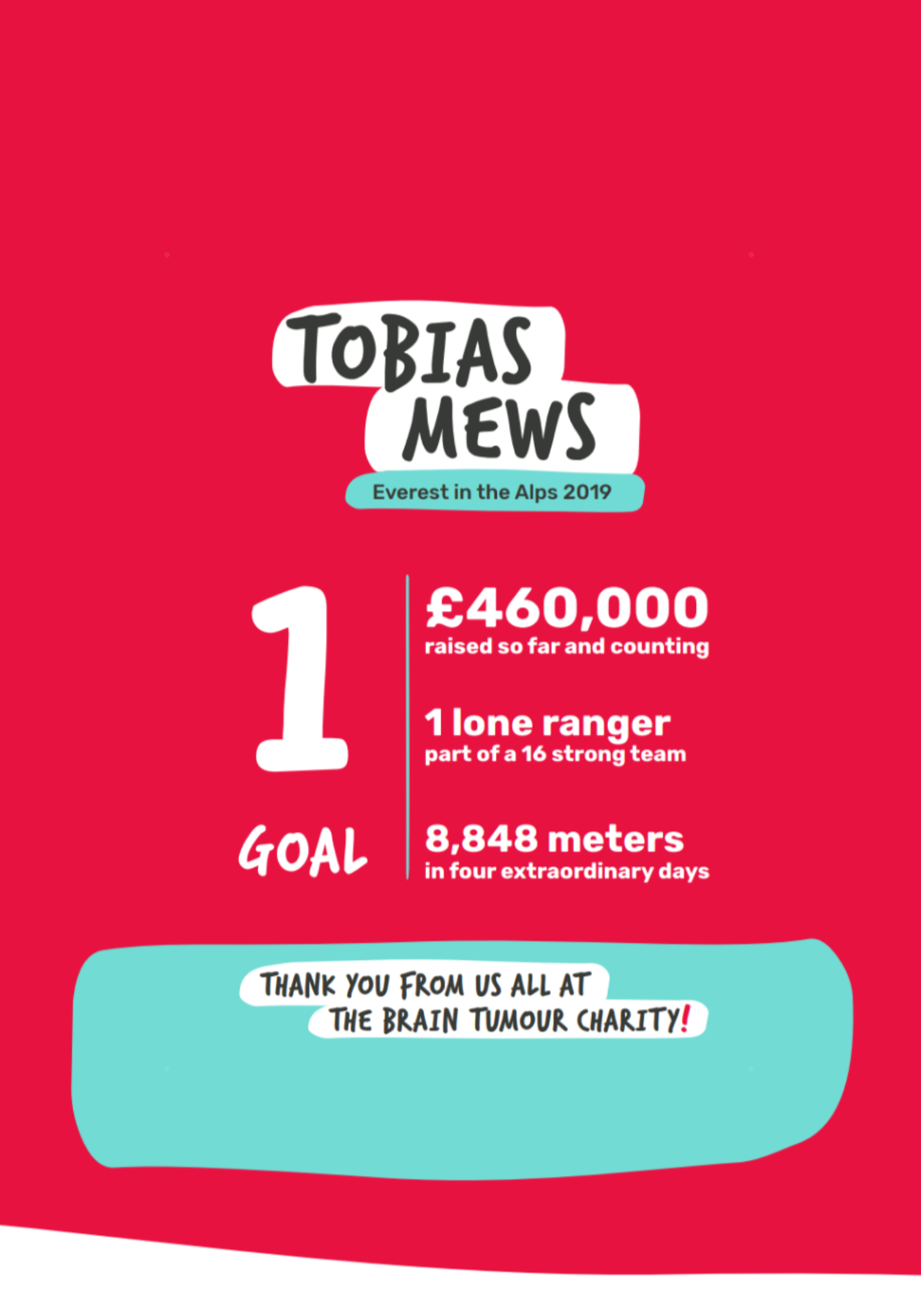 Many of the team are still in touch, almost a year on and we keep them updated on any key news or events. It is an honour to be part of something that has such a lasting impact and I am under no doubt that many of the team will be life-long supporters of The Charity. We now look to the future and the 2020 ascent. We have already heard that the wonderful Phil Spencer is going for a hat trick and taking on the challenge for the third year running and this year we have the tenacious Katie taking part at 20 years old, our youngest ever competitor! We hope to bridge the final £500k funding gap taking the total raised for the Everest Centre to a remarkable £5 million. This will allow us to make real strides towards better treatments for paediatric low grade brain tumours.
Whatever the 2020 challenge holds, we know that if last year is anything to go by, it will be an adventure that changes the lives of not only the participants, but also of children diagnosed and living with a low-grade brain tumour, both now and in the years to come. 
Harriet Palmer – Corporate Partnerships Officer
Website: The Brain Tumour Charity
Instagram: @thebraintumourcharity
Facebook: @thebraintumourcharity