NATURE: 
reap the BENEFITS
By Emma Bodkin – Mountain Beach Fitness Retreats.
Working out in nature is the ultimate antidote to modern life. Scarily modern life and chronic stress is having a detrimental effect on our brains. Amazingly working out in nature has been proven to reverse this effect so you can save yourself and reap some positive mood benefits too.
Is life stressing you out? The long term build up of cortisol in your brain is associated with numerous health problems as well as physiological changes in the brain. There is a disruption to synaptic regulation and chronic stress can lead to the shrinking of the prefrontal cortex the area responsible for learning and memory. Don't worry neuroplasticity means we can reverse these changes to neural pathways.
Boost your body, mind and brain !
We all know exercise is good for your body in numerous ways. A sweaty workout can reduce anxiety, depression and increase self esteem and sex drive. You get the feel good factor with a boost to  your dopamine and serotonin neurotransmitters too. Evidence says aerobic exercise preserves memory, brain volume and executive functioning. The effect is magnified when you work out in nature. Ideally this is untouched wilderness but even being surrounded by trees and green space will do your brain a favour. Gardens have long been known for their therapeutic benefits and have been conscientiously built in urban areas to diffuse the madness.
'The art of healing comes from nature not from the physician' Paracelsus.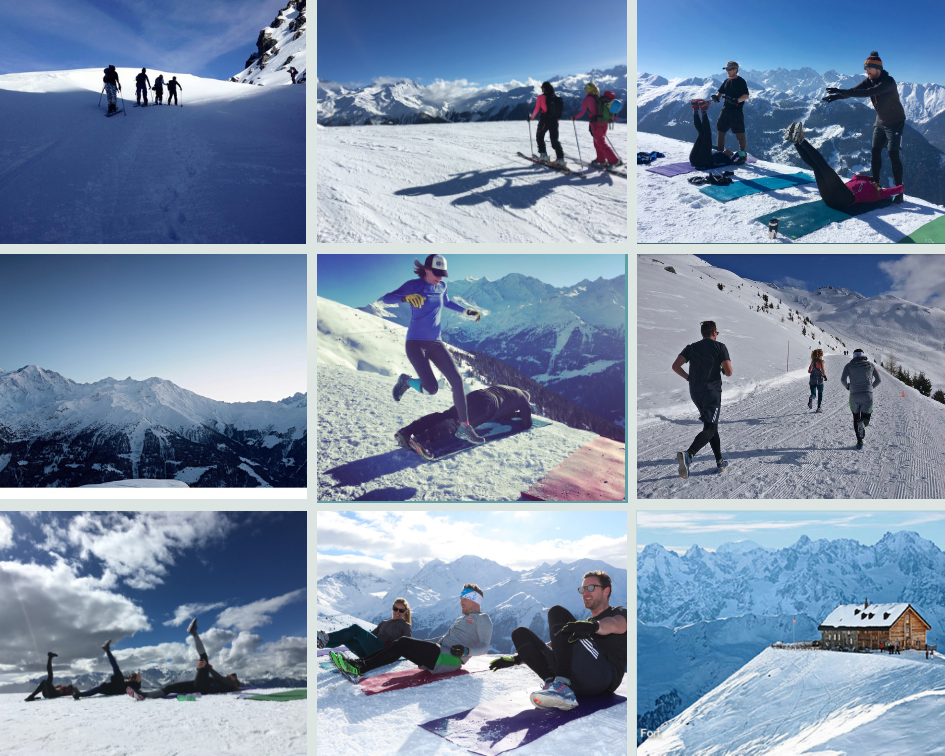 ALTITUDE: 
reap the BENEFITS
Whatever you are training for the benefits of working at altitude are unequivocal. It has been done for decades by professionals to give them the edge and now normal people are coming to the mountains to get a boost in their fitness levels. It doesn't matter if you are a seasoned athlete, a weekend warrior or starting out your performance will be enhanced by an increase in red blood cell production. This means your aerobic efficiency is supercharged by the ability to transport more oxygen around the body.

Whether you are looking to supercharge your fitness, try something new in the mountains or train to climb Everest our winter ski fit retreats give you the opportunity grasp ski touring techniques in a fun and sociable environment, explore Verbier in a new way and test your body with some innovative outdoor fitness sessions. Not only that a weekend spent in the beautiful Swiss alps will restore your mind as well as your body.
The variety of classes,  fresh alpine air and stunning views allows you to experience Verbier from a unique perspective. Our retreat programme has been consciously designed so each session compliments the next. The day is comprised of a 3 hr morning ski tour with an experienced professional. We then combine a challenging strength or HIIT cardio session with sports specific yoga and active recovery sessions  (low intensity 40-60% of maximum heart rate) this enhances circulation of lymph and blood through the body, ensuring a better delivery of oxygen and nutrients to cells and therefore maximizes recovery of damaged tissues. Classes take place between 1500-2200m.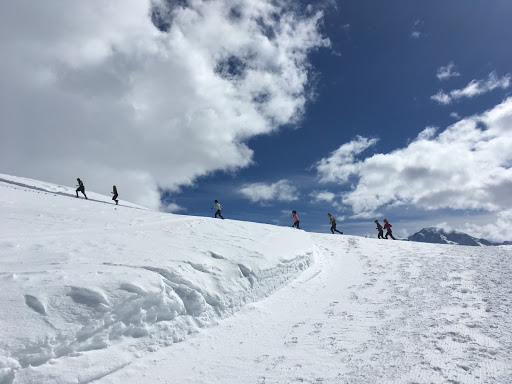 Extreme Ski Tour Weekends
This year we are excited to be hosting an extreme ski tour weekend with overnight hut stays, hard vertical gains, yoga and core conditioning. This weekend has been consciously designed with endurance in mind. Our tailor made programmes allow you to propel your fitness, taking your training up to the next level. We want to spice up your workouts and take you to some beautiful, remote and unique locations. Our private group ski fit camps can be tailored to the ability and experience of the group; from beginners to extreme advanced we have a route for you.