What will you need?
So, you've decided to go beyond the lifts! Preparing for your first ski tour is exciting, and daunting! Knowing you've got to carry everything you'll need, while travelling light enough to enjoy the uphill and the ride down can be a bit overwhelming. Most of us stare at our packs for an hour while all our kit is strewn over the floor, before throwing in everything that fits and hoping we haven't forgotten anything.
To take some of the hassle out of your preparation, here is a list to help you get the most from your days ski touring! It's not exhaustive, and you may want to add or remove items depending on your weather and location, but it's a good basis to start from.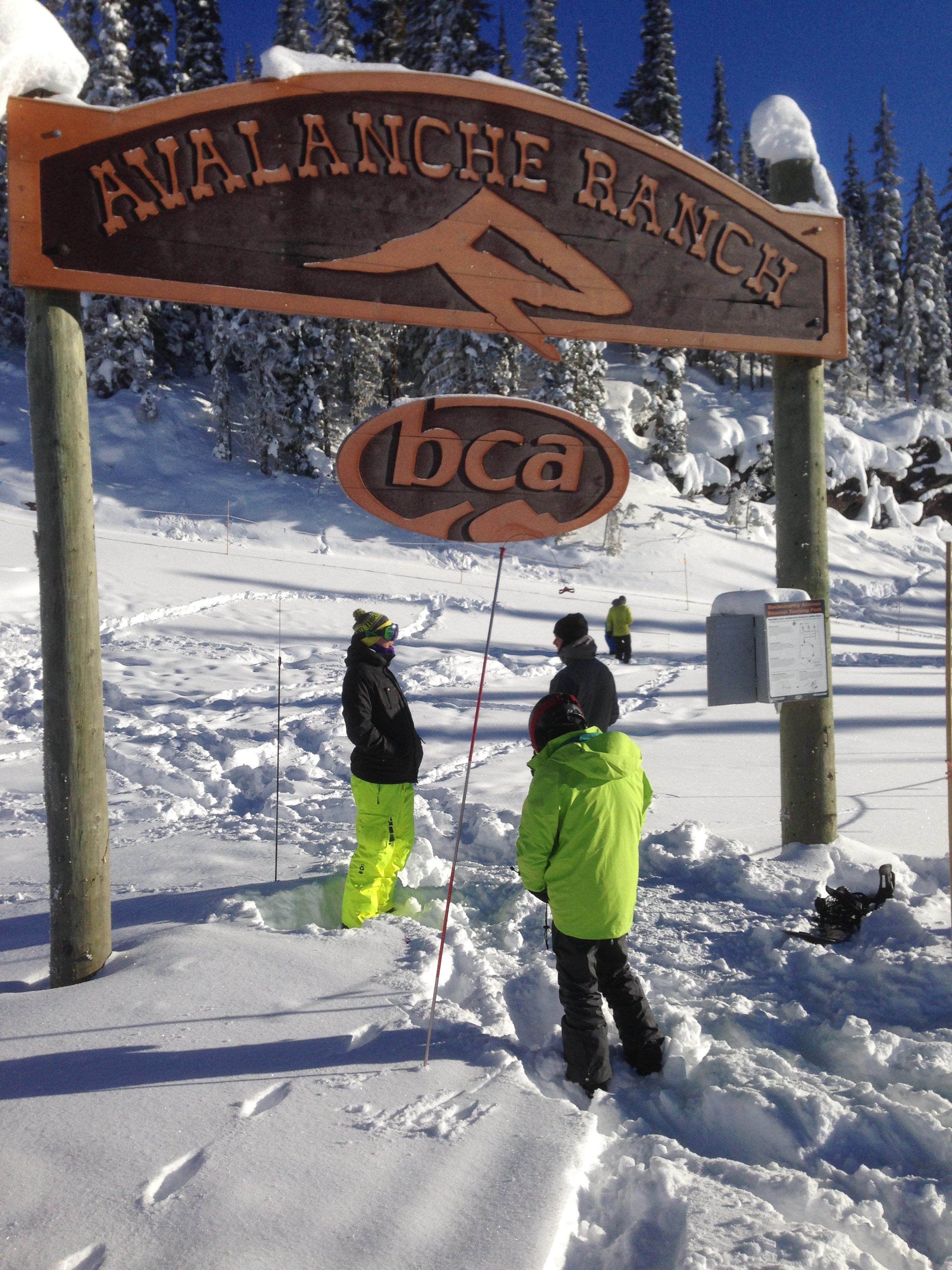 It should go without saying that you need a transceiver, shovel, and probe with you. But more importantly you should know how to use them and practice regularly. A little knowledge goes a long way and it weighs nothing!
I personally like Ortovox and Mammut systems as they are easy to use and have excellent range, but whatever you choose make sure it has 3 antenna for more accurate searching.
When selecting a shovel make sure to choose one that is aluminium and fits your pack! Plastic blades are not up to the task of digging through avalanche debris!!
For the probe, choose aluminium of carbon fibre, and at least 2.4 meters long.
A good solution is this kit from Ortovox including all those items.
Top things to learn:
How to read an avalanche bulletin.
Basic companion rescue.
Decision making in avalanche terrain.
We have a useful blog post on avalanche awareness here.
A 25L Rucksack – Touring requires a bit of kit but nothing too heavy. A 25L pack should be plenty for the average day tour. The most important factor here is how the pack sits on your back. Look for a bag with padded back plate and lots of shaping in the straps and padding. If possible, try one on and make sure it is comfy for you. We've got a load of packs here.
First Aid Kit & Bivvy Bag – You hope you'll never need it, but someone in your group should carry basic first aid stuff and some knowledge of how to use it. These kits from Ortovox are ideal and pack down small.
Means of Contact – If you're travelling away from the main pistes you will need to be able to call for assistance in case you need it. In good service areas a mobile phone and a list of the appropriate phone numbers can suffice. However, if you're travelling a bit further afield you may need to look into other options such as a radio and request the frequencies for your relevant services.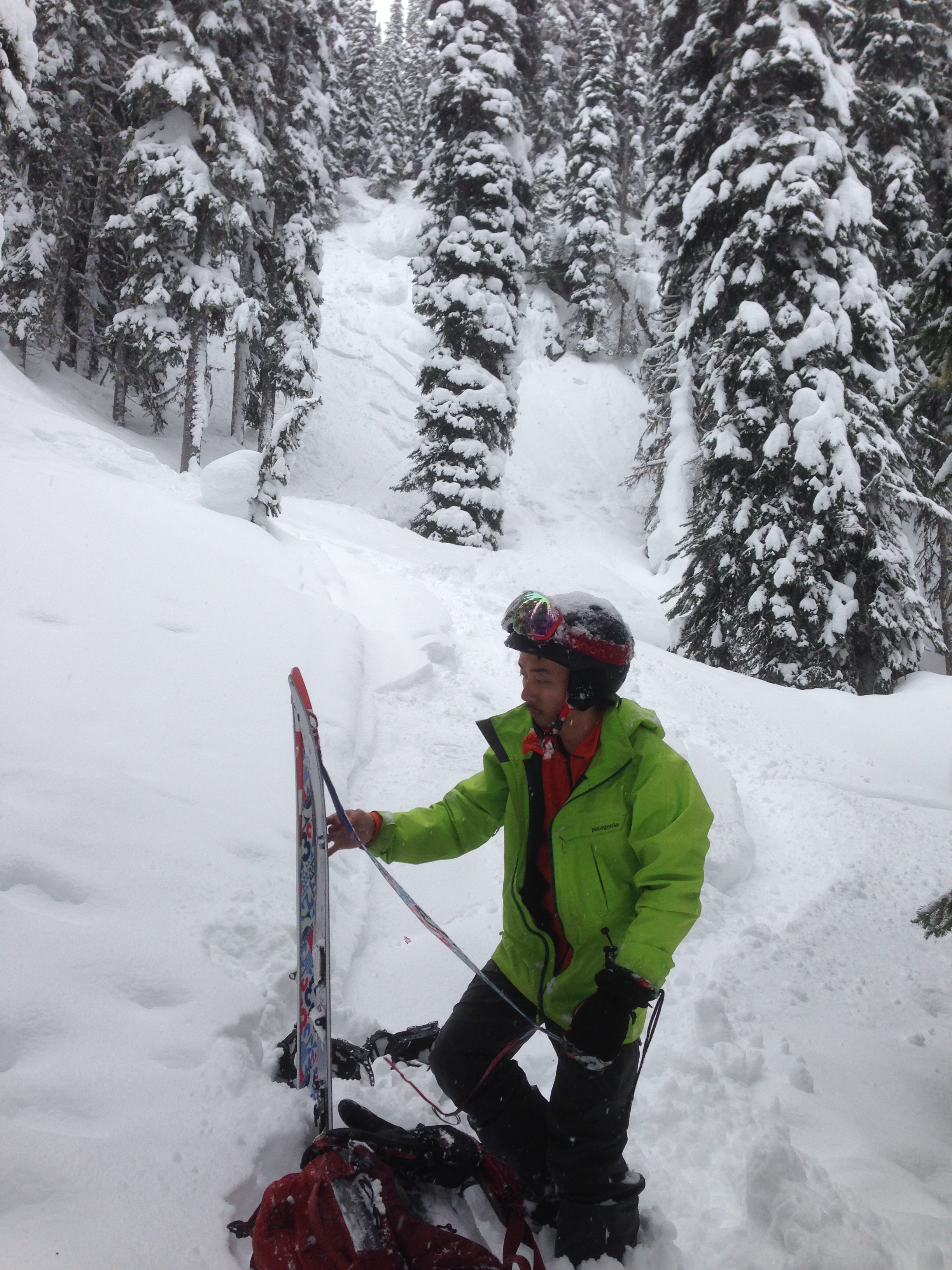 Skins – super important and worth taking care of!
When it comes to skins there are a variety of styles for different uses. For standard touring G3 have some excellent options with an different combinations of grip and glide.
When using them on the hill make sure to keep the sticky side out of the snow as much as possible! Cold, wet, adhesive is not great at it's job and not something you want to deal with on off camber slopes. If your skins get covered in snow you can use the edge of your ski to scrape the excess snow off the glue and then pop them inside your jacket for the ride down. Your body heat will start to dry them out and make your next hike up way easier. (G3 also sell a little bag that's great for this)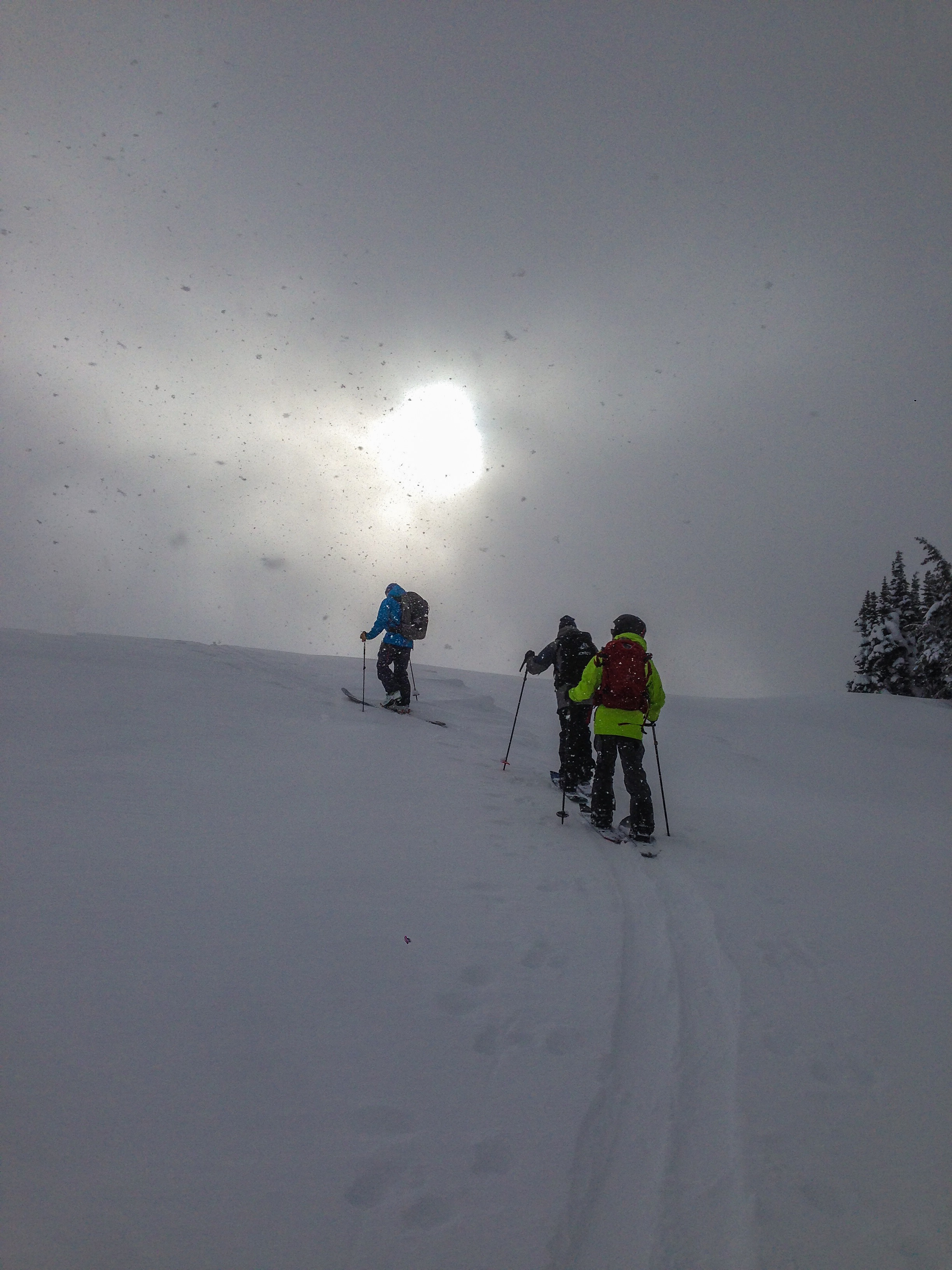 Layering:
One the skin uphill you will get warm! Managing your layers will make the difference between a good day and an uncomfortable cold one. Water on your skin will transfer heat away from the body 25 times faster than air alone! This is fine when you're hiking and making lots of heat but as soon as you stop moving your sweat will start to chill and freeze on your skin and clothes making you really cold!!
The best way to fix this is to layer up with a breathable thermal base layer and light weight top. Pack another insulating layer in your backpack and take a lightweight waterproof shell for you outer layer.
For sunny climbs it's likely that your thermal base layer will be plenty, and you can add or remove insulation as you need it. Hiking up while it's snowing requires just adding the waterproof shell.
Another excellent piece of kit is some lightweight gloves or liners. While you'll get hot quickly, your hardware will still be damn cold so protecting your hands is a good idea.
My go to layering set up would be:
Shell Jacket like this Patagonia Powder Bowl Jacket.
Insulating layer like this Arcteryx Atom Hoody
Thermal Base Layer – Anything that wicks water and keeps you warm. Loads of choice here
Gloves & Liners – Durable, insulated, and waterproof – Hestra Army Leather Gore tex
Adjust your clothing depending on the weather you're likely to encounter. Situations can change fast in the mountains so check the forecast before you go and you won't be caught out.
A Flask – You will need water. Look for robust flasks with a wide mouth. Ideally thermal ones that will not freeze at altitude.
Poles – If you're on skis you'll have poles already, if you're on a splitboard then you'll need to invest in some collapsible poles that can fit in your pack for the ride down.
You can see our selection of collapsible poles here.
Ski Straps – Cheap but awesome! Good ski straps can be used for everything from hanging a thermometer in your snow pit to fixing bindings and boots, first aid, and even as a kind of crampon! Wrap a couple around your pole just below the hand grip if you have no room in your pack. When you are miles away from the lift, these things are invaluable. Click here for our ski straps.
Duct tape! – Multi purpose and waterproof. Ideal for patching up torn shells, securing dressings, and holding batterie into things! Again, can be wrapped around ski poles for hassle free carrying.
Head Torch – For early starts and late returns, or if you happen to be out longer than planned! Small head torches weigh so little and they're really useful, not just to find your way but also make you much more visible if you need to be seen. This Black Diamond torch is a great bit of kit that's fully weather sealed too!
Sunglasses & goggles – Sunglasses for the hike up, goggles for the ride down! If you wear your goggles on the hike the heat you generate will make them steam up and then they will be unusable for your ride down. It's a much better option to take some decent sunglasses for your hike up and keep the goggles in their bag until you're ready to ride down through all that lovely fresh snow!
Helmet – Helmets can strap to the outside of your pack and they're essential for any back country riding. The snow looks smooth, but you never know what its hiding! Plus, modern helmets are becoming so light that there's no reason not to take one!
Sun Block – Reflective snow cover almost doubles your exposure so make sure to keep your skin protected against those rays! Also helps reduce drying out and wind burn at higher altitudes!
Neck Warmer – Great for keeping the snow out of your jacket and keeping you warm when you stop! My favourite is this from Anon, but all of them are pretty good. Just look for wicking material and stuff with a quick dry coating is also ideal!
Map & Compass  – These days we all have GPS on our phones! However, technology and harsh environments don't always mix well. Easily solved with an old fashioned map and compass!
Crampons (optional) – When you're heading out onto snow that's had a heavy melt freeze cycle, or just generally into icy terrain, a pair of crampons is pretty much the only way to get grip on the surface. We stock varying sizes here.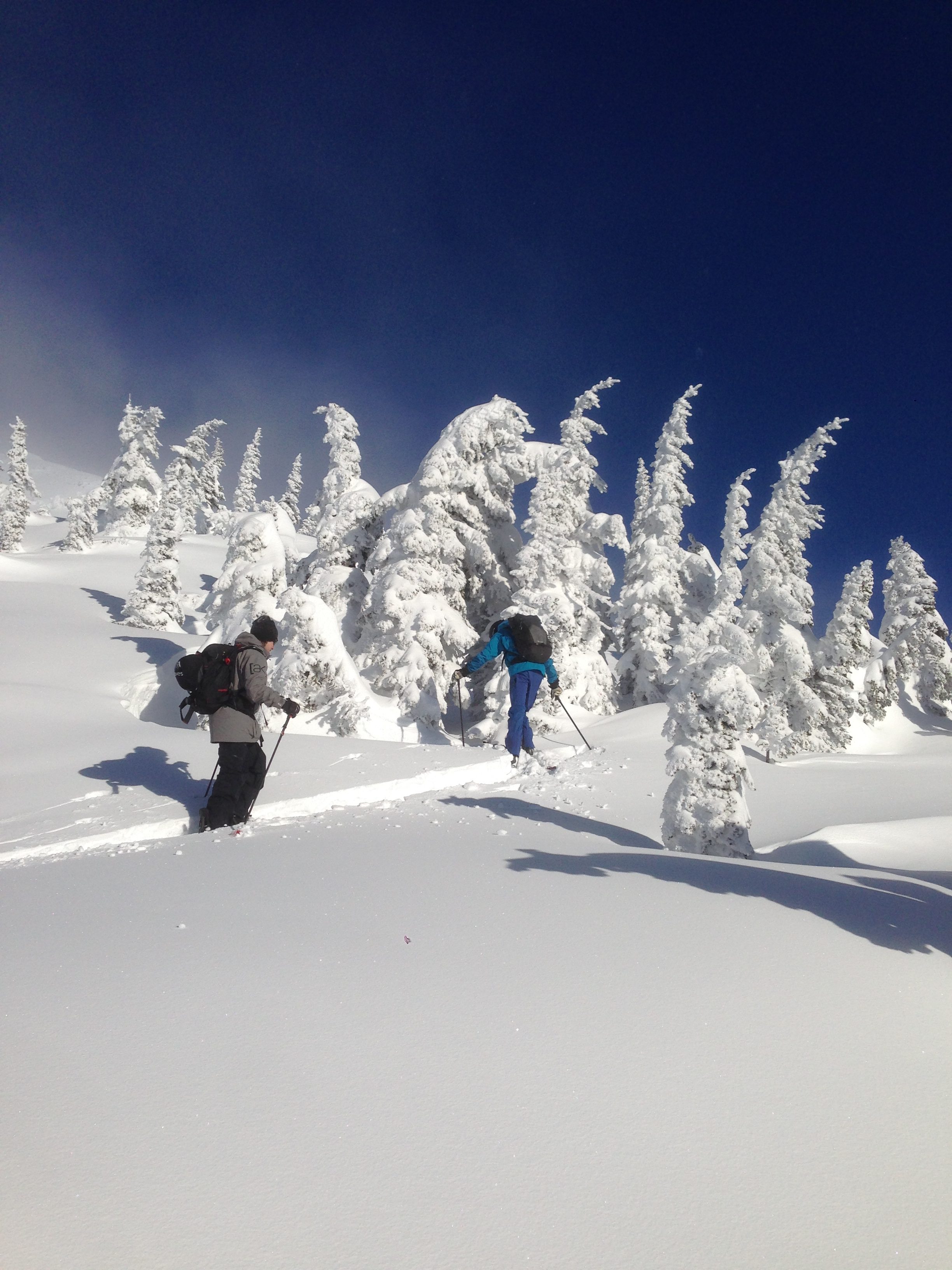 Ski touring and splitboarding are amazing ways to go out and experience the mountains!
With the right kit and some knowledge, you can have years of fun exploring the peaks and valleys to your hearts content. At Snowtrax we sell specialist equipment that we have personally tested and approve, so, if you have any queries or want to chat about your next mission into the back country just drop us an email or pick up the phone! We're always up for talking about kit!
See you in the mountains.
Contact info:
www.snowtraxstore.co.uk
sales@snowtraxstore.co.uk
+4401202499155